EdD Director, Doctoral Students Present at Carnegie Project on the Education Doctorate Convention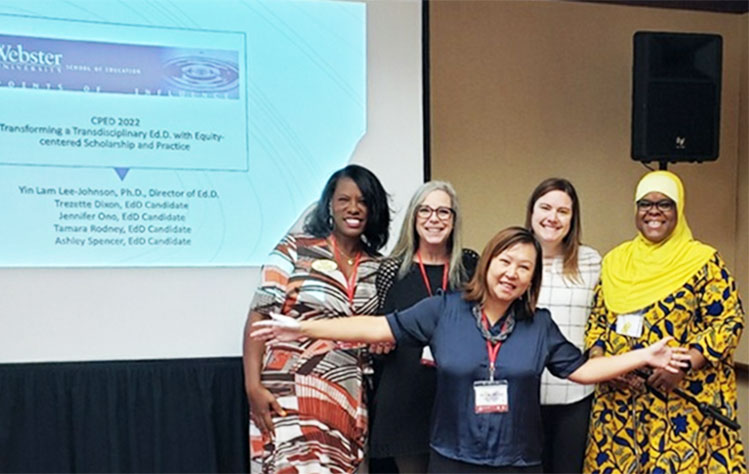 Photo: Webster doctoral students, from back left, Trezette Dixon, Jennifer Ono, Ashley Spencer and Tamara Rodney; front center, EdD Director Yin Lam Lee-Johnson
Webster University's EdD Director Yin Lam Lee-Johnson and doctoral students Trezette Dixon, Jennifer Ono, Tamara Rodney and Ashley Spencer presented the panel discussion, "Transforming a Transdisciplinary EdD with Equity-Centered Scholarship for Practice" at the annual Carnegie Project on the Education Doctorate (CPED) convention.
The event, which attracted more than 350 participants from EdD programs around the world was held in Pittsburgh, Pennsylvania in early October. This year's CPED Convention theme was "Transforming the Advanced Preparation of Educational Professionals to Lead Through Scholarly and Equity-Minded Practice."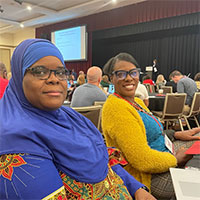 "Prior to this conference, I had no knowledge of the Carnegie Project on the Education Doctorate," Rodney said. "I now know much more about the organization and have come to value the role of CPED. In the world of doctoral scholarship, the EdD is often looked down upon as an inferior degree in comparison to the PhD. Being at CPED with scholars who are also pursuing EdDs and engaging in timely scholarship using quantitative, qualitative and mixed methods research, confirmed for me the hegemonic practices inherent in elevating one doctorate over the other."
Professor Lee-Johnson and Dixon, Ono, Rodney and Spencer submitted their panel proposal earlier this year, and it was accepted after peer review. The panel tackled the definitions of equity-centeredness in education and showcased four dissertation projects.
Aside from the panel, Webster University's doctoral students asked critical and thoughtful questions at the opening and closing sessions, which reflected the program's academic rigor. Some of the doctoral students also joined CPED's Scholarly Practitioner Alliance (SPA) Gathering at the convention for professional exchange and network building.
"I was inspired by the scholars and academic administrators who encouraged and informed me about the passionate work of someone with the title of EdD, and (I was) proud to represent the amazing work we're doing at Webster University under the leadership of Dr. Lee-Johnson," Dixon said.
"I really enjoyed being around and learning from other doctoral candidates and like-minded EdD scholars," Ono said. "It was refreshing, rejuvenating and engaging. I am very thankful to Webster University and the leadership of Dr. Lee-Johnson for the opportunity to represent our amazing program and present our work to the larger community. CPED should remain a place for future doctoral students."
Lee-Johnson said that CPED is a significant organization for the promotion of EdD programs, and was proud that Webster University is a member. "CPED has transformed the recognition of the EdD, and socially constructed a new professional identity of the degree based on a scholar-practitioner model that is uniquely different than a PhD," she said.
Learn more about Webster's EdD program.
Learn more about CPED.