Professor Morton Receives Emerson Excellence in Teaching Award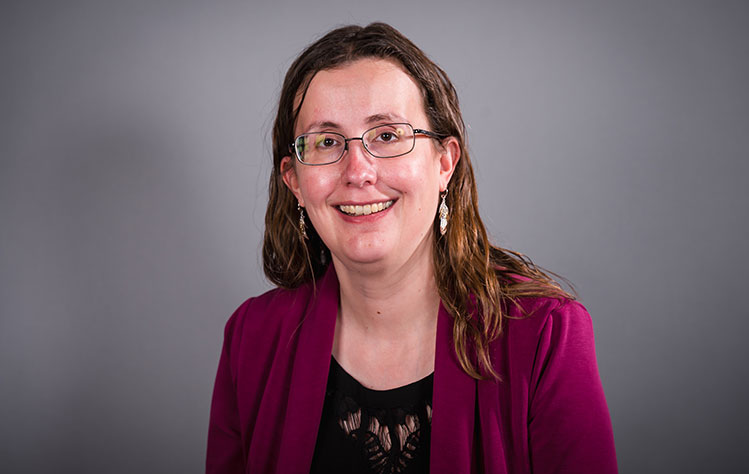 Webster University Associate Professor Kristen Anderson Morton, a professor of history in the College of Humanities and Social Sciences, was named one of the top professors in the St. Louis metropolitan area by the Emerson Excellence in Teaching Awards program. The announcement was made this week.
"Kristen has a skill of bringing history to life in the classroom and making historical figures and events highly approachable in all in her classes," said College of Humanities and Social Sciences Interim Dean Danielle MacCartney. "She challenges her students to think critically and does this with unique approaches, such as offering courses like 'The American West: Film, Fiction, and Reality' which contrasts what we see in movies and on television shows with the complex reality of life in the 19th century."
The annual Emerson Excellence in Teaching Awards program recognizes St. Louis area instructors, selected by their schools' administrators, for their accomplishments and dedication to their students and the teaching profession. This is the only public recognition event of its kind to honor teachers in both Missouri and Illinois.
Earlier this year, Morton received the William T. Kemper Award for Excellence in Teaching. The Kemper Award is presented each year to two full-time and two part-time faculty members at Webster University who demonstrate teaching at its finest. Nominated and supported by students and colleagues, they are selected by a committee of their peers for their outstanding teaching. The award is funded by the William T. Kemper Foundation.
Morton specializes in 19th century U.S. social history, the participation of immigrants in the Civil War and debates over slavery. She is currently working on a book project examining how German immigrants remembered and commemorated their Civil War participation. Previous books and articles that she has published include "Abolitionizing Missouri: German Immigrants and Racial Ideology in 19th Century America" (Baton Rouge: Louisiana State University Press, 2016), "German Americans, African Americans, and the Republican Party in St. Louis, 1865-1872" in the Journal of American Ethnic History (vol. 28, no. 1), and "'Wir auch im Süden halten Wacht': Ethnic Germans and Civil War Commemoration in Nineteenth-Century Charleston," in The South Carolina Historical Magazine (vol. 117, no. 4).
Anderson teaches a wide variety of classes on the 19th century United States, including courses on the Civil War and Reconstruction, U.S. women's history, St. Louis history, the history of the American West, the history of U.S. Slavery, and the history of the Gilded Age and Progressive Era.
Besides Morton, several Webster alumni were recognized by the Emerson Foundation this year:
· Melissa Duke, a teacher at Bayless Elementary. Duke earned a Master's in Teaching with an emphasis in Special Education in 2006
· Robin Murray, a professor at Missouri Baptist University. Murray earned a Master's of Science in Nursing in 2003
· Mark Biernbaum, a teacher at Ladue Middle School. Biernbaum earned a Master's of Teaching in Multidisciplinary Studies in 1995
· Andrea Gosling, a teacher at Hillsboro Primary School. Gosling earned a Master's in Teaching in Multidisciplinary Students in 1997.
For more information on the award, visit emerson.com/en-us/about-us/corporate-social-responsibility/community-involvement/excellence-in-teaching.