Geneva Holds Annual Commencement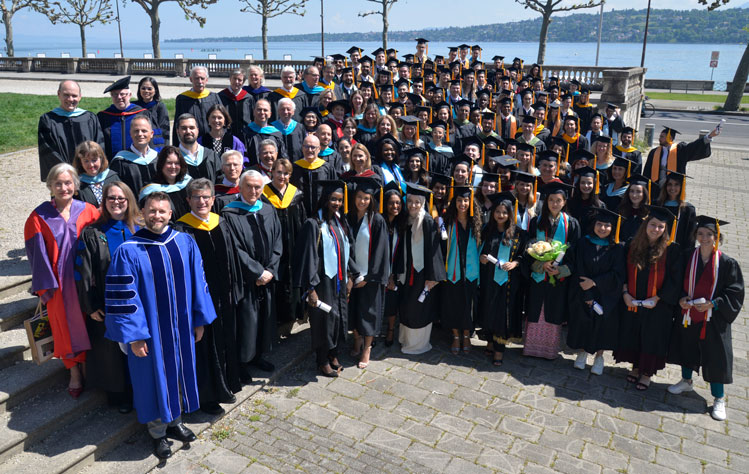 On Saturday, May 14, Webster University Geneva hosted its annual Commencement at the lakeside President Wilson Hotel, both to celebrate graduates from the Class of 2022 and to formally recognize and welcome back cohorts from 2020 and 2021, whose ceremonies were delayed due to COVID 19 restrictions.
Over 110 graduating students and returning alumni, who represented over three dozen nationalities, were joined by families who traveled for the auspicious occasion—from across Europe and from as far as Brazil, Colombia, Ivory Coast, Kazakhstan, Kenya, Saudi Arabia, Tanzania, Turkey, the United Arab Emirates and the U.S.A., to name a few.
TRADITIONS OF EXCELLENCE
Dr. Ryan Guffey, Director-General of Webster University Global Campuses and Director of Webster University Geneva, led the formal ceremony proceedings. Dr. Guffey opened with a warm congratulations to parents, partners and siblings of the graduates who supported students through uniquely challenging times. He further reinforced the challenges students faced will prepare them for their lives as global citizens, now knowing better their wants, interests, and desires for themselves, communities, and those important to them.

The Commencement Address was delivered by Patrick Odier, Chairman of the Board of Directors of Bank Lombard Odier and Sr. Managing Partner of the Lombard Odier Group, who reminded graduates that they are now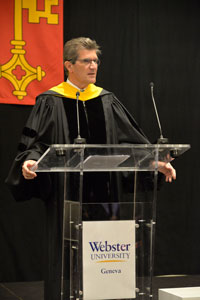 both ambassadors of Webster University but also of Genève Internationale. He shared about trends in industry and about his own learning path, passion and commitment to supporting higher education—which eventually led to the founding of the Swiss Finance Institute, among many other initiatives. Mr. Odier suggested that students "keep your curiosity, your critical sense, and your creativity", as they will be needed to be the transformation that the world expects from this generation. He challenged them to "remember your responsibilities, because our society needs you," and that students should stay true to themselves and to always "live according to your values." In a changing world full of challenges and unknown futures, he added that students should "be active and energetic", and that since sustainability in its many forms relies upon this generation, students should embrace change and "see innovation as your friend."
GRADUATING STUDENT SPEAKERS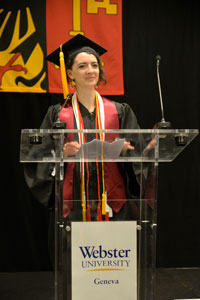 The selected 2022 undergraduate student speaker was Caitlyn Fish, who shared a deep sense of gratitude to her classmates and mentors, whom she said are now each an integral part of who she has become. She shared that her Webster experience allowed her to come out from her timid self, and she quoted her original motivation essay for admission, which included an aspirational statement about leaving her comfort zone: "I don't want 'comfortable': I've had a lifetime of comfortable." She reflected that while their time as bachelor students was anything but conventional, that "…our time was not taken from us." She said her classmates managed to learn and grow despite the pandemic, which also offered unique lessons in itself—and that at Webster, she found the transformative experience she was seeking.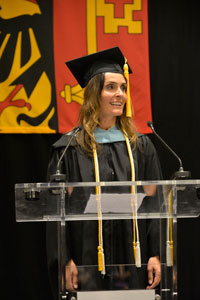 Meltem Kusku, the chosen commencement speaker for graduate students, is a mother of two, originally from Turkey. Following a successful corporate career, she returned to higher education to pursue her lifelong dream to become a mental health professional. Reflecting on times of the pandemic, she said when we could not live as before, "Webster provided us a lifeline" – to be connected, to continue to learn and grow. She shared that through her counseling practicum she witnessed that "each of us has something powerful to say; something powerful to give", and that in the midst of global challenges, "the world needs us [graduates] to step up".
HONORS AND AWARDS
During the ceremony, Dr. Danielle MacCartney, Academic Director in Geneva, took the podium to recognize several students from each cohort, bachelor and master, for various academic honors—including Departmental Honors, University Honors and International Distinction.
This year's ceremony recognized 14 students who earned the Scholars Program Certificates of Attestation for those who maintained a GPA of 3.5/4.0 and who successfully completed a bachelor thesis. A dozen students were also awarded the WebsterLEADS Certificate, for pursuing a co-curricular leadership program which required an elective course and many hours of community service.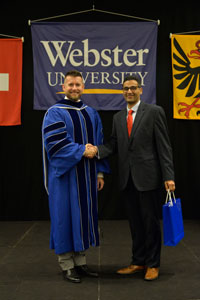 The Alumni Loyalty Award, was bestowed upon Mr. Eugene James, whose commitment and involvement through interlinking his personal and professional life in service to the Webster Community has enriched the lives and experiences of students and inspired others. For his many years mentoring students, and for his support of student professional development by collaborating with Webster University Geneva faculty and staff to offer multiple Internship opportunities for students to gain invaluable applied learning experiences, the University community expresses our deepest gratitude.
Following tradition, our annual ceremony also granted special recognition to award-winners for the Outstanding Graduate Student Award, Undergraduate Student Leadership Awards, Community Service Awards and Campus Spirit Awards.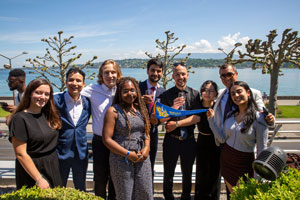 The Commencement Ceremony was followed by a Reception at the pool garden deck of the President Wilson Hotel, overlooking Lake Geneva. Photos and video of the ceremony can be found on the Webster Geneva Instagram Feed.

Congratulations, graduates!
Photo credits: Francesco Arese Visconti, Jay Burton.