Webster University Georgia Officially Opens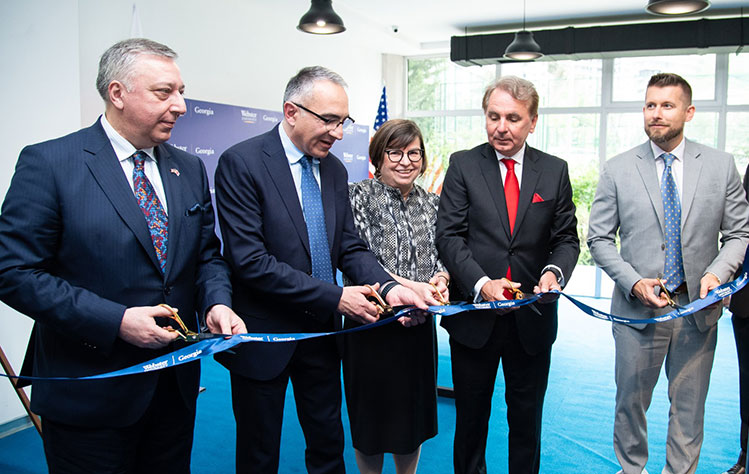 Webster University's newest international location, in Tbilisi, Georgia, has officially launched. Following approval by higher education accreditors in the United States (the Higher Learning Commission) and Georgia (the Ministry of Education of the Republic of Georgia), Webster opened its doors with a welcome event in late May attended by representatives from the Georgian government, the U.S. Department of State, local businesses and organizations, and partner institutions.
Webster University President Julian Schuster welcomed attendees, along with Webster's Vice President for Academic Affairs and the inaugural Rector of Webster University Georgia Nancy Hellerud; Director General of Webster's Global Campuses Ryan Guffey; and Vice Rector of Webster University Georgia Emin Hajiyev.
"We are delighted to see our many months of planning come to fruition and to see that our enthusiasm for a Webster campus in Georgia is shared by so many," Schuster said. "Webster is a truly global institution, with locations in Europe, Asia, Central Asia and Africa, as well as the U.S. But at each campus we are also local, with meaningful connections to the business, government and non-governmental sectors and leaders whose input helps inform our programming and who will one day employ our graduates. It's clear those relationships will continue to grow and flourish in Georgia."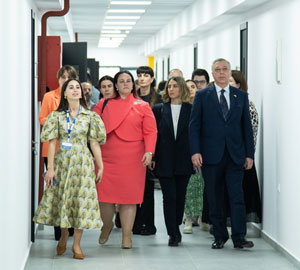 Honored guests and speakers at the event included Mikheil Batiashvili, local partner of Webster University Georgia; George Amilakhvari, Chairman of the Education and Science Committee of the Parliament of Georgia; Nunu Mitskevichi, Deputy Minister of Education and Science in Georgia; Rian Harris, Chief of Staff at the U.S. Embassy in Georgia; Irakli Baidashvili, Vice President of the American Chamber of Commerce; and Nino Enukidze, Rector of Business and Technology University.

The event included a ribbon-cutting, the signing of Webster University Georgia's membership in the American Chamber of Commerce (AMCHAM), a reception and tours of the Webster University Georgia facilities, located on the campus of Business and Technology University (BTU) of Georgia.
"We look forward to these wonderful classrooms being occupied by our first cohorts of students from Georgia and surrounding countries and by members of our international faculty," said Hellerud. "While we are just opening in Tbilisi, our new students will immediately become part of a global student body of thousands, and upon graduation, they will join a community of more than 200,000 alumni across the world."
While in Tbilisi, Schuster and Hellerud also signed a memorandum of understanding with TBC, a banking and tech company, to explore collaborative projects aimed at career exploration and development of students in Webster programs.
"Webster University has been developing in-demand educational programs around the world for more than a century and we are pleased that Georgian students will also take advantage of these opportunities," said Vakhtang Butskhrikidze, executive director of TBC. "For TBC, spreading education and promoting youth is a top priority and we are ready to implement a number of projects or events with Webster University."
Webster announced that it had received both U.S. and Georgian accreditation in February. Currently, graduated high school students in the Republic of Georgia are taking national college entrance exams and visiting universities. Webster University Georgia classes are scheduled to begin in Fall 2022. The campus will offer bachelor's degrees in International Relations, Business Administration and Media Studies, and graduate degrees in International Relations and Business Administration.