Webster Ghana Global Helpers Bolster Business Owners, Single Mothers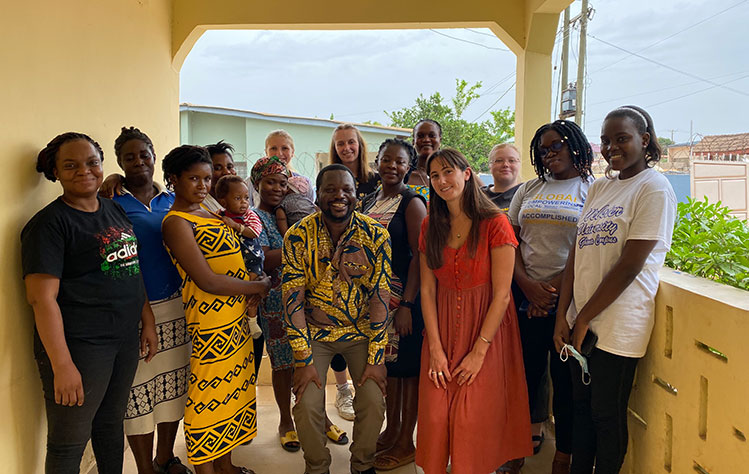 Three Webster Ghana students, Grace Ghansah of Ghana, Yolande Tansuika of Cameroon and Olivia Claesson of Sweden, raised funds this past semester to support the efforts of five Ghanaian women who are both business owners and single mothers.
As part of the first cohort of The Global Helpers Project, Ghansah, Tansuika and Claesson sought to achieve a socially responsible goal that could also have the farthest reach. Choosing the business owners as their beneficiaries allowed the students' efforts to aid not only each individual woman, but their children and local economies as well.
To have the most impact, the students collaborated with the Alliance for African Women Initiative, a non-governmental organization with a decade-plus track record of programs that seek to "narrow the gender gap and empower women and children in Ghana."
Together with AFAWI, the students were able to create a plan for fundraising through various streams, including social media crowdfunding and collaboration with Webster Ghana's Office of Student Affairs. Beyond delivering monetary support, the team successfully offered educational workshops on financial literacy, gender responsiveness, health matters and family planning, and assisted the women with renewing their national health insurance cards.
The final outreach and implementation was the outcome of nearly two semesters-worth of planning, campaigning and organizing by the students and their AFAWI partners. As their work came to fruition, they expressed that, although the lengthy effort had been difficult to juggle with work and other school commitments, the smiles and laughs on the faces of the women they helped made the endeavor well worth it. They also credited the generosity of the public during their fundraising with bringing their philanthropic vision to life.
The Global Helpers Project is a new program designed to create an opportunity for Webster Ghana students to make meaningful social impact, engage in a commitment to volunteerism and develop the spirit of giving back.