Harris-Stowe Students Explore Travel Abroad Opportunities Through Webster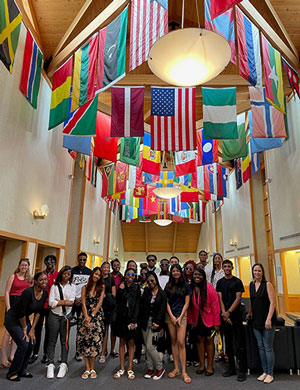 Harris-Stowe State University students visited Webster University's main campus July 15 to take a deep dive into all things study abroad.

The students gathered for a tour and robust panel discussion featuring current international students, who shared their experiences living in, learning from and adapting to the different cultures at many of Webster's 10 international campuses.
Highlights of the program included a welcome video from Abigail Benyah, head of student affairs at Webster Ghana, and personal testimony from Juliana Clark, a Harris-Stowe student currently studying in Accra, Ghana.
Clark dispelled common myths about study abroad, assured her fellow students of the welcoming environment she has experienced in Ghana and encouraged everyone interested to take advantage of the unique opportunities available.
"If you want to study abroad, do it!" she said. "Also make sure that you are ready to learn."
The Webster International Network Schools (WINS) program creates partnerships between Webster and other U.S. universities to provide access to Webster's international campuses on four continents, as well as programs offered by international partners in China, Japan, Mexico, Spain, Germany, Italy, Belgium and England.
Harris-Stowe joined the WINS program in October.