Leiden Students Visit Ministry of Foreign Affairs
Students of Webster University Leiden took part in an interactive presentation at the Ministry of Foreign Affairs of the Netherlands on April 29 in The Hague.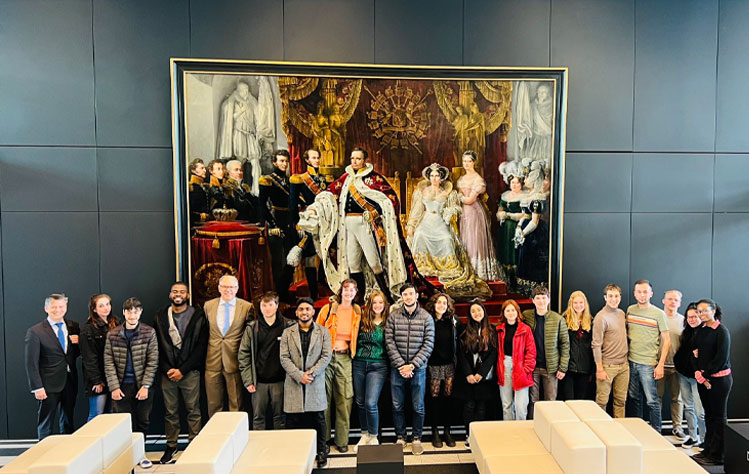 Above: Students at the Ministry in front of the painting of King William I, who also studied in Leiden.
Hosts and presenters were Mauritz Verheijden, deputy director of Europe Department; and Elianne Lambalk, senior policy officer on Rule of Law, Europe Department.
For the students, who follow the course The Democratic Process, cross-listed at the Global Citizenship Programme and International Relations, given by Webster Leiden Professor Piotr Perczynski, it was illuminating to learn about the more practical side of democracy and rule of law, as it is functioning in Europe.
The Q&A followed the Chatham House Rule: maximum freedom of exchange of information and no revealing the information and source after the meeting, to ensure comfort of discussion for both speakers and students. In an open and frank discussion, the students learned a lot about the state of affairs in Europe and the World seen from the perspective of the Dutch Foreign Office. The discussion also covered the dilemmas Dutch Diplomacy encounters in the unprecedented international crisis of today. The students expressed their satisfaction and underlined that the experience is very much worth repeating.