Webster University Receives $100,000+ Grant to Expand Virtual Teaching Program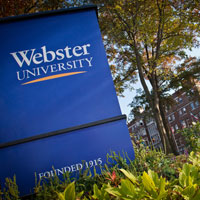 When the pandemic hit in 2020, teachers found themselves isolated from their classrooms; struggling to teach from their homes; and using laptops, Internet connections and programs that were designed for business meetings, not classrooms. Webster University's School of Education quickly recognized that teachers needed to learn a new set of skills and piloted a new program using Mursion classroom simulation software so that teachers could practice their skills in a virtual environment.
Though many schools are now meeting face-to-face again, the virtual teaching environment is not going away. Snow days have become "virtual learning days" in many districts, parent-teacher conferences are held online, and when the flu bug hits a school district particularly hard, those districts are opting to go back to virtual sessions for a week at a time to help contain the illness.
All of this has put Webster's virtual teaching project with Mursion in high demand. This week, Webster received a grant for $105,350 from the Missouri Department of Higher Education and Workforce Development to expand its Mursion efforts and to serve as a hub for school districts in Missouri on how to train teachers for wide variety of classroom environments.
"Webster University saw an immediate need in the community and invested in this cutting-edge technology so that our students would have the best tools available and be prepared for a range of classroom scenarios," said Webster University Chancellor Elizabeth (Beth) J. Stroble, whose career includes K-12 public school teaching and university teacher education. "Now with this grant, we will be able to share this tool with our partner districts, allowing current teachers and alumni to expand their knowledge and skills for the ever-changing environment of teaching and learning."
"Webster continues as a leader in the use of emerging technologies to best prepare our students for the workforce," said Webster University President Julian Z. Schuster. "Our professors in the School of Education immediately recognized an emerging need two years ago and put together a simulated training routine that allows future teachers to hone their abilities for any classroom environment, whether that is in a traditional classroom, online, or a combination of the two."
The Mursion program runs on the Zoom online meeting platform. During a virtual training session, the teacher logs into to a realistic-looking classroom with animated student avatars who are controlled by a trained simulation specialist. A scenario is played out in which the teacher tries to host a conversation or teach a specific subject, and the students "react." After a simulation, the teacher has an opportunity to debrief with other classmates and the university supervisor about instructional decisions that were made during the simulation, what worked well, and considerations for future adjustments. The teacher can also watch a recording of the session for additional processing and analysis.
"Teachers learn to hone their skills by examining their behaviors and practices over and over again, and this virtual system will allow them to review recordings of themselves and benefit from the observations of other teachers who also participate in the sessions," said Webster University School of Education Dean Stephanie Mahfood. "This system also will software will let teachers practice responding to uncomfortable questions or challenging classroom situations and develop a framework for successfully managing them in real life."
Currently, Webster must pay Mursion for the simulation time it uses. The grant will allow Webster to purchase a site license for 500 hours of simulation time over 12 months, training for in-house simulation specialists, and the ability to design custom scenarios.
"This enables Webster students who are pursuing their initial teacher certifications to have extended access to this tool and better hone their skills," Mahfood said. "We also plan to offer this tool to current teachers in our partner schools that have been disproportionately impacted by the teacher shortage and are teaching multiple classes online and on ground. In addition, we hope to use this with area high school students who have expressed an interested in entering the teaching field so that they can explore the field of teaching and experience some of our unique pedagogical approaches for preparing teachers."
This is one of two grants Webster received through the Missouri Department of Higher Education and Workforce Development this week. The second grant will fund the creation of the Webster Impact Center which will offer technology training to employers and employees in rural areas. The grants are funded through the American Rescue Plan Act (ARPA) and were recommended in Governor Parson's Fiscal Year 2023 budget proposal.