Webster University Chancellor and Alumnus to be Honored by the St. Louis City NAACP
ST. LOUIS - Webster University Chancellor Elizabeth (Beth) J. Stroble and Webster University alumnus and St. Louis Development Corporation Executive Director Neal Richardson will jointly receive the Freeman/Seay Commitment to St. Louis Award during the St. Louis City NAACP's 110th Anniversary and Annual Freedom Fund Dinner. The event will be held Feb. 19 in downtown St. Louis.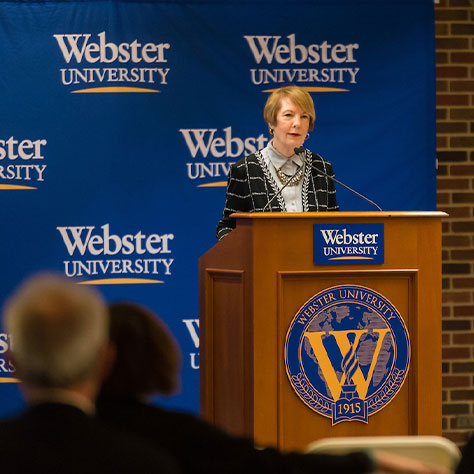 "On behalf of Webster University, I am honored to receive this recognition and at the same time celebrate the accomplished career and contributions of two-time Webster alumnus Neal Richardson," said Stroble. "Whether it's investing in students through expanding summer bridge programs and competitive scholarship support, hosting a world-class annual Diversity, Equity and Inclusion Conference, or creating new corporate pathway partnerships to enlarge career opportunities for diverse students, Webster weaves the values of access and success for our globally diverse student body into everything we do. This award reflects the needed work accomplished daily by the students, faculty, staff and alumni who recognize the importance of diversity, equity, and inclusion in our community."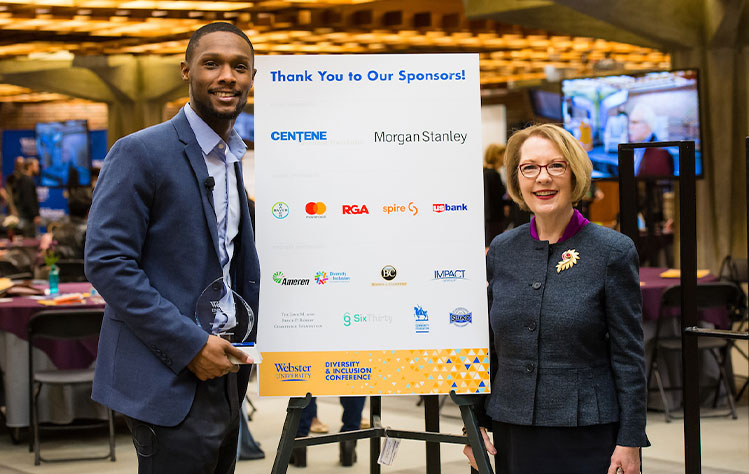 Neal Richardson with Chancellor Stroble at Webster University's Diversity, Equity & Inclusion Conference in 2019. Richardson was a presenter during the conference.
The theme for the annual dinner is "Transforming Communities Through Education, Social Justice and Civic Engagement." Stroble is being honored for her distinguished leadership and career accomplishments, a letter from the St. Louis City NAACP says. Webster University has been recognized for its diversity initiatives by many organizations over the years. Among those initiatives:
Webster will host its seventh annual Diversity Equity and Inclusion Conference this year. The two-day event will feature regional and national speakers focused on inequities that persist in our communities and promote immediate, practical strategies to strengthen inclusion.
In June, 2020, Webster University established a monthly online talk show to expand the diverse voices discussing critical DEI issues in our community. Called Webster Speaks, the show has taped 19 episodes and has attracted more than 4,000 online views.
Webster University has been recognized among the top 10 of all Universities, and among the top three for private non-profit institutions, for conferring more graduate degrees to Black students than any other University in the United States for the past 31 years by "Diverse Issues in Higher Education."
In 2013, the University was one of four institutions in St. Louis honored by Paraquad, a non-profit organization that offers services to people with disabilities, for its on-campus efforts to make the Webster Groves campus as accessible as possible for those with mobility issues.
In its "America's Best Colleges 2022" list, U.S. News & World Report recognized Webster for its economic diversity and success with students who receive Pell grants, and as a "Best Value" school and among "Best Colleges for Veterans." The magazine also recognized Webster on its inaugural Social Mobility ranking, which recognizes schools that best serve underrepresented students.
In 2013, the Webster University Suggs Scholarship was established to enhance recruitment and retention of academically talented undergraduate students from communities that are typically under-represented in high education. Since 2020, Webster increased its commitment and awarded 10 students the scholarship.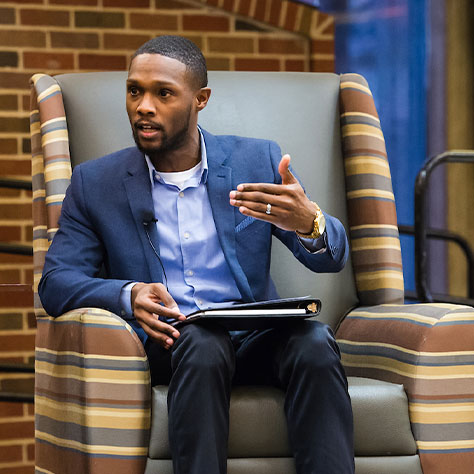 Richardson, who earned a bachelor's degree in business administration from Webster University in 2010 and an MBA in 2011, was nominated by Stroble to be a co-honoree for the award. Richardson is the executive director of the St. Louis Development Corporation. He also is the co-founder of the non-profit organization Dreambuilders 4 Equity, a St. Louis organization that rehabs vacant houses, employing minority and youth contractors from the region to do the work. Besides on-the-job experience and professional development, the contractors earn equity in both the real estate that is worked on as well as a percentage of the profits from annual books published by the organization about their regional efforts.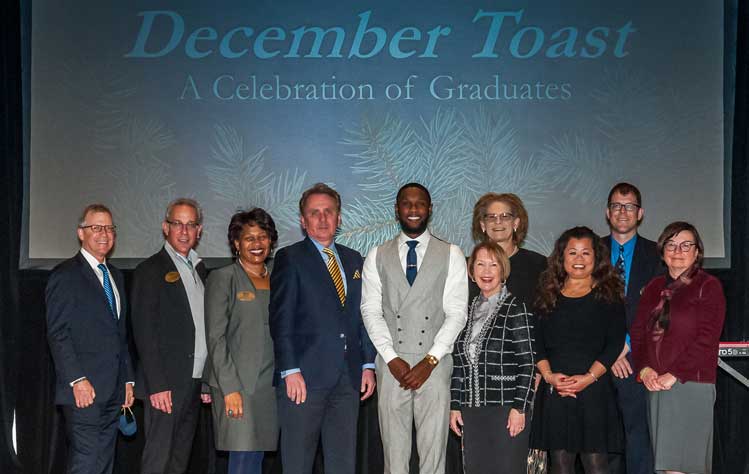 Richardson (center) also served as the keynote speaker at the University's December Toast event for mid-year graduates in 2021.
The award, named in honor of the late Attorney Frankie Muse Freeman and the late civil rights activist Norman R. Seay, is presented annually in recognition of exemplary service, distinguished leadership and commitment to improve the cultural, social and economic growth and development of the St. Louis area.
The NAACP (National Association for the Advancement of Colored People) is the nation's oldest civil rights organization. Founded in 1909 by a coalition of black political activists and white progressives, the NAACP is responsible for numerous victories in the struggle for justice and equality in America. The St. Louis City NAACP is at the forefront of issues paramount to the St. Louis community aimed at civic engagement, youth empowerment, and eliminating disparities in economic development, affordable healthcare, equality of education, technology and political empowerment.