News Around Webster: Green, Jachens and Blazer
Green and Students Selected for George Washington Digital Encyclopedia Project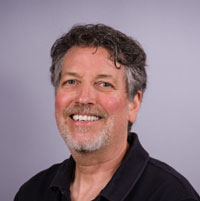 This past year, Ted D.R. Green, Professor in the Teacher Education Department and Interim Department Chair, was selected to pilot a two-year project 2021-2023 at George Washington's Presidential Library.

"This is a wonderful opportunity for our education majors who will adapt scholarly work written by Mount Vernon historians, education staff and graduate students to make the materials more accessible to a middle school audience and English Language Learner (ELL) students," said Green. "Our Webster students will be able to research, apply their historical literacy skills and create content to be published for future generations."
This continues Green's work from his Fellowship in 2015 at George Washington's Presidential Library. Green also partnered with Mount Vernon and The Centre for French Colonial Life & the Bolduc House Museum in Ste. Genevieve in 2018 providing hands on experiences to Webster students and teachers throughout Missouri for hands on Living History experiences."
Students in Green's new Arts and Humanities classes have been rewriting digital entries for George Washington's Digital Encyclopedia to make them more student friendly and able to be used by ESL students. Webster students will be cited and listed as authors at Mount Vernon. Green is in the middle of this two-year project.
Green is a Life Guard Fellow at George Washington's Mount Vernon.
Colonial Williamsburg Field Study course in Tidewater, Virginia Celebrates 20 Years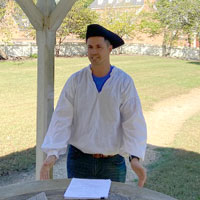 Ted D.R. Green, Webster professor in the Teacher Education Department and Interim Department Chair, has been a master teacher and curriculum writer for the Colonial Williamsburg Foundation with more than 22 years of service. His work is published by the foundation as well as shared and taught in the Colonial Williamsburg Teachers Institute, now in its 37th year.
Photo cutline: Webster student Ben Brotherton, who is earning an MAT in Middle School Social Science, performs as Patrick Henry near Governor's Palace in Virginia for the Colonial Williamsburg field study course.
Teachers around the globe use Green's materials in their classrooms — real and virtual.
This year also marks the 20th anniversary of his Colonial Williamsburg field studies course through Webster University. Green's course looks at historic colonial and revolutionary events focusing on the perspectives of the enslaved, the indigenous, women and those who were marginalized. While this special course has ended it was generously supported throughout these years by Webster alumni including Carol Colligan, Julie Lineberry, Mary Ellen Pearson and many others.
"It is the end of an era," said Green. "Over the years, we have positively impacted over 144-plus students and alumni who have made this journey with me out to Tidewater, Virginia, since 2002. We really had fun, experienced life in another era and studied America from a Euro centric, Afro centric and Indigenous Peoples perspective." Green has taken 21 different groups of students on his field study class as well as two different groups of alumni during the past 20 years.
Jachens Was a Panelist at the Humanitarian Networks and Partnerships Week Conference in Geneva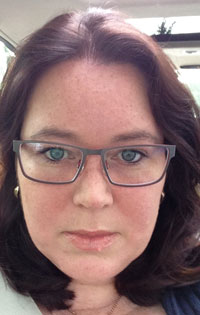 Liza Jachens, research associate professor in the Psychology and Counseling Department for Webster University - Geneva, was a panelist in the session "Physical & Mental Wellbeing: Why an Integrated Approach to Security Risk Management is Important" at the Humanitarian Networks and Partnerships Week (HNPW) conference in May in Geneva.
The HNPW is an annual humanitarian conference, one of the largest events of its kind, that provides a collaborative space for practitioners and experts from a variety of humanitarian stakeholders including UN agencies, NGOs, the Red Cross and Red Crescent movement, academia, the military, private sector initiatives and member states.Jachens joined Lisa Reilly, executive director of the Global Interagency Security Forum (GISF), and others in an expert panel discussion to raise awareness and improve the responsiveness of security risk management in the humanitarian sector.
The virtual session examined physical and mental well-being and why both are an integral part of security risk management.
Approximately 100 people attended the conference, more than 250 sessions occurred with approximately 50 virtual exhibition stands that published more than 50 humanitarian networks and partnerships.
Jachens is an occupational health and research consultant for both public and humanitarian organizations. She has extensive occupational health experience, designing and implementing psychosocial risk assessments and health interventions. She also has numerous publications on stress-related working conditions and employee health and wellbeing. She was recently published regarding the topics of eco-anxiety and suitable interventions.
Since 2017, the strategy for HNPW cross-network collaboration is defined by the "Leading-Edge Program" Strategic Group, which is co-chaired by the Swiss Agency for Development and Cooperation (SDC) and the United Nations Office for the Coordination of Humanitarian Affairs (OCHA), comprising representatives of Networks and Partnerships that attend the HNPW. In preparation for the HNPW 2022, The LEP Strategic Group has agreed on nine Areas of Common Concern for cross-network collaboration. Integrating Security Risk Management Across Humanitarian Actions is one of these common areas of concern, led by Global Interagency Security Forum (GISF) and the World Food Programme (WFP).
Lisa Blazer Appointed to RNL Advisory Board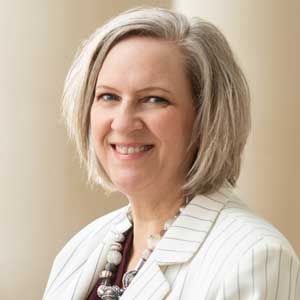 RNL (Ruffalo Noel Levitz) announced Lisa Blazer, Webster University's Vice President for Enrollment Management, was appointed to the RNL Undergraduate Enrollment Advisory Board. As a member of the board, she will be one of 15 members who will provide insights into campus enrollment in areas such as student search and engagement, financial aid management, student retention and completion, and strategic enrollment planning.
According to RNL, the insight of the members will provide guidance to RNL on how to better serve the more than 1,500 colleges and universities it works with annually. The full announcement is online.