News Around Webster: Dragon Boat Races, Laue and J.P. Morgan Presentation
Webster Leiden Competes in the Leiden Dragon Boat Races 2022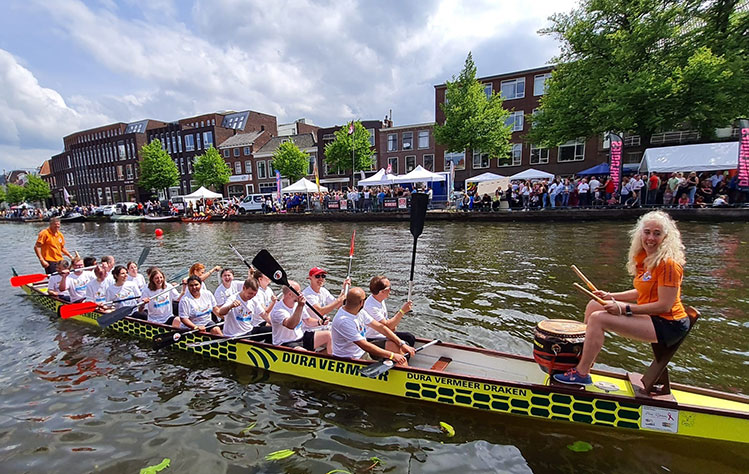 Leiden recently celebrated the "Lakenfeesten" or Festival of Sheets. One of the events included the 2022 dragon boat races, and the Webster Leiden team participated for the first time in two years. The races are considered one of the largest and most popular inner-city races in The Netherlands.
The dragon boat races were cancelled in 2020 and 2021 due to the COVID-19 pandemic. The event returned this year with enthusiasm and excitement from the teams and also the spectators, who lined up along the canal. Twenty-five rowing teams competed under the leadership of exciting drummers, who set the tempo.
A group of Webster Leiden alumni, staff, faculty and students teamed up to row the dragon boat together, while the rest cheered them on from the sidelines. The Webster team had a slow start, but fought back valiantly to even the score. However, in the end, they were outmatched by another team.
Webster Leiden has long participated in community events as the city's culture is embedded in these activities. The campus views community engagement and public participation as important for transparency and developing relationships between students, teachers, community members and other organizations. On the campus, members of the community have the opportunity to fuel big dreams, talk about community aspirations and brainstorm with their neighbors.
The event was sponsored by the Webster Leiden Alumni Association and Webster Leiden Student Services.
Laue Presents at HECA Conference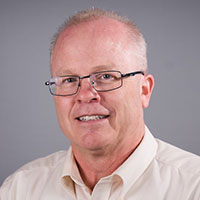 Associate Director of Admissions Andrew Laue presented a workshop on Selective Arts College Admissions at the Higher Education Consultants Association (HECA) conference, held in Denver on June 14-15.

HECA is an international organization of independent college counselors that assists families with the college search and admission process. More than 300 attended the conference.
Webster Geneva Gives Presentation at J.P. Morgan
Two members of the admissions team from the Webster University campus in Geneva made a presentation on the educational system of Switzerland to J.P. Morgan staff in Geneva. J.P. Morgan is one of the largest financial services firms in the world.
The presentation was given by Mark Hatton, admissions and marketing director, and Jessica Geer, senior admissions counselor. Both shared their knowledge and experience of the Swiss education system with an audience of around 90 J.P. Morgan staff, many of whom joined by video conference. The presentation was followed by a question and answer session during which Hatton and Geer demystified some of the possible pitfalls of navigating children through a successful education in Switzerland.
"We are very grateful that a firm as prestigious as J.P. Morgan are happy to welcome us to share our expertise with their staff," Hatton said. "Working in admissions, and being parents ourselves, both Jess and I understand how complex these issues can be. We hope that these explanations will help the staff at J.P. Morgan with the choices for their own families in the future."