News Around Webster: Hoover, Stroble, Stiles, Grotewiel, McLain, Woolf and Hodson
Hoover Publishes a New Book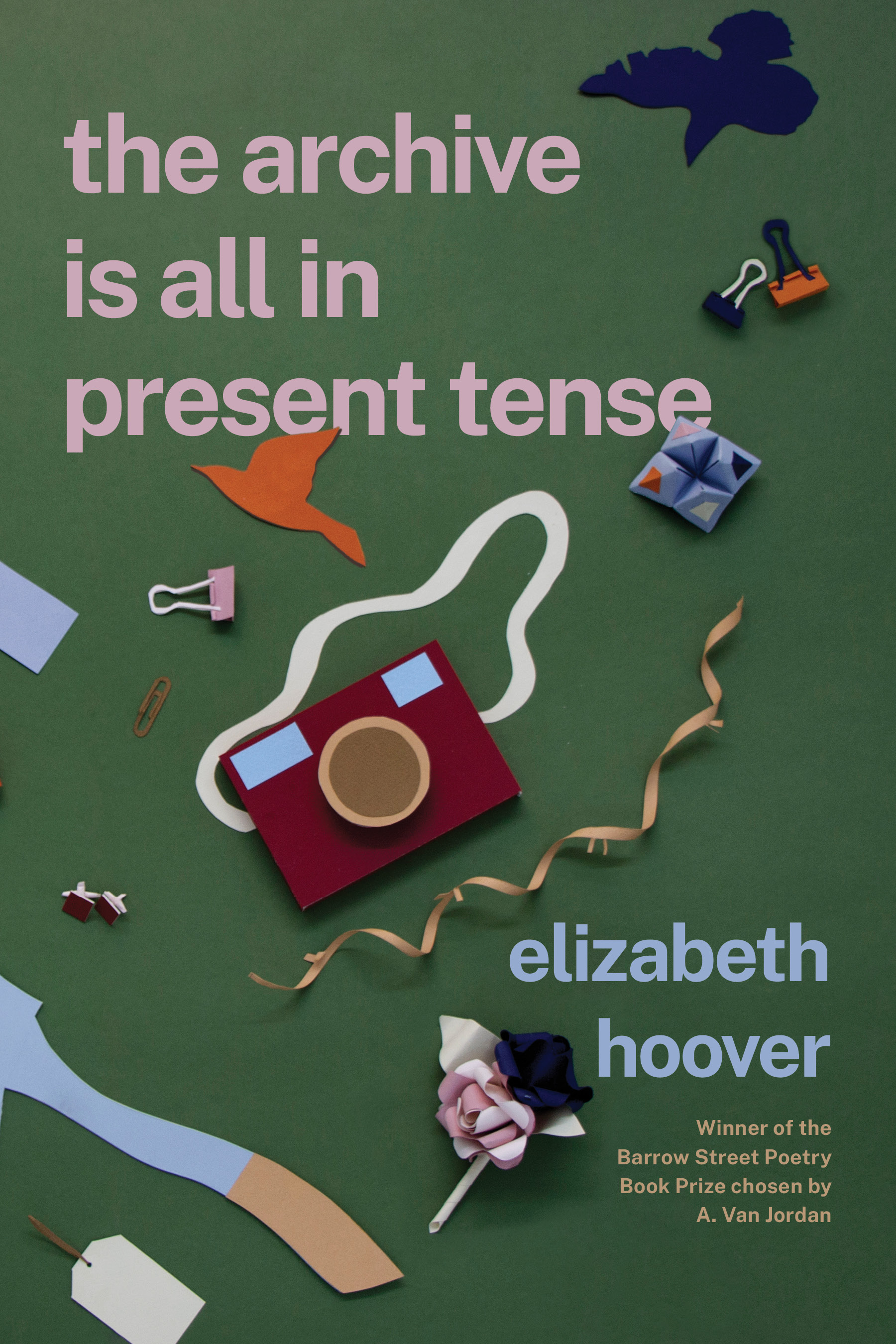 One of the newest faculty members within the College of Humanities and Social Sciences, Elizabeth Hoover, is also one of Webster University's newest published authors. Hoover's first book, "The Archive Is All in Present Tense," was the winner of the prestigious Barrow Street Book Prize and was published on Oct. 15.

Hoover's book was driven by a lifelong love of reading, writing and discovery — even when the things she discovered were troubling.
"I fell in love with the magic of a chance discovery in the stacks as a young person wandering the beautiful Carnegie library in my neighborhood," said Hoover, who grew up in Pittsburgh. "I was seduced by the fact that I could take my book up to the top of a clock tower and get lost in reading, but it was also a place where books on LGBTQ+ issues were catalogued.
"How can I mediate my love of those types of spaces with the knowledge that they have historically excluded people like me, sometimes even with violence? Those were the kinds of ideas and questions that drove the writing of 'The Archive Is All in Present Tense.'"
In her first year at Webster, Hoover has already made an impact in the English department and beyond.
"We knew from her first Zoom interview that Elizabeth would be a great fit here," said English Department Chair and Director of Creative Writing Murray Farish. Farish and other faculty members of the English department ran the national search that led to Hoover's hiring. "Then when we brought her to campus and saw her teach and engage with our students, she became our top choice very quickly."
Hoover's new book is a poetry collection, but she also writes creative nonfiction, has expertise in LGBTQ+ studies and LGBTQ+ literature. Hoover has also written art, film, literary criticism, numerous artist profiles, and stepped up to teach one of the English department's newest courses this fall, a multi-genre workshop in Introduction to Creative Writing. Her versatility is a perfect fit with the English department, Farish said.
"We're a small faculty with a growing number of majors and minors, and we're also deeply involved in things like the Global Citizenship Program, the Cornerstone Program and the Learning Community Program, so we need to be versatile and responsive to student needs," Farish said. "Elizabeth will grow our poetry program, grow our creative nonfiction program, grow our literature offerings, and she's also able to teach the kinds of interdisciplinary courses that we want to be a hallmark of the College of Humanities and Social Sciences."
In Spring 2023, Hoover will teach a course in LGBTQ+ literature that will be cross-listed with the Women, Gender, and Sexuality Studies program and with Secondary Education-English. Hoover said that after six weeks on the job, she can't wait to see what her students do next.
"Initially, I was excited to come to Webster because of the freedom I would have to design courses that arose both from my own interests and from the needs and desires of the students here," Hoover said. "Now that I have been here for a while, I am struck by the engagement and dedication of my students. Every day, their comments surprise and inspire me to reconsider the meaning of a poem I've read a hundred times, compositional tactics or ways of supporting and challenging each other. Each class feels like a model of an artistic community!"
Professor Stroble Lectures on Vandalia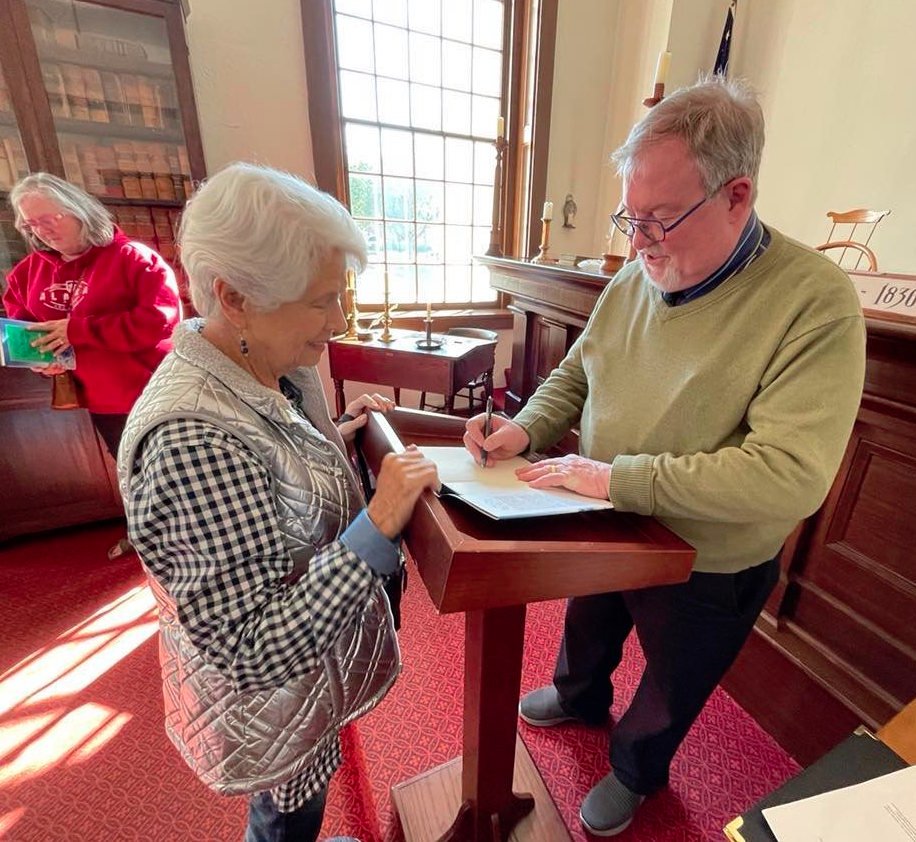 Adjunct Professor Paul Stroble visited the Vandalia Statehouse on Oct. 8 to read poetry and deliver a lecture about how the community influenced his work. Stroble, who grew up in Vandalia, signed copies of his books afterward. A full report on the lecture can be found on Facebook.
Professors Attend Annual American Psychological Association Convention
Psychologists from around the globe recently met in Minneapolis for the Annual American Psychological Association (APA) Convention, including several faculty members from Webster University:
Deborah Stiles, Ph.D., director, Intercultural Research Center and professor, Applied Educational Psychology and School Psychology
Morgan M. Grotewiel, Ph.D., assistant professor, Psychology
Shannon McClain, Ph.D., assistant professor, Psychology
Linda M. Woolf, Ph.D., professor, Psychology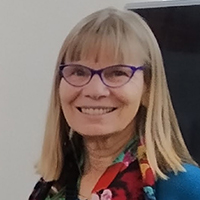 Stiles presented as part of a panel entitled, "Interventions to Support Refugees and Migrants Facing Traumatic Events." This panel, which was developed in collaboration with the Refugee Mental Health Resource Network (RMHRN), focused on presentations about work with refugees. Stiles' contribution to the panel was titled, "Psychological support and advocacy for a Honduran family in Missouri: A Case Study." As part of the International Psychology Division 52 of APA, Stiles also presented "Two Brave Sisters Wanting to Escape the Taliban in Afghanistan Create Tree of Life Drawings and New Life Stories. A Case Study."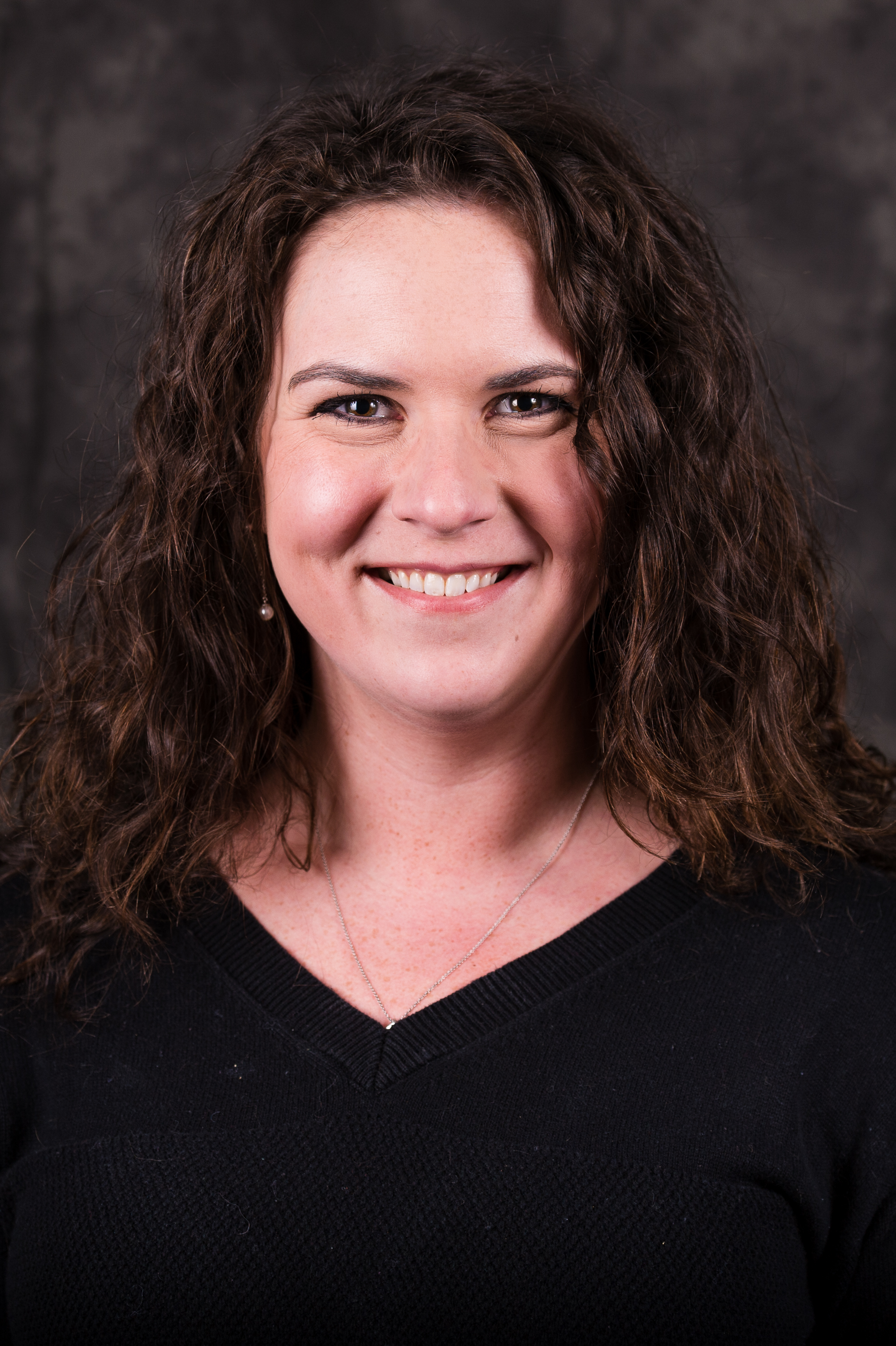 Grotewiel presented a poster titled, "Daily Hyperfocus and Flow States of College Students With and Without ADHD: An ESM Study." Three Webster alumni, Megan E. Crenshaw, Amelia Dorsey and Elizabeth Street, co-authored this research, which was funded by a Webster University Faculty Research Grant. Additionally, one of Grotewiel's research mentees, Alexandra Stookey, presented a poster titled, "The Effect of Unsupportive Social Interactions on the Subjective Well-Being of College Students," based on her Psychology Senior Thesis and continued independent research project. Finally, Grotewiel, an active member of APA Division 17 (Society of Counseling Psychology), was inaugurated as treasurer of the Division 17 Section for the Advancement of Women.
McClain co-authored a poster titled, "The Role of Institutional Support for Students of Color in 2022 and Beyond." Additionally, McClain served as APA Division 45's (Society for the Psychological Study of Culture, Ethnicity and Race) programming co-chair. In that role, McClain was involved in all aspects for the division's program for the APA Convention.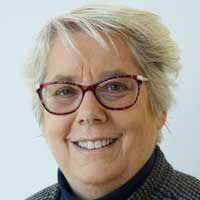 Woolf was actively involved in many aspects of APA Division 2's (Society for the Teaching of Psychology) programming as she is the 2022 Division 2 president. She served as session chair for many programs and gave a presidential address titled, "Psychology and Eugenics: Why This History Matters to Teaching Today." Additionally, Woolf participated in a panel titled, "A Substantive Discussion of the APA Ethics Code Revision," updating member on the recent work of the APA Ethics Code Task Force.
Professor Hodson Presents at the Monthly SE Community Conversations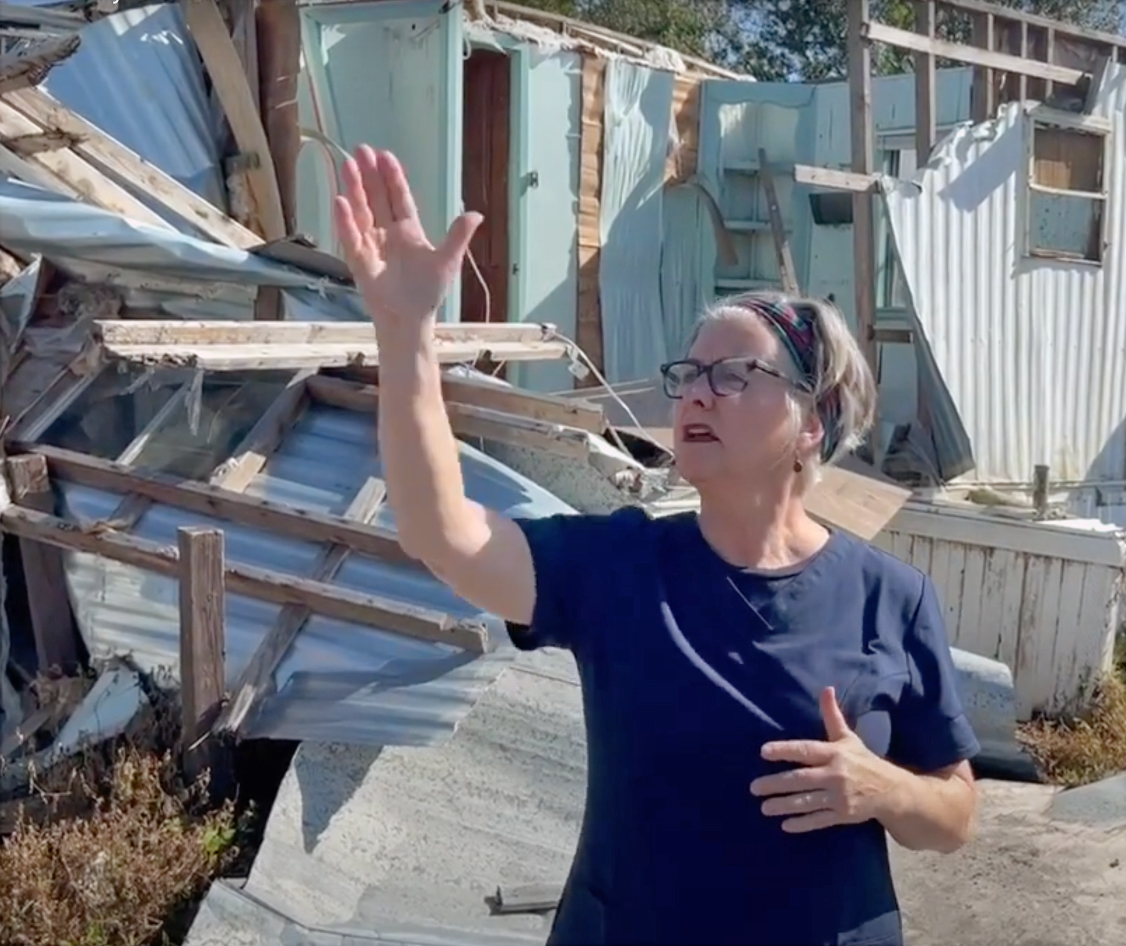 Art Professor Carol Hodson, director of the Expressive Arts Therapy certificate at Webster University and an expressive arts therapist/somatic experiencing practitioner, served on a the virtual panel "Crisis Stabilization and Safety: SE-Informed Peer Support and Crisis Intervention" on Friday, Oct. 14. Hodson joined the SEI's crisis stabilization and support team this past winter after joining CSS Public Health Director Amie Leigh on a "stealth mental health" mission directed by to the Louisiana Bayou post IDA. 
Hodson also served on another SE Community Conversation in March of this. That talk, "Hidden Mental Health Professionals: Teachers" can be found on YouTube or traumahealing.org/conversations..
Hodson joined the crisis stabilization and support team in Louisiana last winter after Hurricane Ida struck the region. The experience led to her to be invited to join the SE community as part of the first CSS cohort to be trained to facilitate training for first responders and other organizations, who want to approach ongoing or potential crisis with a trauma-preventive, neuro-physiological framework. This new CSS protocol is used effectively with individuals during or immediately following crisis (from natural disasters to community shootings to the current war in Ukraine). This cohort includes professional therapists, educators, crisis workers and community leaders, many of whom have participated on these community conversations.
The intensive training program mentioned above will be rolled out for the public in November. Training will be available as an experiential seminar, lasting one, two or three days, and it will available through Zoom or in person via Somatic Experiencing International at www.traumahealing.org.
At Webster, Hodson's course "Introduction to Expressive Arts Therapy" will be offered in Spring 2 for both undergraduate and graduate students. This course is appropriate for anyone interested in using the expressive arts (art, music, movement, creative writing and drama) to heal others or themselves.