News Around Webster: Sheng, Hill, Portnoy, Brewer, Bishop, Ghana and More
Webster Adjunct Publishes Book on 3D Printing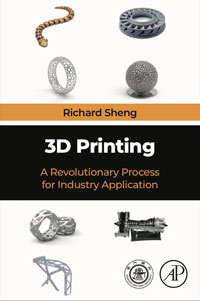 Webster University adjunct Professor Richard Sheng has published the book "3D Printing, A Revolutionary Process for Industry Applications," published by Elsevier. Sheng teaches statistics and operations in the MBA program in China.

The book covers 18 different industries and how they using 3D technology to print parts and components. The book details a wide range of uses for creating products in whole or part, including footwear, organ transplants and dentistry.

In the book, Sheng recounts how engineers at GE used to make 25 different parts to create one jet engine fuel nozzle. Today, they can use 3D printing to create a nozzle as a single part, which makes the part more reliable.
Sheng previously published the book "Systems Engineering for Aerospace," which is widely used as a textbook. Sheng said he hopes his new book will also be widely accepted by educational institutions.
Before entering academia, Sheng worked at Boeing/McDonnell Douglas as a technical fellow and helped develop the Boeing B757, B767, B787 and C-17. Besides teaching at Webster, he currently is a senior professor in the Aeronautics and Astronautics department at Jiaotong University. Sheng lives in Shanghai but travels extensively throughout China, providing engineering lectures and consulting.
Leigh Gerdine College of Fine Arts Well Represented at Interfaith Concert
Webster University was well represented at the 12th annual Interfaith Concert, "Faith Into Action," presented by Arts & Faith St. Louis on Sunday, Sept.18 at The Sheldon concert hall.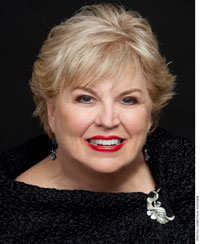 Webster artist-in-residence Christine Brewer began the program with two solos. One of those songs, "The Light Divine" was created by Professor Kim Portnoy in collaboration on text with Adjunct Professor Melissa Bishop.

Professor Stuart Chapman Hill was also commissioned and wrote text and music for a piece titled "All We Believe," performed by the Interfaith Youth Chorus under the direction of Maria Ellis, a graduate student in the Department of Music.
To learn more about the original music Hill and Portnoy composed for this concert, see their interview with the Webster-Kirkwood Times.
In addition, the concert featured visual arts, including the piece "Salam," created by DADAH junior graphic design student Naba Yasir. That creation can be viewed on the Arts & Faith website.
Arts & Faith St. Louis began on the 10th anniversary of 9/11 with an interfaith commemoration in music at The Sheldon concert hall. Headlined by renowned soprano Christine Brewer and other acclaimed local musicians, the event showcases the performances of many diverse faith groups, providing attendees with a unique opportunity for reflection, unity and peace.
Office of Admissions Hosts College Fair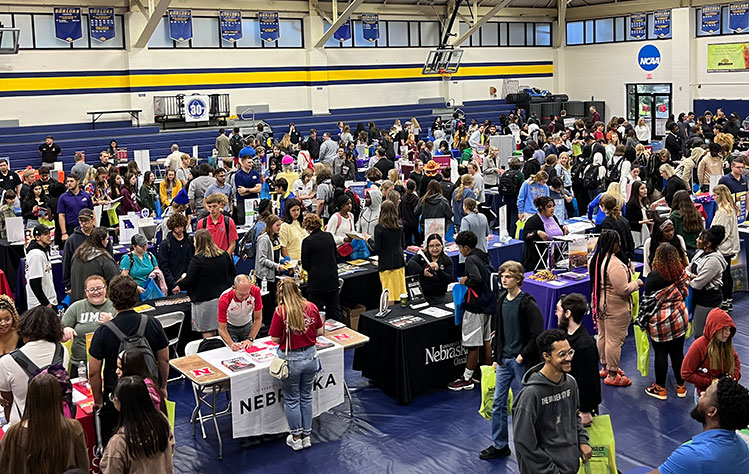 Webster University's Office of Admissions hosted the St. Louis South Central Regional College Fair on Sept. 27. Eighty-five colleges and universities were represented, and more than 300 high school students attended. Annually, regional college fairs are held throughout Missouri and allow high school students to explore their post-secondary education options after graduation. The fair was sponsored by the Missouri Association of College Admission Counseling.
Webster Ghana participates in Global Citizen Inaugural Festival in Accra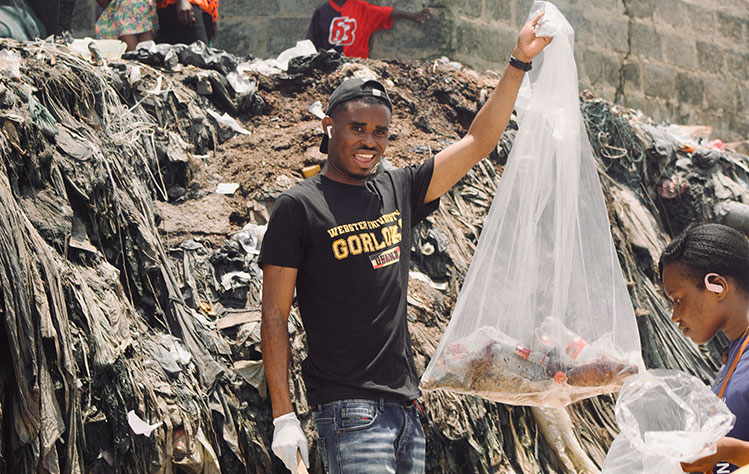 Webster Ghana collaborated with the organization BASICS International to host a community service event in support of Ghana's first-ever Global Citizen Festival, held Sept. 24 at the Black Star Square. The festival marked the 65th anniversary of the country's independence.
Webster Ghana and Basics International engaged Webster students in activities aimed at protecting the environment and defending the planet. BASICS International is a global community-based intervention program, promoting literacy, economic empowerment, health, wellness and social inclusion.
The community service activations, which happened prior to the Global Citizen Concert, included a beach cleanup exercise at the Chorkor Beach where students collected plastics from the beach to be recycled as well as a campaign to promote basic education for children. This fitted perfectly into Webster Ghana's strategy to eradicate the use of plastics on campus and become a plastic-free campus over time. It also supported Webster's mission of global citizenship.
All students who participated in these activities were rewarded with free tickets to the Global Citizen concert, where they were able to see performances from popular artists such as Ghanaian stars Gyakie, Stonebwoy, Sarkodie, Kwesi Arthur and Yaw Tog; British artist Stormzy; Nigerian musicians Tems, Tiwa Savage and Oxlade; and special performances from American music stars, SZA and Usher Raymond IV.