Sargent Conservatory Alum Erik C. Peterson Makes Broadway Debut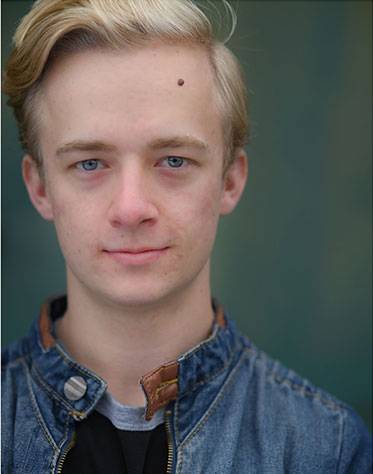 Webster University and Sargent Conservatory alumnus Erik C. Peterson '22 has been cast in the new Broadway company of "Harry Potter and the Cursed Child," which begins previews Nov. 15 at the Lyric Theatre in New York City. The role marks Peterson's Broadway debut.

Peterson will play Scorpios Malfoy, son of Harry Potter's long-time nemesis Draco Malfoy, in the play that is based on an original story from J.K. Rowling and takes place years after her book series ends.
Peterson, who has been quite busy since his graduation from Webster in May, first worked at Flagstaff Shakespeare Festival in Arizona, acting in their summer productions of "Othello" and "The Importance of Being Earnest," then moved to New York, auditioned for "Harry Potter and the Cursed Child" and spent some time getting settled in the city. He began rehearsals for "Harry Potter and The Cursed Child" just last week.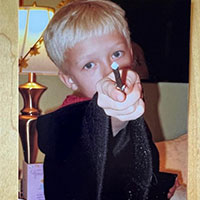 While the opportunity to audition for the play came about through a routine submission process from his agent, Peterson said getting to his auditions proved to be a feat of almost magical proportions. He was working in AZ at the start of the process which ultimately took two months and multiple rounds of in-person meetings.
"This meant I had to navigate some rather special logistical challenges with bouncing back and forth," he explained. "In fact, I had an audition at 10 a.m. Eastern Time in NYC on the morning of our opening night performance of 'The Importance of Being Earnest' at 7 p.m. Mountain Time in Arizona. The optics were tough but thanks to some intense planning, sheer luck, multiple airports, and help from my wonderful family and the fine folks at FlagShakes, it all went off without a hitch, and I attended the audition and didn't miss the show!"
While performing on Broadway will be new for Peterson, immersing himself in the world of Harry Potter won't be. The actor, who shared a childhood picture of himself brandishing a wand as proof of he and his brother's many past duels, called himself a "potterhead" and "proud Gryffindor" from way back.
"My family listened to the Jim Dale audiobook CDs on a family road trip when I was young, and I totally fell in love," Peterson said. "To get to act in a Broadway play is a dream come true. To get to act in a Broadway play that takes place in the wizarding world takes that magical dream to a whole new level."
As for his time at Webster, Peterson said he remains grateful and believes the University and Conservatory are accomplishing exactly what they've set out to do in producing the next generation of theater professionals.
"I learned a lot from the faculty and my peers in the Conservatory," he said. "They encouraged me to form a process to approach the work with, gave me tools to sustain and protect myself through this physical and demanding career path, and provided me with the experience I needed to be able to walk into an audition room with confidence and ownership over my work as an actor. My time at Webster was an important period of growth for me that influenced where I am now in a massive way."
"Harry Potter and The Cursed Child" first premiered at the Palace Theatre in London's West End in July 2016 and made its Broadway debut in March 2018. The play has garnered multiple Laurence Olivier and Tony Award wins.
The New York Times called the show "a marvel of imagination, as magical as any spell or potion."
Tickets went on sale Oct. 3.