Fall Issue of 'Righting Wrongs' Now Online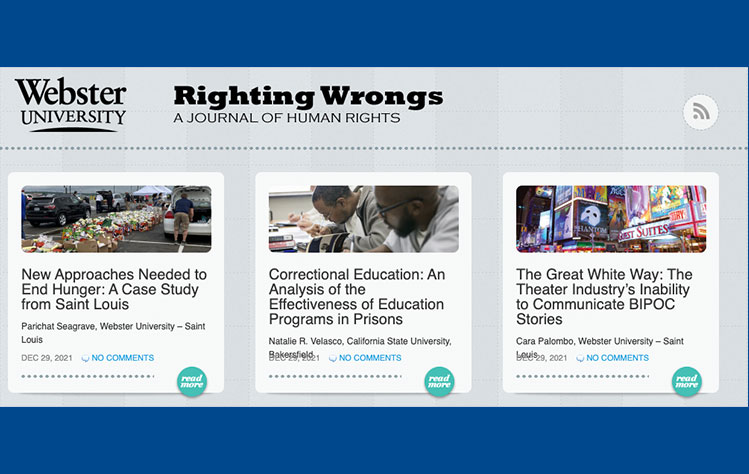 The latest issue of "Righting Wrongs: a Journal of Human Rights" was published online on Dec. 29, 2021. The publication is produced by the Webster University Institute of Human Rights and Humanitarian Studies.
"Righting Wrongs" is a peer-reviewed academic journal that provides space for students to explore human rights issues, challenge current actions and frameworks, and engage in problem-solving aimed at tackling some of the world's most pressing issues. It is recognized by the Library of Congress.
"The focus on undergraduate research makes us a vital focal point for human rights discussion in the Midwest, while also showing how human rights issues are interdisciplinary," said Associate Professor Lindsey Kingston, director of the Webster University Institute for Human Rights & Humanitarian Studies. "The online journal reflects how our Human Rights curriculum advances the study of human rights issues and also serves as an advocate for the protection and promotion of fundamental rights."
The latest issue features:
"New Approaches Needed to End Hunger: A Case Study from Saint Louis" by Webster University student Parichat Seagrave
"The Great White Way: The Theater Industry's Inability to Communicate BIPOC Stories" by Webster University student Cara Palombo
"Correctional Education: An Analysis of the Effectiveness of Education Programs in Prisons" by California State University, Bakersfield student Natalie R. Velasco
"Righting Wrongs" publishes twice a year. This is the 11th year of the journal. To learn more about the publication, visit webster.edu/humanrights.