Webster Creates 'Heartland' Scholarship Program for Students from Rural Areas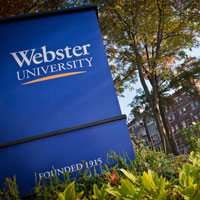 Webster University launched the Heartland Promise Initiative, a program at Jefferson College in Missouri, which will encourage students to pursue four-year college degrees. Scholarships will be awarded to offset the costs of tuition, books, and room and board.
The program is designed to address a troubling statistic that is often overlooked when addressing barriers to attaining a college education: rural high school students have a significantly lower acceptance rate to four-year institutions than students in urban areas.
"For more than a century, Webster University has provided both access and success for our students, meeting their educational needs and equipping them for bright futures," said Webster University Chancellor Elizabeth (Beth) J. Stroble. "In this new initiative, we will address the need to build a strong pathway to baccalaureate degrees for students in rural communities. By partnering with community colleges, we stand true to our commitment to strengthen equitable opportunities for more students through the transformative education provided by Webster."
"We're thrilled to partner with Webster University and support further access to degree pathways and career success for transfer students in our region," said Jefferson College President Dena McCaffrey. "As the premiere source for higher education in Jefferson County, Jefferson College is honored to be the first transfer institution where the Heartland Promise Initiative will be available."
Webster University will staff an office on the Jefferson College campus with an admissions counselor, who will conduct outreach to students and assist them in transferring to a four-year program at Webster. Jefferson College currently offers two-year associate of arts degrees and certificates, including the Associate of Arts, Associate of Arts in Teaching, Associate of Science, Associate of Fine Arts, and Associate of Applied Science.
Initially, the counselor will focus on recruiting students for Webster's Animation, Biology, Business, Computer Science, Education and Psychology programs. The counselor also will assist in selecting three Jefferson students each year for a two-year scholarship for $5,000 per year to assist with costs in attending Webster. Jefferson students also will be eligible to compete for other current Webster academic awards, ranging from $8,000 to $16,000 per year.
Future expansions for the program could include adding organized tours of Webster University, and creating a dual-enrollment program where students can simultaneously complete an associate's degree at Jefferson College while starting a bachelor's degree at Webster.
"By focusing on Jefferson College as the site for the pilot program, we hope to gather feedback from the students and staff and find ways to improve the initiative and better communicate to community," said Webster University President Julian Z. Schuster. "As the program matures, it will serve as an example of the types of services that institutions of higher education can provide to their communities."
Tentative plans to expand the program beyond Jefferson College are under consideration. Ideas include developing a summer college prep program for juniors in rural high schools that would include a one-week stay during the summer on Webster's main campus, as well as seeking out other community colleges in the Midwest to partner with.
Webster alumna and famed mezzo-soprano singer Jennifer Johnson Cano, '06, grew up near Jefferson College. She said she was fortunate her parents encouraged her to take classes at the college during the summers while she was still in high school so she would be better prepared for a university. She said this program will have a significant impact on others like her who grow up in rural communities but might not see an optimal path to earning a four-year degree.
"Webster University's Heartland Promise Initiative will provide indispensable resources for prospective students and their families," Cano said. "Figuring out the path to a college education can seem daunting and the proactive sharing of information and creating of relationships within communities will help so many folks feel confident and enthusiastic about the journey. The greatest promise of this program is that students feel encouraged and supported in pursuing their dreams."
According to national statistics, 19% of high school graduates in rural areas that are more than 60 miles from a four-year institution will pursue a college degree, as compared to 33% of students in urban areas. Research indicates rural students are academically ready for college but are less likely to enroll in higher education because of costs (rural areas have a higher poverty rate than urban areas), lack of awareness of programs that can assist in a college search and lack of college preparation skills taught in local K-12 schools.
Webster University School of Communications Associate Dean and Professor Aaron AuBuchon said those statistics describe the community he grew up in.
"This initiative is very important to me, because it mirrors my own reality," AuBuchon said. "I grew up in a very small town where the options for a future consisted of either a family farm or one of three factories for most young people. The path to some other future isn't always terribly clear in that environment, and I personally had to spend a lot of time looking around to find my way to the university education that eventually transformed my life.
"Making it easier to find that path will be transformative in the lives of so many young people who want more options for their future but haven't been provided with a road map of how they might get there."
For more information about Webster University, visit webster.edu.
About Webster
With its main campus in St. Louis, Missouri, USA, Webster University comprises an action-oriented global network of faculty, staff, students and alumni who forge powerful bonds with each other and with their communities around the globe. Founded in 1915, Webster is an independent nonprofit university with students studying at campus locations in North America, Europe, Asia and Africa and in a robust learning environment online. The University is committed to ensuring high-quality learning experiences that transform students for global citizenship and individual excellence.
About Jefferson College
Established in 1963, Jefferson College is a fully accredited, nationally recognized, public, two-year institution with its main campus located in Hillsboro, Missouri. Additional attendance sites are located in Arnold and Imperial. The College offers five associate degrees and 17 career and technical certificate programs while currently serving 3,600 full- and part-time college credit students (as of Fall 2022). Additional learning opportunities are provided through early college and dual credit programs, an area technical high school, adult literacy and high school equivalency programs, and numerous cultural arts events and athletic contests. Some of Jefferson's most noted programs include Nursing, Law Enforcement/Criminal Justice, Business Management, Teacher Education, Pre-Engineering, Veterinary Technology, Welding and Liberal Arts/General Education. The College also offers extensive noncredit workforce development and lifelong learning opportunities to those seeking career training or retraining, working to boost basic skills or pursuing new areas of interest.