Sverdrup Construction Nearly Complete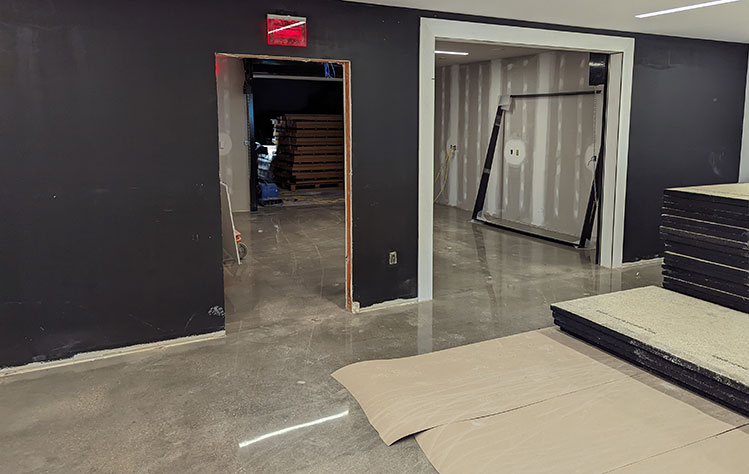 This picture was taken on Sept. 30 and shows that floors have been polished and most of the walls are painted. Crews are now adding finishing touches, such as trim, doors and windows.
The work on the west wing of the Sverdrup Complex is nearly complete. Workers are painting walls, installing windows, polishing floors and putting the finishing touches on the first floor rooms.
During the week of Oct. 17, when students are on fall break, crews will install the new state-of-the-art LED wall and virtual cinema system, and then train faculty and staff on how to use them. Equipment installation and integration throughout the three-studio audio suite also will occur, including the set-up of a new 32-channel sound board in Studio A and an Atmos system in Studio B. In addition, new furniture is scheduled to arrive that week.
"This is an exciting time for the students, faculty and staff as we move to just days away from opening one of the most advanced learning spaces in the Midwest," said School of Communications Dean Eric Rothenbuhler. "When completed, our students will have access to cutting-edge tools and environments that will give them a significant advantage in the workplace after graduation."
The second floor of the west wing was completed just before the start of the 2022-2023 academic year. As with any major construction project, workers likely will be adding finishing touches to areas throughout the west wing for several weeks, but the work won't be significantly intrusive. Webster University is working toward opening the floor on Oct. 24.
A grand opening celebration of the west wing is currently in the works. Watch the Webster University newsroom for further updates.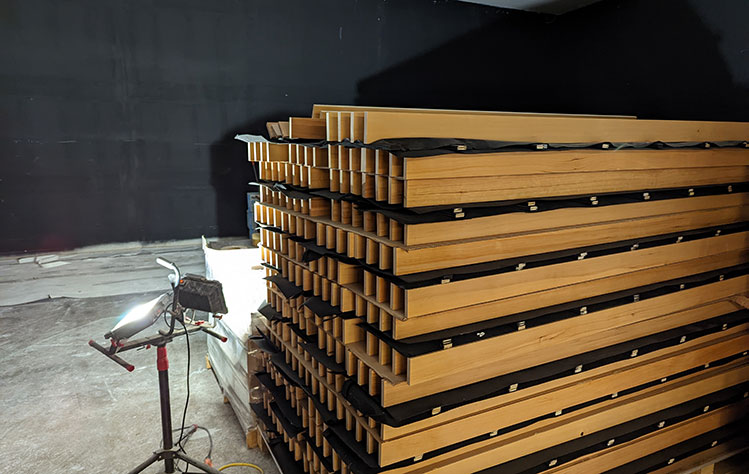 Taken on Sept. 30, this photo shows a pile of finished wood that is awaiting installation to help sound proof one of the studios being added to the first floor of the Sverdrup Complex.