Construction Completed on Second Floor of Sverdrup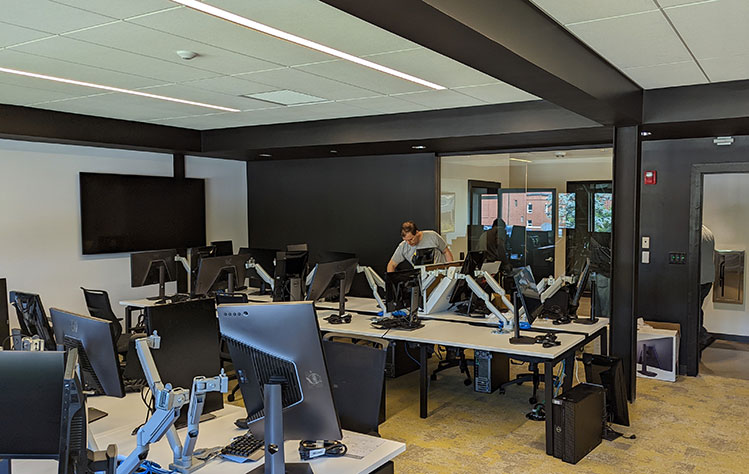 The second floor of Phase II of the Sverdrup Renovation is finished. Furniture has been moved in and Webster's IT department started installing computers last week.
When the floor opens Aug. 22 to students, faculty and staff at the start of the school year, they will be greeted with new classrooms, new labs and the new Kooyumjian Gallery, which will host its first photo exhibit that same day.
"Musick Construction and V Three Studios have done an amazing job designing this space and keeping the construction on track," said School of Communications Dean Eric Rothenbuhler. "Everyone will love how open and welcoming the new classrooms are, even the hallways are beautiful, and the Kooyumjian Gallery is really special. Shows and events there are going to be fabulous. There's even a cozy little conference room where I met with a prospective student and her parents the other day."
The second floor houses the new gallery, classrooms and labs for game design, animation, video post-production, photography, a new photography studio, meeting places and a space to share student work. Students and faculty also will have opportunities to peer into some of the creative spaces on the first floor through large windows on the second floor.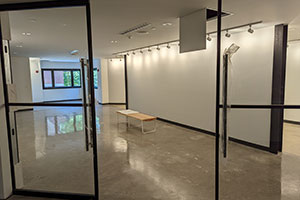 On Aug. 22, the Kooyumjian Gallery will open a show featuring the work of Webster University alumna Kholood Eid, a documentary photographer, filmmaker and educator based in New York. She is a recipient of the Robert F. Kennedy Journalism Award for Domestic Print in 2020, alongside colleagues, for the New York Times series, "Exploited." Kholood's clients include the New York Times, NPR, National Geographic and the New Yorker.
A reception and gallery talk with Eid will be held from 5:30-7:30 p.m. Sept. 30 in the gallery.
Work on the first floor is also progressing quickly. Most of the new walls have been installed and specialty wiring is nearly finished for the high-tech features that will be available in the spaces.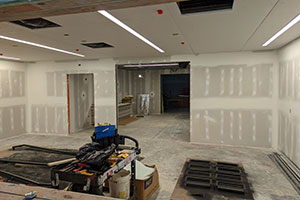 The first floor will include a suite of audio studios, a sound stage, workshops, public spaces and a refurbished auditorium. The sound stage will include an LED video wall for virtual cinema production, providing students with experience using the newest techniques in film, video and television production. The audio suite will be similarly state-of-the-art and fully networked, allowing students to work within their specialties, and across other media and disciplines. The LED wall and the audio equipment are tentatively scheduled to be installed in September, and the second floor is expected to be opened to students, faculty and staff during the Fall 2 term.
With the new renovations in Sverdrup, there are other changes happening in the School of Communications:
The BA in Media Production will be available online by next fall, allowing students to work across multiple media.
A minor in Content Creation will be offered. This academic program is for social media influencers, online video producers, bloggers, and other web-based content creators.
A certificate in Social Media Management will be offered, teaching students how to manage social media channels, strategies and content.
A certificate in Interactive Marketing Communication will focus on content creation and management for marketing and persuasive communication.
A certificate in User Experience Design will prepare students with the theory and practice for developing effective websites, apps, games and more.
Watch for further updates in future issues of Webster Today.