Students Enjoy Spring Break Study Abroad Programs to Costa Rica, Ecuador, Italy
Over Spring Break 2022, 44 students from Webster University studied abroad in various locations, including the Amazon Rainforest, the Galapagos Islands, Costa Rica and Italy. While abroad, students delved into academic areas that ranged from Evolutionary Biology to Renaissance Art. This marked the first time that short-term faculty led programs have run at Webster since the start of the pandemic. These short bursts of study about specific topics in the places where they are most relevant are extremely rewarding experiences.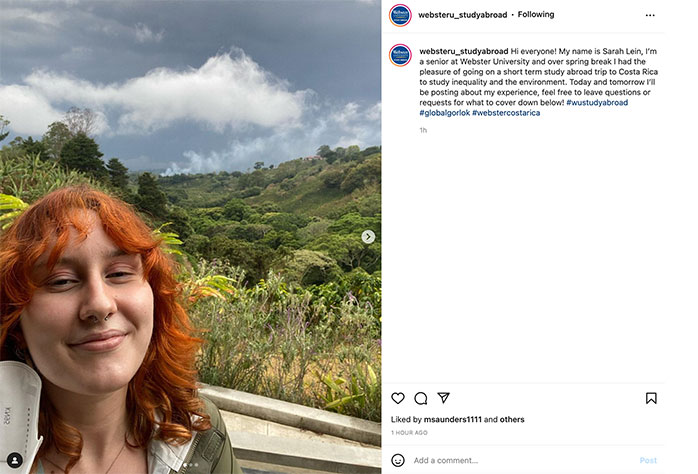 Students will be posting about their experiences over the next few days at the Study Abroad Instagram page, @websteru_studyabroad. Follow along as they recap their adventures.
It felt like I jumped out of my own life and into a whole different world...it truly did change the perspective of my world."
Inequality and the Environment: San Jose, Costa Rica
Co-led by Webster faculty members Kate Parsons from the Department of Philosophy and Danielle MacCartney from the Department of Sociology, a total of 15 Webster students traveled to Costa Rica this spring break to study first-hand the interaction of social, political, and ethical issues with environmental ones. "[Our students] swam across a volcanic crater, walked under waterfalls, zip lined through the cloud forest, and tried unfamiliar foods with admirable enthusiasm and curiosity," said Parsons.
"Studying abroad was the most enjoyable time of my life," said junior Brisa Pintor Jimenez, a Entrepreneurship major and Sustainability Studies minor, who got to study abroad in Costa Rica this spring break. "It wasn't just the new people or new places, but the ability to learn new ways to think."
Jimenez and her fellow students took day trips to the beaches and rainforests of Costa Rica, met with local coffee producers to gain a full grasp on the topics and experienced in person Costa Rica's rich ecosystems.
Parsons also lauded her students. "They asked tough questions and pushed themselves to think about their own positions and responsibilities as global citizens," said Parsons.
Click here to learn more about studying abroad in Costa Rica.
Studying abroad was the most enjoyable time of my life [it gave me] the ability to learn new ways to think."
Florence and the Renaissance: Florence, Italy
The Florence study abroad trip was directed by faculty leader Ryan Gregg from the Department of Art, Design, and Art History, and assisted by adjunct art Professor Tyler Stallings. Eleven total Webster students got to experience the Italian Renaissance with their own eyes. Through daily visits and tours to historical sights, free time to explore the city independently, and dinners of Italian cuisine, students gained an intimate knowledge of the birthplace of the Italian renaissance where painters and artists such as Leonardo Da Vinci and Michelangelo lived.
Want to learn more about what it's like to study abroad in the birthplace of the Italian Renaissance? Click here!
Indigenous Rights and the Rights of Nature: Quito, Ecuador and the Amazon Rainforest
This program to Quito and the Amazon was led by Dana Hill, a Webster human rights professor who is based in Quito, Ecuador, and Tyler Worlund, Study Abroad advisor in the Office of Study Abroad.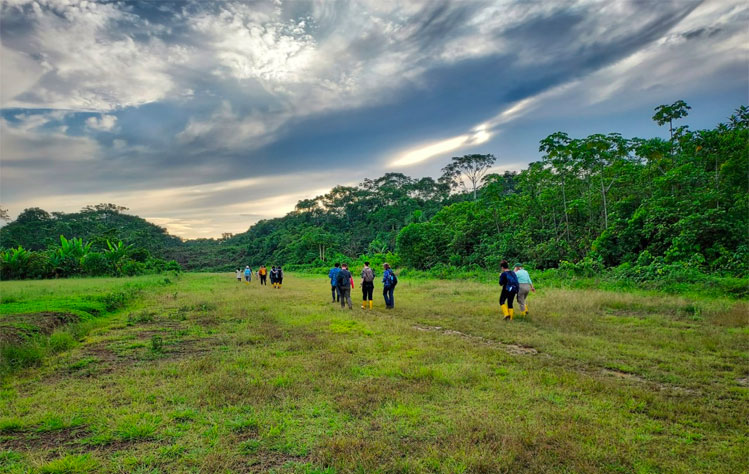 "When I went to Ecuador, it felt like I jumped out of my own life and into a whole different world," said junior Kinza Awais, a psychology major. "I cried, laughed, and felt deep emotions I had never felt before and it truly did change the perspective of my world." Awais and the nine other Webster students on this trip got to experience several days in the Amazon jungle with the Sápara indigenous people, met with environmental activists, and spent time with indigenous leaders learning about local issues relating to social movements and the defense of nature.
"If you're thinking of studying abroad, even if it is just for a week, do it! I promise it will be the change you're looking for," said Awais.
Interested in more information about studying abroad in Ecuador and the Rainforest? Click here!
Evolution Lab: Quito, Ecuador and the Galapagos Islands
In the Evolution Lab program, led by Nicole Miller-Struttmann in the Biology Department, eight students conducted their own research projects on evolution with the opportunity to collect data straight from the source: the rich and biodiverse locale of the Galapagos Islands, Ecuador.
With outings like snorkeling with sea lions and marine turtle, hiking to cliffs with iguanas and blue-footed boobies, and visiting a sustainable farm, the lines between learning and exploration all but disappeared.
Click here for more information about the Evolution lab.
It's Your World. Explore!
These programs are designed to enrich the curriculum by giving students a learning experience outside the classroom and allow them to better understand the world around them. The short-term faculty-led programs are another avenue for students to attain an experience in Webster's award-winning study abroad program. They are semester length courses (online or in-person) with an embedded study abroad experience over Fall Break, Spring Break or Summer.
The application deadline Fall Break 2022 study abroad programs is May 1. Students, faculty and staff can learn about offerings and study abroad scholarships, through the Webster Study Abroad web site www.webster.edu/studyabroad or by contacting the Office of Study Abroad at worldview@webster.edu.