$2.7 Million TESL Program Grant Expected to Exceed Goals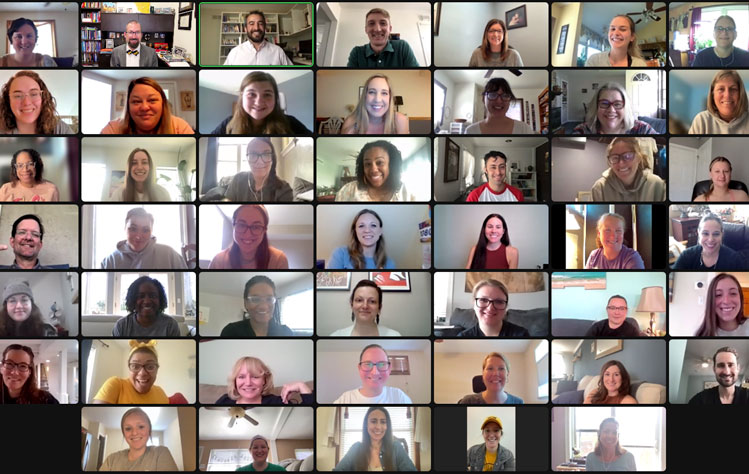 Photo: Teachers from Cohort 7, 8 and 9 along with their mentor teachers and the Webster NPD grant team meet on Zoom for the final Saturday Seminar, April 23, 2022.
Webster University was awarded a $2.7 million National Professional Development (NPD) grant in 2017 for a five-year project to prepare 120 St. Louis-area teachers to meet the needs of English learners (ELs) through coursework leading to state English Language Learner (ELL) certification and Saturday Seminars to promote communities of practice and increase family, parent and community engagement.
This NPD grant was the largest federal grant awarded to Webster University.
The project has been under the direction of TESL Webster faculty members Dr. DJ Kaiser (project director) and Dr. Soheil Mansouri (co-project director). Shane Kennedy also provides support for the project as the Webster grant coordinator.
"Since 2011, Webster University has been engaged in three different multiyear grant projects to prepare teachers to support English learners in K–12 schools. Webster's TESL program has been integral to supporting ELs in Missouri and this current project is the one that I am most proud of," said Kaiser. "This project includes a series of eight Saturday Seminars that work through the Teacher-Student Success Network, or TSSN."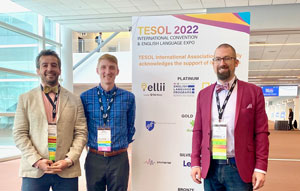 The grant team recently finished their 20th and final Saturday Seminar where members of cohorts 7, 8, and 9 presented their final group projects on innovative ways to increase family, parent and community engagements. Participating K–12 teachers worked with experienced mentor teachers over a two-year period and developed websites for parents of English learners (ELs), parent mentorship programs and other projects to help connect immigrant and foreign-born families to community organizations and resources. Photo: Left to Right: Dr. Soheil Mansouri, Shane Kennedy and Dr. DJ Kaiser at the TESOL 2022 International Convention and English Language Expo in Pittsburgh, PA.
"Our teachers catalogued dozens of community organizations and resources to support ELs and their families through these projects," explained Mansouri. "This demonstrated the value of including community partners in our Saturday Seminars to help expand the scope of support networks available to students and families."
The International Institute of St. Louis and St. Louis Mosaic Project have been community partners on this project and assisted the grant team in the original development of the TSSN framework. Representatives from each organization also visited seminars for each group of cohorts to present on how their organizations provide support to immigrants, refugees and foreign-born members of the St. Louis community.
Teachers from six different school districts participated in this grant project: Mehlville, Parkway, Pattonville, Ritenour, St. Louis Public Schools and Special School District. The grant paid full tuition for eight TESL courses and additional courses teachers needed for ELL certification. While the grant only paid for courses leading to ELL certification, personalized advising from the grant team has led to all teachers also completing their MA in TESL.
This May, 115 NPD grant cohort members will have completed their program with another two completing final courses this summer. The grant team requested to use uncommitted funds to support another 10 teachers in a final cohort, which will complete their coursework during a no-cost extension year (2022–23). By the end of these six years, the team anticipates that 127 teachers will have completed the project, exceeding the original target of 120.
"This project required a lot of modification due to the pandemic," said Kennedy. "All courses and Saturday Seminars had been running in person and we had to convert everything to an online modality using Zoom."
In March, the grant team presented a one-day version of the Teacher-Student Success Network modules to a group of K–12 educators and administrators in Pittsburgh at the Teachers of English to Speakers of Other Languages (TESOL) International Convention. That same week, the grant team presented some preliminary research on how teachers integrated pragmatics into lesson plans at the American Association of Applied Linguists Conference (also in Pittsburgh). "We found that teachers focused most on how students make requests and the need to support the language for how requests are done linguistically and culturally in American schools," said Dr. Mansouri, who led the research for this presentation.
Drs. Kaiser and Mansouri also attended the NPD project directors meeting in Washington, D.C. in April where they interacted with project directors from nearly 100 other institutions and presented research on teacher-generated artifacts from the past five years of Saturday Seminars. "The Saturday Seminars have been the most time-intensive aspect of this project but also the most beneficial," said Kaiser. "As we analyze these artifacts, we have a better understanding of the challenges that K–12 teachers are facing today to meet the needs of ELs in their schools, but more importantly we are understanding ways that teachers can collaborate and problem solve to provide the best support for ELs while engaging with other teachers, staff, families and community members."
During the final Saturday Seminar, participating teachers shared reflections on how this project has helped them support success for ELs. Many teachers commented on new strategies and methods to meet the needs of ELs, ways to differentiate their classroom instruction and focusing more on the language skills needed for ELs to reach learning objectives. One teacher commented, "I feel like I have understood my ELs and their families more. I love hearing that they feel heard and represented." Another shared, "I used what I learned here to propose a bilingual classroom last year which has been a total success this year and will be growing at my building and district in the future."
Administrators from participating schools have shared with the grant team that teachers who complete Webster's NPD program often become leaders in their schools and districts. Many of these teachers have switched from being classroom or content teachers to new roles dedicated to supporting ELs in their school and districts.
"We never wanted to just certify teachers with state-required classes," said Kaiser. "The goal has always been to promote collective efficacy and to transform the ways that ELs receive support as students and community members. We are proud that Webster's TESL program has been able to play such a significant role in Missouri in these efforts."
This project is Webster University's second NPD grant award from the U.S. Department of Education. A prior project served teachers in the Kansas City School District from 2012–2017. Over the past decade, Webster University has been able to provide free tuition to support more than 200 K–12 teachers to receive their ELL certification.
Webster University's Teaching English as Second Language program currently serves approximately 400 students globally and has graduated more than 600 students in the past decade.