New Video from Webster Vienna Highlights Student Life in the Austrian Capital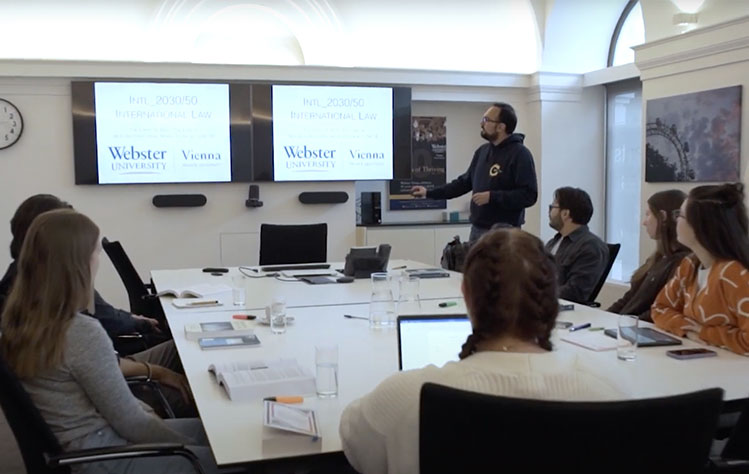 Webster Vienna Private University (WVPU) recently premiered a new video that showcases an example of daily student life at the University's campus in Vienna, Austria.
Aiming to capture the abundance of culture, community and opportunity offered by WVPU, the video opens with a student whose day begins at The Social Hub (formerly the Student Hotel), one of many student-living options near campus. As the student meets with friends for breakfast and ventures out into the day, the video illustrates that the University's community comes together even before students arrive on campus.
The video offers lively imagery of a surrounding campus area that extends into the many coveted neighborhoods around Vienna and is bustling with restaurants, coffee shops and public transit options.
As the students arrive on campus at the historic Palais Wenkheim in Vienna's second district, the video offers an extensive look at a campus environment that boasts small class sizes and high-tech classrooms that span four departments: Business and Management, International Relations, Media Communications, and Psychology. The viewer is treated to a brief tour of several classrooms and conference rooms, as well as a glimpse of professors from each department and a tour of WVPU's library, complete with its computer lab and collection of more than 15,000 books.
At the end of the video, the students head out into the city to explore a robust neighborhood, community, and city that is consistently voted one of the best places in the world to live.
Watch the video in its entirety here or click the thumbnail below.
As one of the longest operating private universities in Austria, Webster Vienna Private University combines the best of American and European higher education to provide students with the tools, knowledge, and skills to thrive in a globalized world. Opportunities for community building and connection abound throughout the WVPU experience including sports and academic clubs, the Student Government Association, planned events throughout the city, hosted holiday celebrations and much more.