Webster Vienna Students Participate in 'Change the World' Model United Nations Conference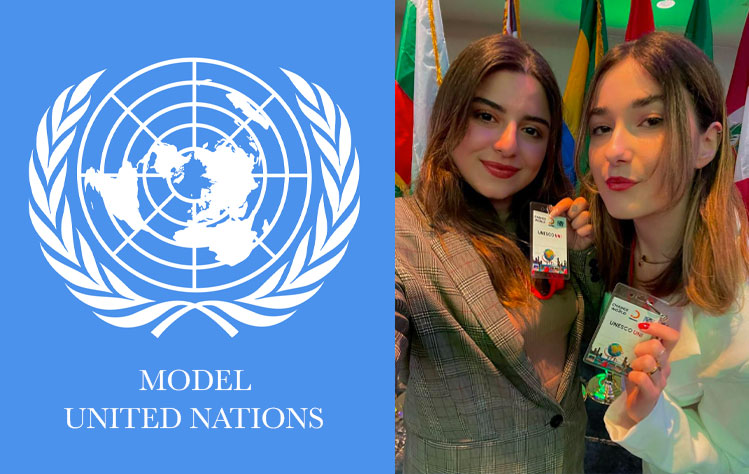 WVPU International Relations students Arzu Ertem and Alexandra Schieferer recently travelled to New York City to attend the Change the World Model United Nations (CWMUN) conference. Both received scholarships from Webster Vienna Private University and CWMUN, and joined more than 5,000 other students from around the world at this prestigious Model United Nations conference, held at the United Nations Headquarters in New York City from March 23-26.
Ertem and Schieferer answered a few questions about the event upon their return to Vienna:
1. What made you both consider attending CWMUN?
We are both International Relations students and are interested in working in diplomacy. I had previous MUN experience, so when Alex mentioned that there is an international event in New York, with prestigious guests like Bill Clinton hosted by an institution affiliated to the UN, we decided to try our luck and applied.
2. Could you share with us how a typical day at CWMUN was?
We started every day with coffee and bagels from one of the cafes on our route to the event. Sessions started at 9 a.m. and the roll call would usually last for the first 30 minutes, as you can imagine, it takes time to go through every country. Then sessions would go on until the evening, and during the day we would be giving speeches on the topics of our committee and lobbying for our resolutions. We represented Canada in UNESCO and our topic was gender disparities in education, so we would be talking about topics like literacy rates, equal access to education and gender-based violence in school settings. On our lunch break we would go out to grab something, and our event was at a location in Times Square, so we would be walking around Times Square to find something to eat. After sessions ended, which would be around 6 p.m., we were free to go sightseeing around New York. But of course, we also had to prepare for the next days sessions too, so we had to split our time between seeing sights and writing our speeches and resolutions for the next day.
3. What were your favorite moments?
There were so many great moments throughout the event, meeting new people, giving speeches, seeing Bill Clinton, the opening ceremony etc etc. But for me the most fulfilling moment was when the resolution that we wrote was passed with a clear majority in our committee. It feels so rewarding to work for days day and night and then to see the appreciation.
4. How has attending CWMUN impacted you?
Applying for CWMUN and attending the event was both very impactful. First of all, seeing the support our university gave us to pursue this chance was wonderful, and the event was amazing. Being together with thousands of students from all around the world with similar goals to ours showed me that, we are not alone and there are thousands of people who want to pursue the same goals as us and to make a real change in the world.
5. What recommendations would you give other WVPU students wanting to broaden their knowledge and experience in International Relations?
I would suggest doing lots of research. There are thousands of events happening around the world at this exact moment and there is nothing stopping you from trying your luck and applying. Be in touch with the student organizations in our university and professors always helps, you never know when you will hear about something that might interest you. Being open to new opportunities and actually investing time to find them always leads to results.