What It Takes to Study in Europe as a Webster Vienna Student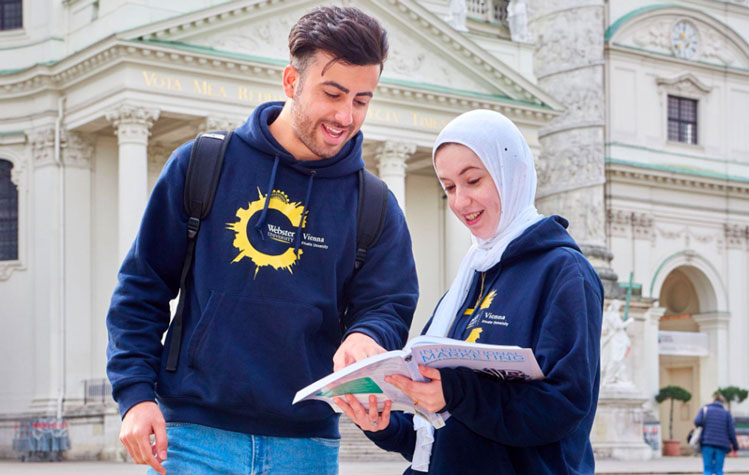 Two admissions officers from Webster Vienna Private University, Giulia Grasso and Selyn Gonzales, share their insights on what it takes to be a successful student at WVPU. Students at WVPU are able to develop an international perspective as they navigate their studies with high-level academic research that combines theory and practice for a well-rounded level of understanding in every field.
The community at WVPU is unparalleled. With faculty and staff available to support students with daunting tasks, including visa requests, transition to a new country, and the structured but strict admissions process, no student will ever feel like they don't belong. We offer a unique environment with students and staff of 70 different nationalities, creating the perfect global experience for every individual that chooses WVPU. Discover more about what it takes to attend WVPU below with insight and advice from two experienced admissions officers.

Above: Webster Vienna Admissions Officers Giulia Grasso and Selyn Gonzales
Common Challenges Students Face Today at Webster
Admissions officers Giulia and Selyn touched on two key struggles students are currently facing at Webster. One of these, they said, was the changes that have come while pursuing an education through a pandemic. "We all agree that the world has changed drastically in the last few years and students have had to quickly adapt to changes on a daily basis, including distance learning during and after lockdowns," they noted.
Our university offers many points of contact for students to receive support with navigating the different challenges of today's world. "In these hard and unstable times, students feel they need guidance. Here, WVPU staff and faculty members come into play with our Advising, Counseling Services, Language Center, and SRC services as well as work-related guidance services," our admissions officers stated. "We think it is important to point out how much support we offer to each and every one of our students!"
Another challenge students face is applying, receiving, and activating their visa before attending Webster. "Even before COVID, getting the paperwork done for the visa was a terrifying task. We think what tends to happen is that because of how overwhelming the process is, it is easy to postpone getting the visa application done," wrote Giulia and Selyn. They recommend getting ahead on the process and asking for help when students feel overwhelmed. "Bureaucracy is part of the transition, so students need to prepare to stay disciplined with the administrative work that is part of the move to Vienna."
How to Be Successful When You Study Abroad in Vienna
We wanted to look at the qualities of successful students who study abroad in Vienna from the perspective of our admissions officers. "Persistence, community engagement, and genuine motivation are only a few of the qualities which make a successful WVPU student," they replied. "In an international and innovative environment such as WVPU, students find room to learn from professors, but also from one another on a daily basis. Each of our students brings a unique perspective, approach, and cultural background," Giulia and Selyn added.
With so many program options available at WVPU, students are always encouraged to explore different fields of study as well as different ways of thinking. In this way, students are able to have a transformative experience in a global setting that sets them up to become lifelong learners and leaders. Giulia and Selyn invite students to "Be curious, tap into the rich diversity of our community, and expand your horizons at WVPU!"
Advice for Prospective Students Who Want to Prioritize Their Education
Taking a minute to address the process involved in applying to Webster, Giulia and Selyn noted that "the application process is easy and straightforward. Prospective students simply need to create an account here. They have to fill out and submit the application form and upload the required application documents and it's as good as done!"
Persistence, community engagement, and genuine motivation are only a few of the qualities which make a successful WVPU student."
Their top advice for students is to think about making their application submissions as personal as they can to evoke a unique experience for the admissions officers reviewing their files. "As you can expect, we receive a lot of essays from students. Our tip is to make their essay as personal as possible. For example, we like to read essays about a person you find inspiring that we may not previously have heard of, or an experience you had that changed you in a very unexpected way," they stated.
The two admissions officers added "during the admissions process, we review applicants holistically and don't solely focus on the grades. The essay gives students the opportunity to share their story, which we would not be able to see in the academic transcript." They want prospective students to know that when they show confidence in themselves and their unique perspectives, they will succeed. To conclude, Giulia and Selyn added "We believe that writing something personal, and by extension being authentic, is the key to success!"
Interested in earning a bachelor degree in Vienna? Contact WVPU for more information.