Webster Vienna Holds 7th Annual Student Life Awards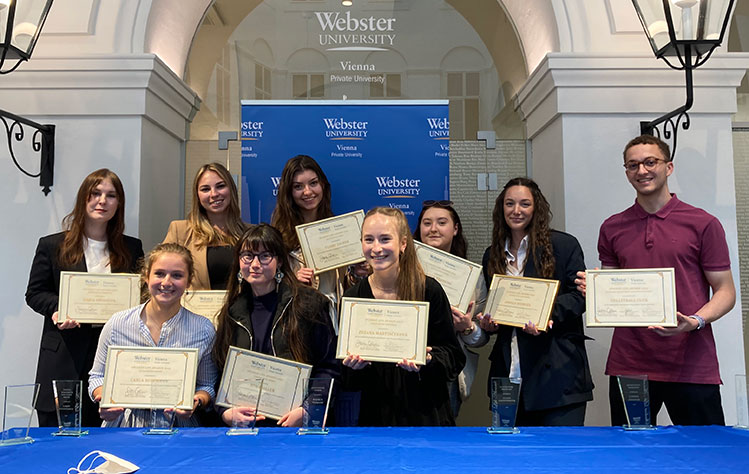 After two years of online celebration, Webster Vienna Private University hosted the 7th annual Student Life Awards in April on campus.
The Student Life Awards honor those students who made extraordinary contributions to the campus life and community at university, also maintaining outstanding academic performances.
Every year, faculty, staff and students can nominate a deserving student or student organization for these recognitions. Nominations are reviewed by a committee formed by a representative of each academic department, a staff member and a student representative.
The Student Life Awards 2022 recipients are:
• Student Government Association Award – Tereza Martínková (also nominated: Maryam Ashary)
• Campus Voice Award – Noa Priller (also nominated: Tereza Martínková and Mathilde Samson)
• Outstanding Freshman – Zuzana Martinčeková (also nominated: Gabriela Dancheva and Mohammadjavad Bagherzadeh Polami)
• Outstanding Sophomore – Anđela Bodroža (also nominated: Ani Yeghoyan and Marius Amirie)
• Outstanding Junior – Claire Zacher and Raluca Țermure (also nominated: Abdelhafid Daibib, Alexandra Schieferer, Valeriia Shchyholieva, Mathilde Samson, and Faris Kamal)
• Outstanding Senior – Carla Beckmann (also nominated: Tereza Martínková, Aika Maeda, Lara Jenko, Noor Nassereddin, Ammar Abdulhafedh, and Natalia Hatarova)
• Outstanding Graduate – Daria Zhdanova (also nominated: Jane Vaughan, Ali Elatraby, Kateryna Tretyakova, and Ielyzaveta Golovina)
• Outstanding Student Organization – Webster Vienna Volleyball Club (also nominated: Psychology and Football Clubs)
We congratulate all the winners and nominees of these outstanding achievements and for their never-ending contribution to the Webster Vienna Community.