Webster University Hosts 2023 Freshman Writing Awards Ceremony
Pictured from left to right are Webster University Chancellor Beth Stroble, Second Place in Creative Writing winner Em Stevens, First Place in Academic Writing winner Libby Stiles, and Webster University President Julian Schuster.
On April 17, Webster University's Reeg Academic Resource Center hosted its annual Freshman Writing Awards ceremony. The Freshman Writing Awards, sponsored by President Julian Schuster, were created to emphasize the importance of communication, research, and storytelling – all through writing. The award seeks to recognizes first-year students who show promising composition skills in their fall courses, in any discipline, both academic and creative.

This year, 45 students were nominated for their works – 34 for academic pieces, and 11 for creative stories. Of these 45 students, four award winners were selected.

In the academic writing category, Libby Stiles placed first for her piece, "Othello: A Promotion of Assimilation," and Anna Edwards placed second for "Meules, 1891." Stiles' work was noted as being "beautifully written, well researched, and carefully and convincingly argued, while addressing important questions about race and racism that transcend Shakespeare's historical moment." Edwards' work was recognized as doing a "wonderful job of communicating what she saw and how she perceived it, as well as integrating research into her thinking."

In the creative writing category, Aurora Arcino placed first for her story, "Salt in the Rain," and Em Stevens took second place for "Flowering Galaxies." Arcino's work was viewed as being deeply personal and having a strong voice, "as though Amara Hekekia, the narrator, has had her thoughts translated into prose." Stevens' work was noted for its "indirect ways of intruding conflict and character into [the] story while utilizing an uncommon perspective (alien species)."

At the ceremony, President Schuster gave opening remarks about the importance of good writing. He went on to announce that he intends to increase his sponsorship for the Freshman Writing Awards in the future, along with the addition of a Julian Schuster award.

"Writing is the expression of an inner being. When a person chooses to write, we are absolutely required to take this with the utmost seriousness. I am delighted to continue to promote good writing at Webster University," Schuster said.

Webster University Chancellor Beth Stroble also shared her thoughts on the importance of writing. "I am a person who likes to write, but when I first started to think of myself as a writer, it was because someone said to me, 'This is really good writing. You could be a writer.' Webster is a place that supports access and opportunity for our students to be successful, and particularly today, we are saying we are an institution that values and celebrates good writing."

Making the effort to celebrate and encourage good writing is already impacting Webster students to embrace their identities as writers. After accepting the second-place award, Stevens shared that she doesn't plan to put down the pen anytime soon.

"My creative writing career is far from over. I plan to keep writing short stories for a long, long time. I (currently) have several ideas with dozens more on the way."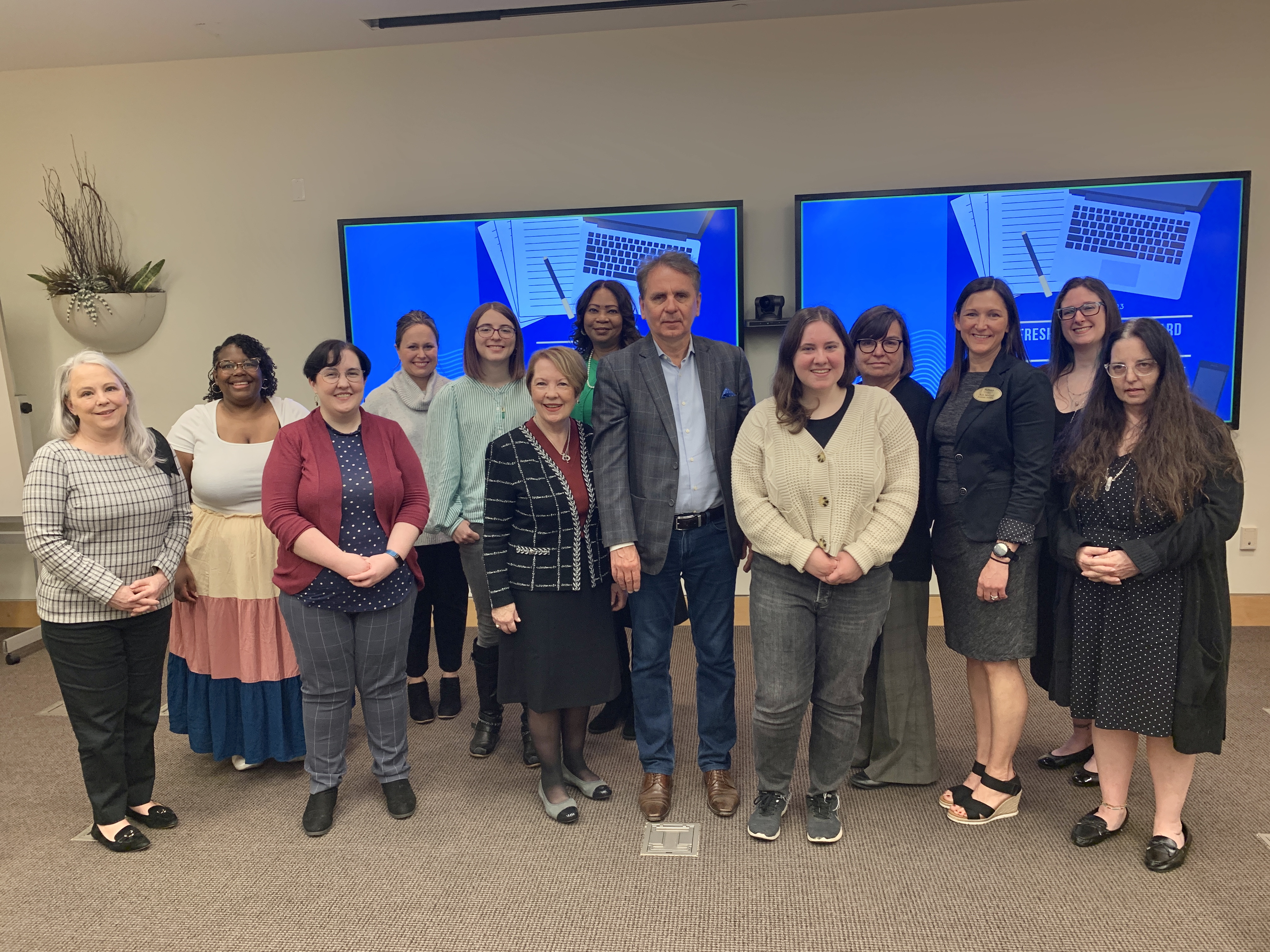 The Reeg Academic Resource Center pictured with Chancellor Beth Stroble, President Julian Schuster, and Freshman Writing Award winners Libby Stiles and Em Stevens.
Special thanks to this year's judges:
Dr. Carolyn I. Brown - Assistant Director, Reeg ARC, Webster Groves
Dr. Shokhsanam Djalilova - ESL and GCP Program Lead, Tashkent
Dr. Allison Kirk - Writing Center Coordinator, Leiden
Dr. Ralph Olliges - Chair, Graduate Department of Education, Webster Groves
Carolyn Trachtova - ESL Program Director, Webster Groves
Kwan Willhoft - Head Writing Coach, Reeg ARC, Webster Groves

About the Freshman Writing Award
The Freshman Writing Award is given at an annual event that recognizes the academic and creative composition work of first-semester students. All courses, disciplines, assignments, genres, and styles are eligible for submission, and we also encourage students, faculty, and staff at all of Webster's worldwide campuses to participate.

Winners of the Freshman Writing Award receive an educational grant of $125 for first place and $75 for second place in both academic and creative categories.

To be considered for this award, students and their work must meet the following criteria:
- Students must be first-semester freshman (any campus).
- Students must have completed the work under consideration in the fall semester; all courses, disciplines, assignments, and genres welcome.
- For review by the judging committee, submissions must be in English (translations welcome).

Instructors typically make nominations, but students are also invited to self-submit. Nominations are open October through February each academic year, and winners are awarded plaques at the annual ceremony in April.

Webster students, faculty, and staff can learn more about the award on Connections.