Webster Vienna's Quality Education Earns Austrian Reaccreditation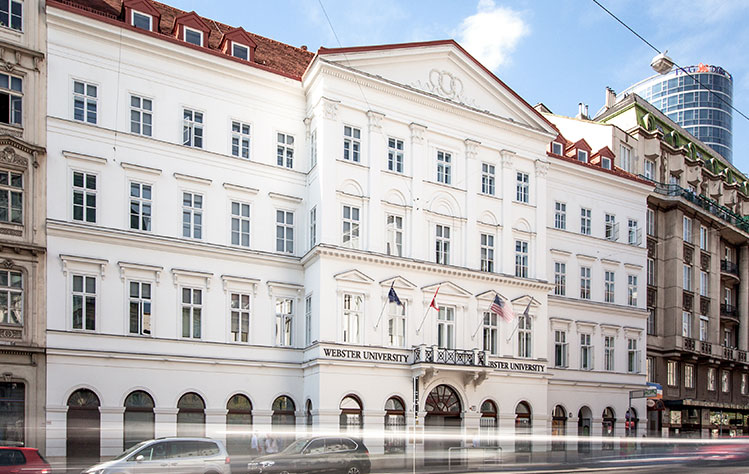 Webster Vienna Private University (WVPU) has been reaccredited until 2029, reaffirming the quality of its education and operations as part of the Austrian and European higher education landscape. Webster Vienna has been an integral part of the global Webster University Network since 1981, educating students from more than 70 different nations.

Initially accredited in 2001, WVPU has since graduated more than 4,100 students and has been reaccredited four consecutive times: in 2006, 2011, 2016, and most recently in 2022.
"Webster Vienna Private University has been an essential part of the education landscape for decades, offering students alternative options to a degree that best fits their needs and goals," said Professor Johannes Pollak, rector of Webster Vienna Private University. "I want to thank all colleagues in Vienna for their hard work during the accreditation process. The unwavering support of our colleagues at Webster University's St. Louis campus has and always will be crucial for our success."

The accreditation is awarded by the Austrian Federal Ministry for Education, Science and Research based on the recommendations of the Agency for Quality Assurance and Accreditation Austria (AQ Austria), which holds any accredited institutions to rigorous academic standards.

Embedded in the European Higher Education Area, AQ accreditation is the gold standard in Austria. The accreditation process requires a high level of cooperation among all university stakeholders. It includes site visits from academics from other institutions, reports that track success rates and curriculum topics, and surveys of students and alumni.

In addition to the Austrian accreditation, WVPU has had full institutional accreditation from the Higher Learning Commission (HLC) since 1925. The HLC is the highest-level accrediting agency for universities based in the United States' north-central region.

To learn more about Webster Vienna Private University, or to see the array of programs offered, visit https://www.webster.ac.at.

About Webster Vienna Private University:
WVPU is the longest operating private university in Austria. Established upon the invitation of Vienna's mayor, Leopold Gratz, it became the first university in the country to offer degree programs entirely in English, the first to offer an accredited MBA degree in 1985, and one of the first to receive full accreditation as a private university.

Well-known for its rigorous teaching excellence and student mentorship, its roster of research faculty guarantees the indivisibility of teaching and research in the classroom while delivering practical real-life skills. Always true to Webster University's core values, it continues to put students at the center of education, instilling a respect for diversity and an understanding of their own and others' values to create global citizens.