Navigating the Start of Your Journey – The Application Process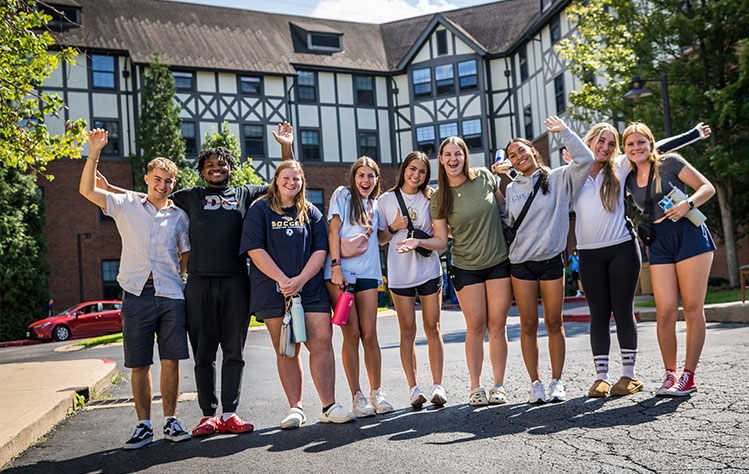 Thinking of applying to Webster University? We're excited that you're looking to take another step in your educational journey! College application processes can differ, so here's a guide of what to expect when applying at Webster.
Applying to Webster is free, and can be done through our website or through the Common App. Our University is test-optional – meaning you don't have to submit your ACT or SAT score if you don't want to. Our team will be in touch with an admission decision and any scholarship details within two weeks of receiving your materials.
You'll want to have a few things prepared when starting the application process. First year applicants will need to submit a high school transcript with at least six semesters of grades, transcripts for any credit from other colleges, and a letter of recommendation. Although submitting your ACT or SAT score is optional, good scores can help increase scholarship amounts. Webster automatically awards scholarships for incoming full-time freshmen in consideration of previous academic achievement, as well as standardized test scores, if submitted. We will never reduce the scholarship amount a student receives based on a standardized test score, so submitting your ACT or SAT score can only help!
Transfer students will need to submit transcripts from all previously attended institutions. These can be unofficial copies (legible and submitted directly by students) for the initial admissions review, but official copies will be needed at a later date. Credits from other colleges will transfer to Webster if they are from a regionally-accredited institution completed with a grade of a C- or better. Webster requires a minimum 2.5 weighted GPA for both first-year and transfer students. Eligible transfer students should also submit Phi Theta Kappa certificates for additional scholarship opportunities up to full tuition.
After hearing back that you're admitted and officially a Gorlok, you'll receive an email from your assigned admissions counselor. This will be your go-to person at Webster. If you have questions about anything – the admission process, housing, money stuff, the best coffee shops around campus – they can help!
"We're here to help with anything and everything as you prepare to begin your journey at Webster," says Becca Cowin, admissions representative. "No question is too small or a silly question – we want you to feel like Webster is your home."
Even if you don't have any questions, your admissions counselor will continue to be in touch with next steps as the semester approaches.
We also encourage admitted students to visit campus and experience Webster! Our admissions team can give you a campus tour and connect you with the activities most important to you: visit a class, talk with a coach, chat with a professor, meet with accommodation services, and more.
Some other things to keep in mind as you begin the application process: for first year-students, our preferred application deadline for the Fall 2024 semester is Dec. 1. This gives priority consideration for financial aid, but students are welcome to apply after that date and still receive academic scholarships. If you're worried about affording college, keep in mind that 97% of Webster students receive financial aid. We offer automatic merit scholarships, competitive scholarships up to full tuition, and additional need-based aid.
Remember – you don't have to do it alone! If you have questions before getting started about the application process or Webster in general, our admissions counselors are happy to chat! Submit your information or email admissions@webster.edu to get connected!