Campus Visits – Experiencing the College Atmosphere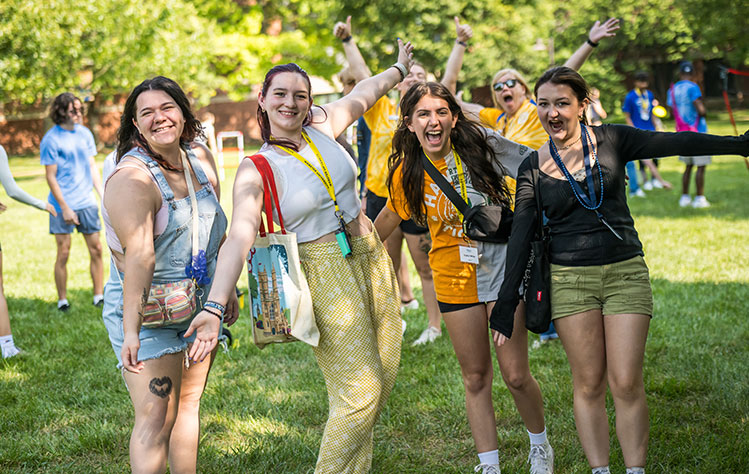 You've compiled all the fast facts. You've researched your program of study and looked at the classes offered. You may have even looked up notable alumni, examined a campus map, or mulled over online statistics. What's next?
With all the heavy lifting of research behind you, it's time for the fun part – visiting campus! Although our world is full of digital options, such as photos or virtual tours, nothing compares to experiencing the atmosphere of a place in-person. According to Niche, visiting campus is potentially the most important step in deciding which university you will attend. For many students, visiting college campuses can feel intimidating. At Webster, you get to create your own adventure and choose whatever style visit feels most comfortable to you!

The best way to experience Webster as a prospective student is through a campus tour. This way you can see the campus locations most relevant to you – whether that be academic buildings, dorms, or the spots where students hang out. Your tour guide, a current student at Webster, can also provide insight into daily life on campus and overall campus culture. After the tour, we encourage you to take advantage of an admissions chat - a super-chill, one-on-one conversation with an admissions counselor. This is an opportunity for you to take a peek at Webster's vibe, and our chance to find out how we can guide you in your decision-making.
Our admissions team can connect you with other activities you may be interested in, such as visiting a class, chatting with a coach, meeting with accommodation services, or any additional special requests you may have. During your visit, we'll make sure to get all your questions answered so you are confident about being a Gorlok.
If you'd like to dive deeper than just a campus tour, Webster University offers several preview days for prospective students to experience a glimpse into daily life as a Gorlok. Our Fall 2023 preview day will be held on Friday, Dec. 8. This is your opportunity to learn about what Webster has to offer alongside other prospective students. Webster students, faculty, and staff will be present to answer your questions about student life, the admissions process, financial aid, academic programs, and more through activities and a resource fair. Join us for an event dedicated to showing you what Webster is all about!
Another great way to visit Webster's campus is by attending a sporting match, performance, or exhibit. The Leigh Gerdine College of Fine Arts hosts many events throughout the year, such as performances from the Department of Music, productions from the Sargent Conservatory of Theatre Arts, or concerts from the Department of Dance. Exhibitions from well-known artists frequently rotate through our Kooyumjian Gallery, and the work of Webster University seniors is featured at the end of each academic year.
Attending a Webster event gives you the opportunity to be immersed in campus life firsthand. You'll be surrounded by current Webster students who are passionate about the school and programs. This is one of the best ways to experience Webster's sights, sounds, and inclusive atmosphere. Check out our events calendar to see what is happening on campus that interests you!
"When you visit Webster University, you'll experience all the anticipation of your next steps, but none of the pressure," says Alexis Boyer-Meyerman, associate vice-president of undergraduate enrollment. "At Webster, you'll be celebrated for who you are in this moment, challenged to discover who you are capable of becoming, and cheered on the whole way through."
So what are you waiting for? Come visit us at Webster and see why we are so unique!