Chess Team Takes First Place at Pan-Am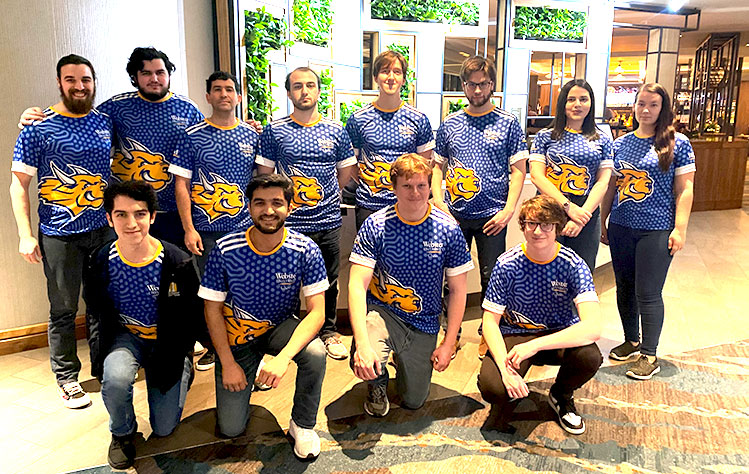 Webster University, the pre-eminent national leader in collegiate chess, won first place in the 2023 Pan-American Intercollegiate Chess Championships with a perfect score of 6-0.
This is the ninth time in 11 years that Webster's SPICE Chess team has won the Pan-Am tournament, continuing its reputation as the top-rated college chess team in the United States. Additionally, at this year's Pan-Am, Webster won the top mixed doubles honor, earning a second national championship title.
"I am very proud of my students who fought so hard until the end to win the championship with a perfect score, a rarity in today's competitions," said Webster University Chess Coach Liem Le. "With perseverance, discipline, and teamwork, we have once again shown that we are the leader in collegiate chess. I look forward to training my team for the Final Four of College Chess."
Le is a Grandmaster, ranked #1 in Vietnam and Southeast Asia, and #22 worldwide. A Webster alumnus, he previously served as captain of the top-ranked Webster chess team coached by Susan Polgar, founder of SPICE (Susan Polgar Institute in Chess Excellence) at Webster University. Webster's chess team traditionally attracts high-level chess players who value the importance of attaining a college degree.
"Chess is an integral part of Webster's philosophy to provide a high-quality education to everyone willing to pursue her or his dreams and also reflects Webster international diversity," said Webster University President Julian Schuster. "Students on the team come from multiple countries and are a mix of men and women, undergraduate and graduate students, with multiple majors ranging from business to biology. The team worked together to earn two national championships in the same night, and I heartily congratulate them and Coach Le."
The Pan-Am Tournament, held in Seattle, Washington this year, is the foremost intercollegiate chess championship in the Americas. With 85 college teams competing, it was the largest college chess tournament held in several years. Webster had three teams in the Pan Am tournament. Team A, which took the top spot in the tournament included four grandmasters: Benjamin Gledura from Hungary, Aram Hakobyan from Armenia, Yuniesky Quesada from Cuba, and John Burke from the United States.
Team B, which took the mixed doubles championship title at the Pan Am, included two men and two women: Grandmaster Gergely Kantor, International Master Anna Sargsyan, Woman Grandmaster Annamaria Marjanovic, and FIDE Master Ezra Chambers. Sargsyan also won the prize for 2nd best female player in the entire tournament.
The team now moves on to compete in the "President's Cup" the first weekend in April.
This past fall, Webster University became the first college in the United States to offer a Chess in Education Minor Degree. Focused on developing chess educators academically and professionally, the new degree program aims to bridge the access gap between K-12 chess education and professional pursuits.
To learn more about chess and the SPICE team at Webster University, click here.