Click Selected as Academic Director at Webster Geneva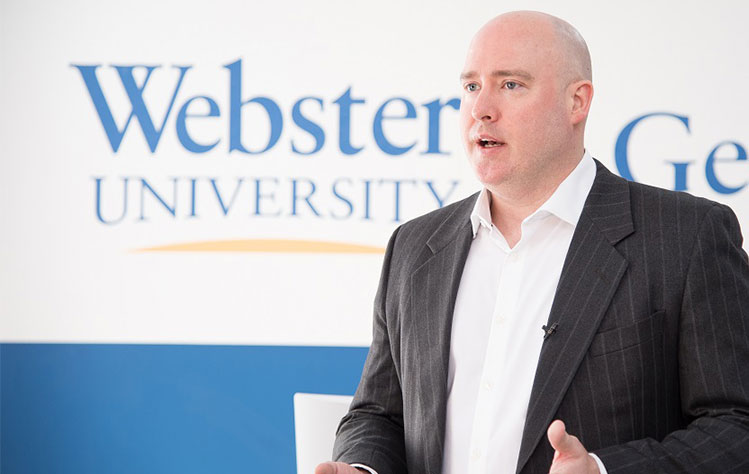 Webster Geneva has announced the appointment of Eric Click as the University's academic director. He will also direct the MBA and Master in Management and Leadership programs. Click's appointment begins this month.
Joining Geneva from Webster University Tashkent, Click brings 20 years of academic and administrative experience in student retention and success, assessment and accreditation, curriculum development and design, and blended and distance learning. Click's former position titles include academic director, head of department, program chair, Higher Learning Commission peer reviewer, and tenured associate professor. His scholarship has focused on public financing and economics, market failure and intervention, and the social impact of nonprofits.
Most recently, Click served as acting vice-rector for academics at Webster University Tashkent and chair of the Academic Council at Webster University Georgia, where he helped lead student growth in the Republic of Uzbekistan as well as the start of Webster's new location in the Republic of Georgia.
"I am excited and honored to have the opportunity to serve at our oldest and most experienced international campus," Click said. "I look forward to supporting the needs of our students and instructors and continuing to enhance not only teaching and learning, but also service and scholarship."
Ryan Guffey, director-general for Webster's global campuses, shared his confidence that the choice to appoint Click was a sound and obvious one.
"Following a global search, it was clear Dr. Click has the necessary experience to grow and advance our academic initiatives, services, and desired outcomes," Guffey said. "I am confident he will have a positive impact on both the instructional environment and overall student academic experience."
Click holds degrees in all three sectors including bachelor's in both Business Administration and Public Management, an MBA with an emphasis in Public Management, a master's in Nonprofit Administration, and a PhD in Public Affairs from the University of Texas—Dallas.