Faculty and Staff Highlights: Carter, Fyfe, Lee-Johnson, Hoover, Palmer, and More
Webster University faculty and staff highlights offer a roundup of recent Webster faculty and staff activity and achievements.
Carter Presents at National Association of Teachers of Singing Conference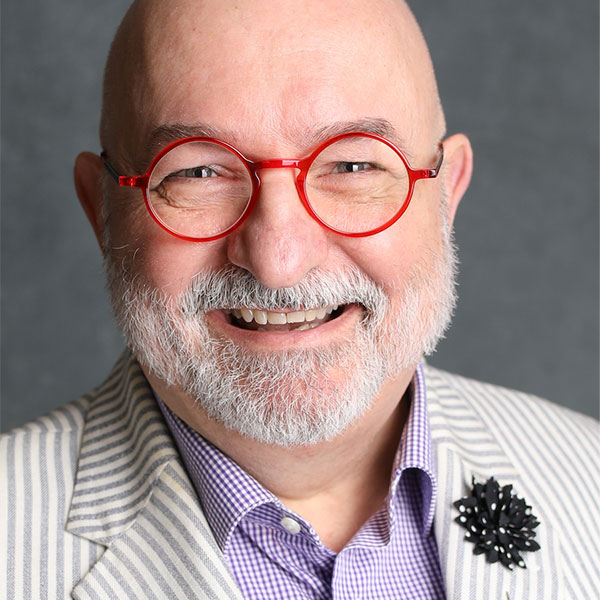 Jeffrey Carter, professor of music, recently presented at the 2023 National Association of Teachers of Singing (NATS) Central Region conference. His session on "Newer(ish) Musical Theatre Composers" aimed to help teachers and singers have resources to find new and interesting musical theatre literature for teaching and performance.
Carter, who serves as Governor of the NATS Central Region, led a conference over the course of three days that included more than 400 student singers in competition, six interest sessions, and two performance classes with national headliner teachers.
Fyfe, Lee-Johnson Co-Edit Book, Webster Faculty Featured
School of Education Dean Emeritus Brenda Fyfe, along with Associate Professor and Director of EdD Program Yin Lam Lee-Johnson, co-edited a book with Juana M. Reyes from Lewis University, and Geralyn (Gigi) Schroeder Yu from the University of New Mexico. The book, entitled Affirming the Rights of Emergent Bilingual and Multilingual Children and Families: Interweaving Research and Practice through the Reggio Emilia Approach, was recently published by Routledge. Authors include the four editors, in addition to Baji Rankin, Carla Rinaldi, Cheryl Breig-Allen (Webster associate professor emeritus) DJ Kaiser (Webster University assistant vice president for academic affairs; professor and director of teaching English to speakers of other languages) Jesus Oviedo, Jennifer Strange (Webster School of Education adjunct faculty) Lester-Irabinna Rigney, and Nahid Nader-Hashemi.
The book explores how the philosophy, principles, and practices of the internationally acclaimed Municipal Preschools and Infant Toddler Centers of Reggio Emilia, Italy, advance the social justice and linguistic human rights of emergent bilingual and multilingual children and their families, particularly immigrants and refugees.
The project, spearheaded by Fyfe and Lee-Johnson, involved 11 researchers from various institutions along with a research trip in Reggio Emilia, Italy. Webster University's Faculty Research Grant and The Beatrice and David Kornblum Institute's Special Initiative provided funding for the project.
On Oct. 12, Lee-Johnson, Fyfe, and Reyes hosted a book booth displaying their recent publication at the Webster University School of Education EXPO. Three books were given to winners, who received a program book with a special logo.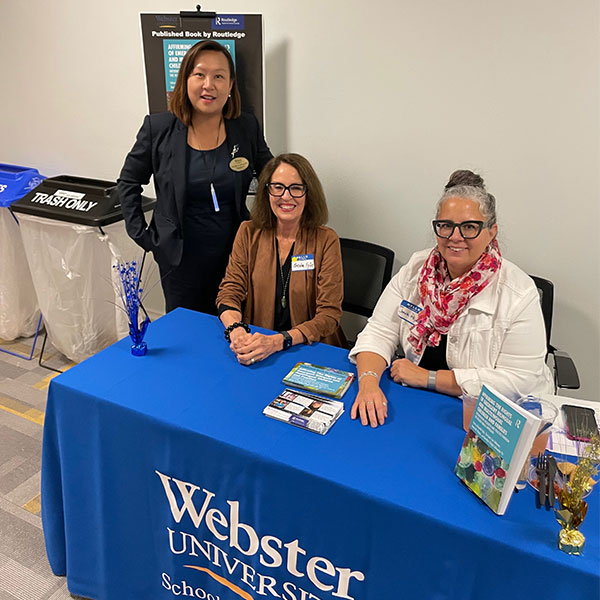 Lee-Johnson, Fyfe, and Reyes at the School of Education EXPO.
Hoover Featured in Traveling Molly's Virtual Reading Series
On Nov. 13, English Professor Elizabeth Hoover was a featured reader on Traveling Mollys Reading Series. As a featured reader, Hoover read a segment from her award-winning book, "the archive is all in present tense." The event was livestreamed on YouTube and is available for replay.
Palmer Competes in Taiwan 70.3 Half Ironman, Meets Former International Webster Student
On Oct. 29, Julie Palmer, professor of management, competed in the 2023 IRONMAN 70.3 held in Kenting, Taiwan. The race was initially set to take place in 2020 but was postponed to 2023 due to the COVID-19 pandemic.
Palmer completed the swimming portion in 42 minutes and 26 seconds, the biking portion in two hours, 59 minutes, 29 seconds, and the running portion in two hours, 30 minutes, and 16 seconds. With these times, Palmer won first place in her age group and earned a slot to the World Championships, which will be held in New Zealand at the end of 2024.
After the race, Palmer visited a former Webster student she had formerly taught, Neha Pu, who is living in Taipei. Palmer and Pu explored Taipai together, learning about Taiwanese culture while catching up.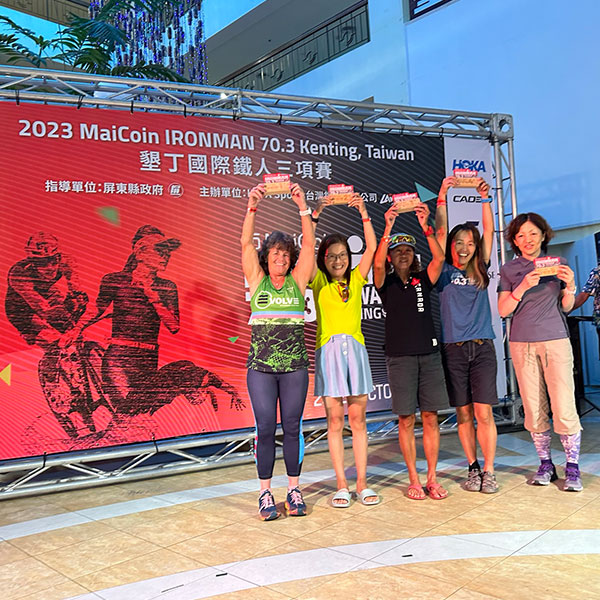 Palmer (at left) holds up her first place award.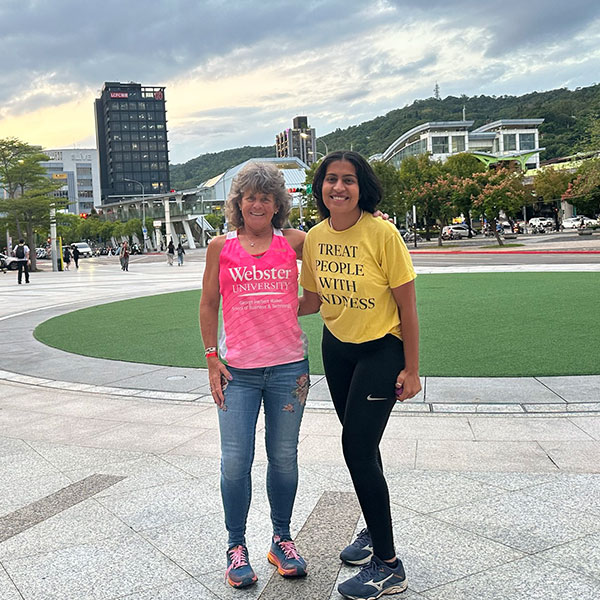 Palmer with her former student, Neha Pu.