Webster Vienna Hosts First Dr. Elizabeth Chopin Visiting Professor - Francisco H. G. Ferreira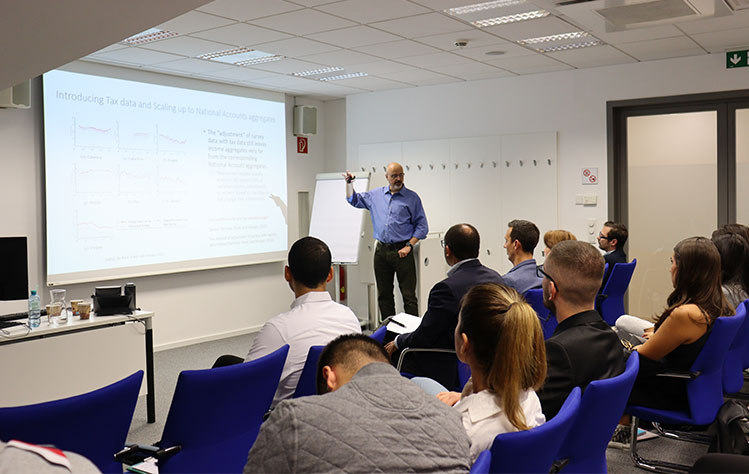 Webster Vienna Private University (WVPU) hosted esteemed economist Francisco H. G. Ferreira from Sept. 25-29, during which he led a series of public lectures and talks. Ferreira is the first visiting Dr. Elizabeth Chopin professor this academic year.
Ferreira is known for his work on inequality and poverty in developing countries, particularly in Latin America. He is the Amartya Sen Professor of Inequality Studies at the London School of Economics (LSE), where he also serves as director of the International Inequalities Institute. His academic contributions have earned him awards including the Richard Stone Prize in Applied Econometrics and the Kendrick Prize from the International Association for Research in Income and Wealth.
In the research seminar entitled "Inherited Inequality: A General Framework and an Application to South Africa" and the student workshop "Inequality in Latin America: Nature, Causes and Policy Responses," Ferreira discussed the impact of inequality of opportunity and the immense impact on the populations of South Africa and Latin America.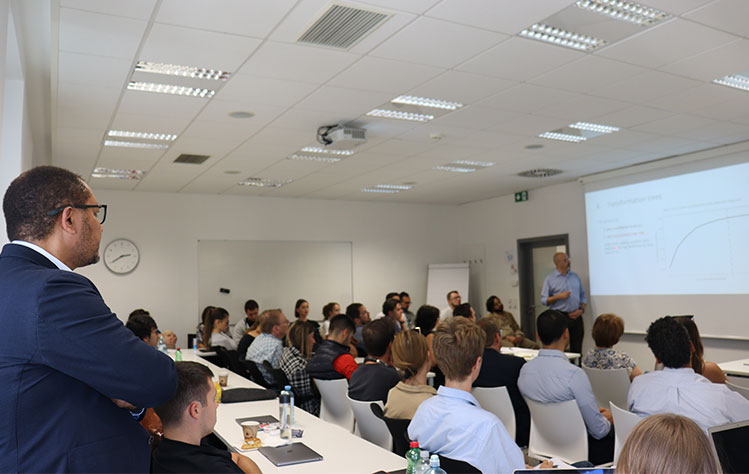 Visiting Professor Ferreira teaches a crowded classroom of WVPU students. Photo: WVPU Student and Marketing Assistant Sofia Opferkuch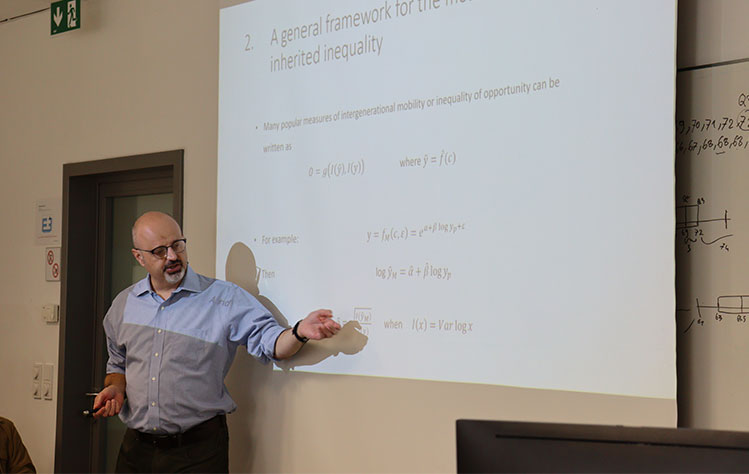 Visiting Professor Ferreira displays a formula to calculate inequality. Photo: WVPU Student and Marketing Assistant Sofia Opferkuch
The public lecture "Combating Inequality of Opportunity: The Role of Human Capital Investments" was the signature event during the economist's week in Vienna. The lecture introduced the modern economic theory of inequality of opportunity in simple terms. Ferreira explained this concept is often seen as the "modern currency of egalitarian justice." The lecture provided concrete illustrations of the concept and assessed the performance of a number of rigorously evaluated human capital investment policies, including early childhood development interventions, conditional cash transfers, teacher training, and others. Public policies can make a difference to reduce inequality. However, Ferreira emphasized, the persistence and reproduction of inequality driven by one's family are enormous. Genes, human capital, norms and beliefs, schools, neighborhood effects and even inheritance have an impact on the equal opportunities human beings face from early childhood onwards.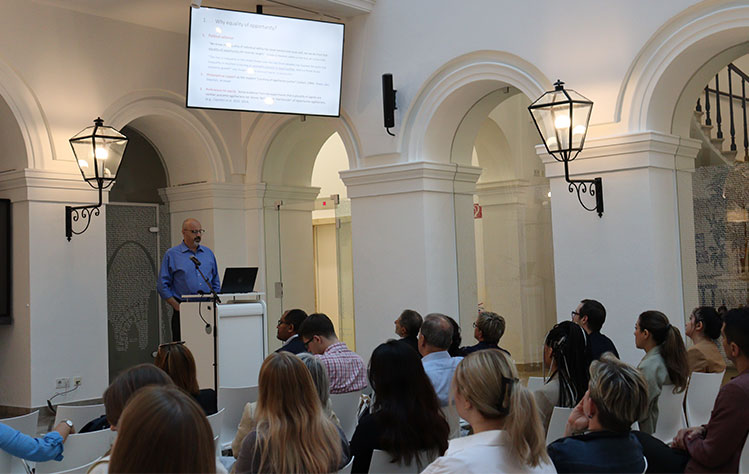 Visiting Professor Ferreira delivers his public lecture to an audience in the Palais Wenkheim atrium. Photo: WVPU Student and Marketing Assistant Sofia Opferkuch
Before joining LSE, Ferreira served in various positions at the World Bank, including Chief Economist for the Africa Region and Senior Adviser in the Research Department. He has also taught at the Pontifícia Universidade Católica do Rio de Janeiro and the Paris School of Economics. Currently he continues to explore crucial socioeconomic issues in recent research. His recent work examines inequality within the Bretton Woods institutions and delves into the dynamics of falling earnings inequality in Brazil from 1995 to 2012.
Since 2007, Webster Vienna Private University is honored to host the Dr. Elizabeth Chopin Endowed Visiting Professorship, donated by the late Mag. Reinhard Ortner. This professorship was created in honor of Dr. Chopin's long history of service to the university and the community. She served as Director of the Vienna Campus from 1988-1999. The endowment allows Webster Vienna to attract world-renowned professors in the fields of business, international relations, art, media and psychology to lecture and share their professional experiences through public forums.
For more information about lectures and events, follow WVPU on X, formerly known as Twitter, and Instagram. Alumni can join the University's free online networking community.