Two Students Named the First Gleich Honors College Graduates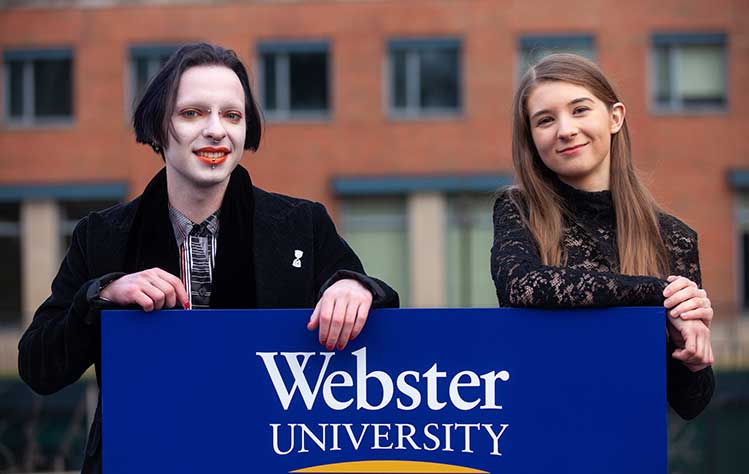 Two German majors will be the first two Gleich Honors College Students to earn a degree at Webster University. Sarah Morgenthaler and Emerald Habecker were part of the first honors program that was the foundation for the Gleich Honors College in 2021.
Both students will be the first to receive a Gleich Honors College Graduation medallion to celebrate their achievements. Both also will graduate with international distinctions.
"This is an exciting moment for the Gleich Honors College and further embodies the Gleichs' vision for expanding exceptional educational opportunities for Webster students," said Webster University Chancellor Elizabeth (Beth) J. Stroble. "Both students were highly engaged in their academics and made contributions to the program that will benefit those who follow in their footsteps. Congratulations for this remarkable achievement."
Morgenthaler and Habecker were actively connected to Honors College activities, from the conception and set-up of the Gleich Scholar lounge to innovative research. Both also studied abroad.
"As members of the first cohort of university honors students and creative and engaged people, Sarah and Emerald have taken a key role in shaping the Gleich Honors College," said Gleich Honors College Director Emily Thompson. "Emerald was recently on a panel to discuss the ways in which the Gleich Honors College can serve as a model of high-impact learning practices for other students at the Webster University Teaching Festival. Emerald presented his research during the RAD conference last December on how historical clothing can help us design more sustainable clothing today."
Morganthaler, who speaks both Japanese and German, is finishing her time at Webster this semester studying in Vienna. She has taken several honors courses with an international perspective, like the Introduction to Sustainability and Thinking through Religions.
Habecker studied abroad in Belgium in fall 2020 and followed that experience with a semester in Germany. He was also part of a small group of students who studied the distribution of and response to Covid vaccines in West Africa and interned with the Centre Francophone.
In an interesting coincidence, both students also attended Webster High School together before entering Webster University.
The foundation of the The Gleich Honors College was established in 2018 as the Impact Scholars Program. The program expanded and was named the Gleich Honors College in 2021 in recognition of the generosity of Marianne (BA, 1966) and Peter Gleich. Their funding expanded learning and research opportunities for all Gleich Honors students.
In 2019, the Gleichs were recipients of Webster University's Visionary Award for their long-standing, visionary dedication to Webster and its students and commitment to scholarships and study abroad opportunities.
The Gleich Honors College reflects a distinctly Webster view on what constitutes an "honors" student. The approach is student-focused, place-based, inclusive, diverse and structured around high-impact practices.
In the program, students work together collaboratively and cultivate relationships with different communities, accumulate transnational experiences and practice the intercultural skills required to do so with confidence and sensitivity. Students complete a research project outside their major area of study that requires them to apply different research methodologies to complex problems with the help of a faculty mentor.
The students are advised by a committee of faculty, staff and administrators who designed the program with the help of current and former students.
Visit the Gleich Honors College page for more information.