Webster University Geneva Celebrates the Class of 2023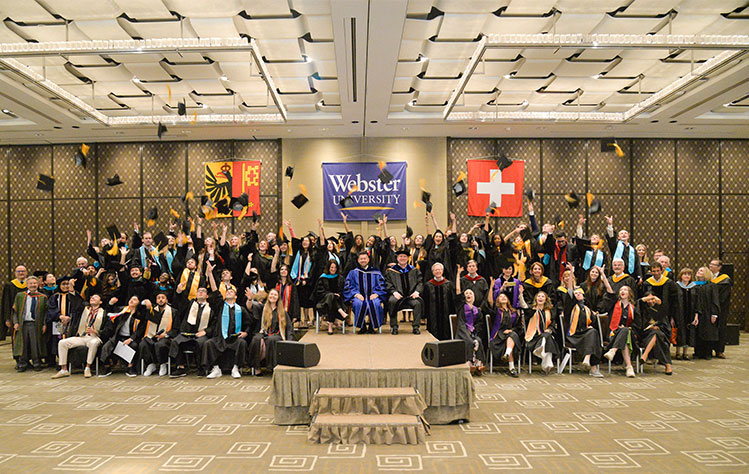 On May 13, Webster University Geneva held its 2023 Commencement ceremony at the Intercontinental Hotel in Geneva. Fifty-four graduates walked across the stage while their loved ones, esteemed faculty, and dedicated university staff cheered them on.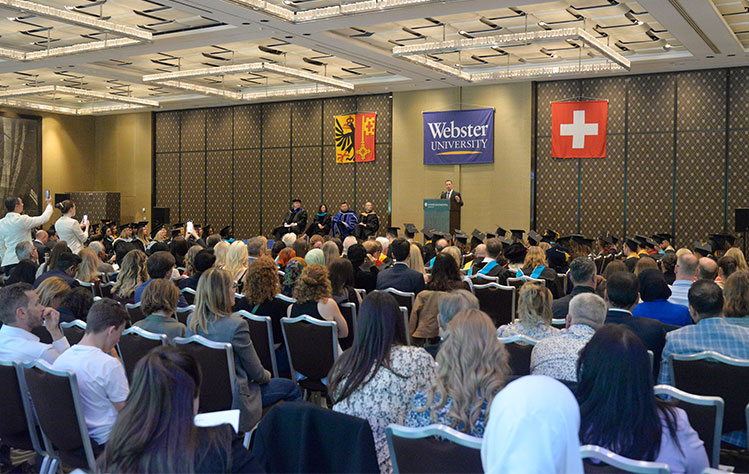 The room was full of family, friends, and loved ones at Webster Geneva's 2023 Commencement Ceremony.
Ryan Guffey, director of global campuses and director of Webster University Geneva, began the ceremony by recognizing the parents, partners and siblings of the graduates who supported students through their studies. He went on to remind students that through their time at Webster, they have been prepared for lives as global citizens; now better understanding their wants, interests, and desires for themselves, communities, and those important to them. He reinforced that the Class of 2023 shares a common thread of resilience and a commitment to pursuing excellence, as demonstrated throughout their academic journey at Webster University Geneva.
Ambassador Bathsheba "Sheba" Nell Crocker, the U.S. permanent representative to the United Nations and other international organizations in Geneva, went on to deliver the commencement address. In her speech, Crocker shared insightful anecdotes. She encouraged the graduates to embrace challenges, think critically, and to make a positive impact on the world.
Crocker is thanked by Guffey for speaking at Webster Geneva's Commencement.
Two graduating students were selected to speak on behalf of their classes. Alexandra Markitan spoke on behalf of undergraduates, and Byader Sultan Binmahfouz represented the graduate students. Both delivered touching and humorous words. They also spoke to the challenging times faced by those who began their studies during the global pandemic. Although students began their college journey apart because of the virus, they completed their studies in person as a unified group.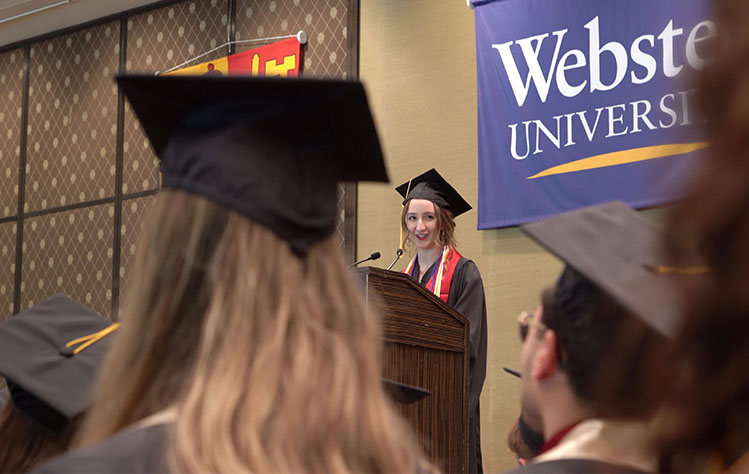 Markitan speaks to the Class of 2023.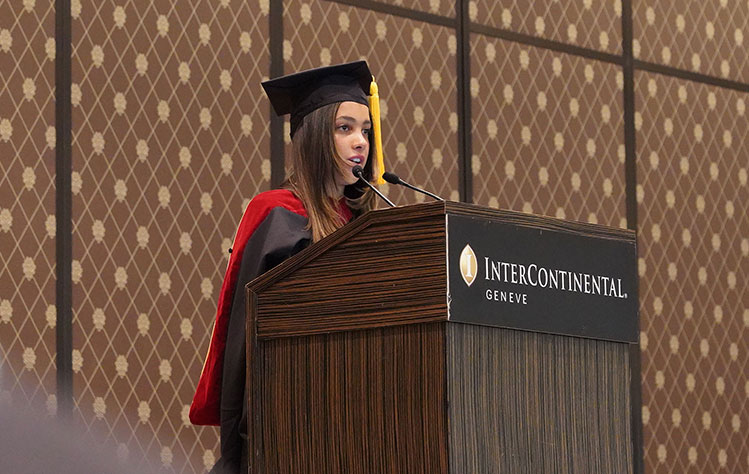 Binmahfouz addresses her fellow graduates.
Mohamed Shawesh, a Webster alumnus and CEO of Shawish Genève, wrapped up the ceremony by sharing inspirational words about the journey ahead for the class.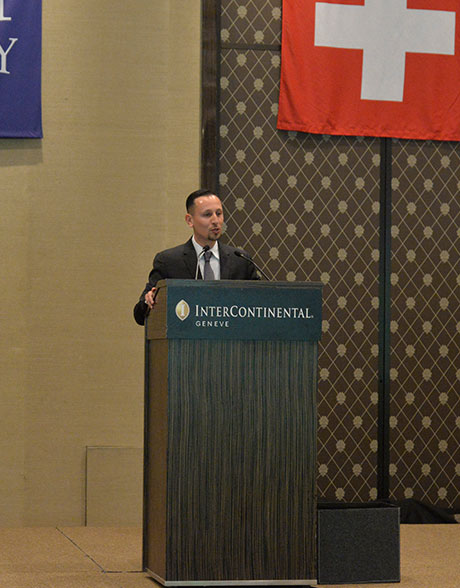 Shawesh speaks at the commencement ceremony.
Alongside the main diplomas, various awards were also presented to commend students who had demonstrated exceptional academic prowess, leadership skills, and community engagement. These accolades served as a testament to the dedication and passion exhibited by the recipients.
It was especially exciting that students from throughout the Webster University network were able to be part of Webster Geneva's commencement ceremony. Students from Ghana, Tashkent, and the main Webster Groves campus were present at the Geneva commencement.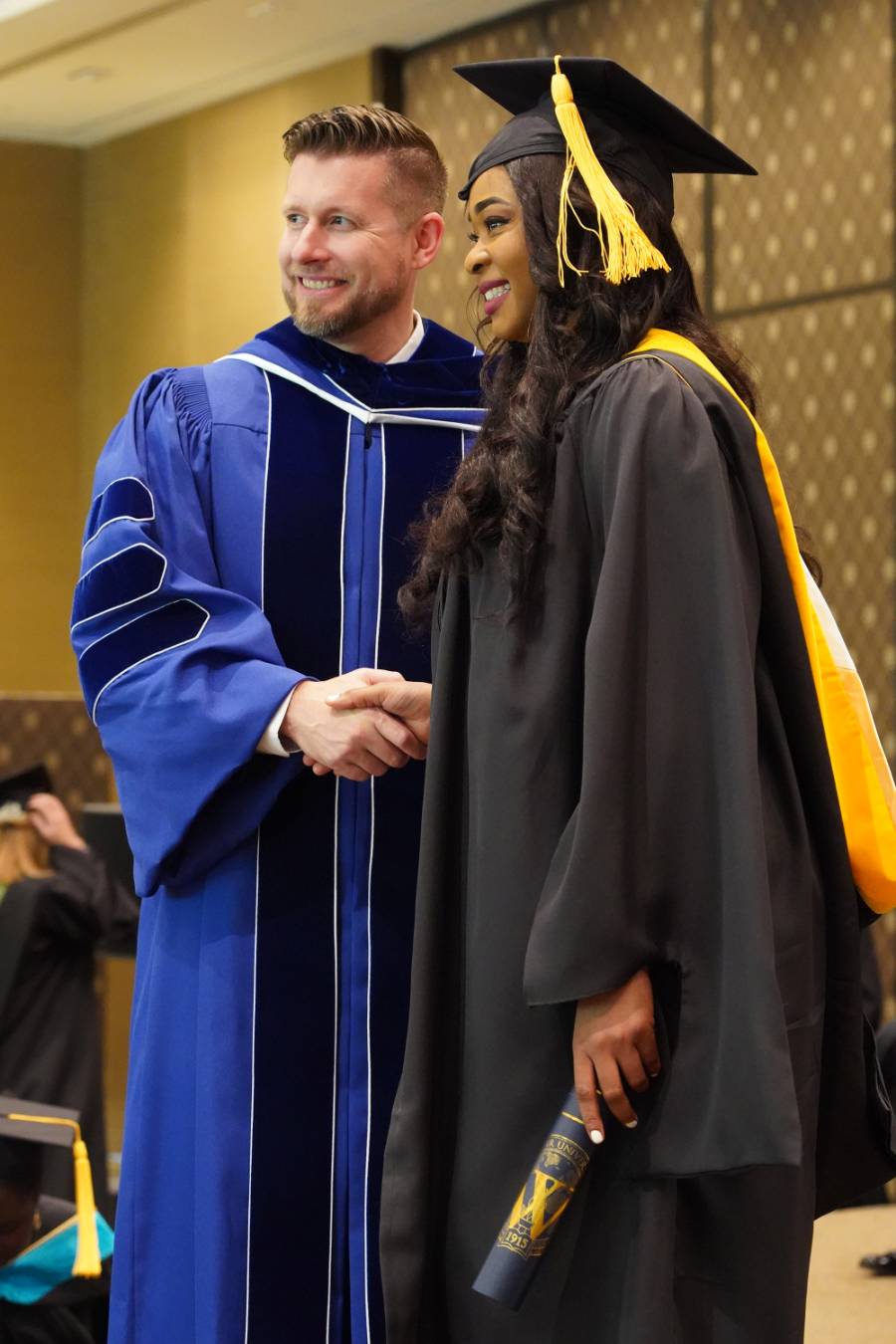 Guffey congratulates a Webster graduate who travelled from Ghana to walk at Geneva's commencement ceremony.
After the ceremony, graduates and their loved ones returned to campus for a reception. Upon arrival, the graduates were greeted by existing Webster alumni. The existing alumni welcomed and celebrated the newest members of the Webster alumni network: the Class of 2023.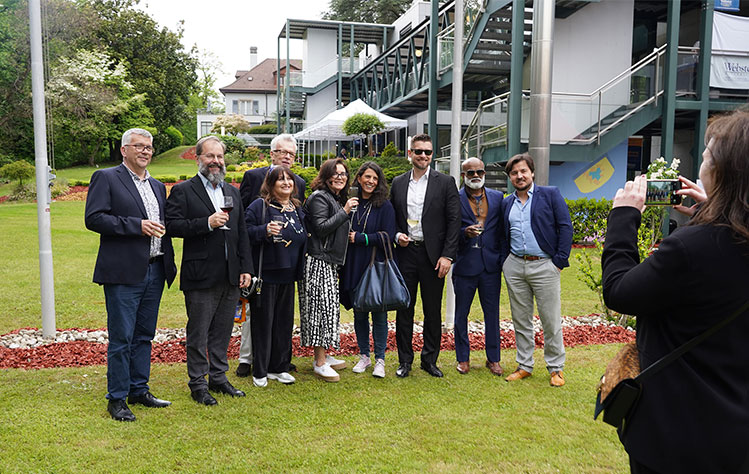 A group of Webster alumni pose for a photo with Guffey.
Congraulations to the Class of 2023!
Additional photos and videos from Webster Geneva Commencement can be found on the Webster Geneva Instagram & YouTube pages.