Students from Geneva Campus Lead Art Exhibition and Raise Over 1,000 Swiss Francs for Nepalese Non-Governmental Organization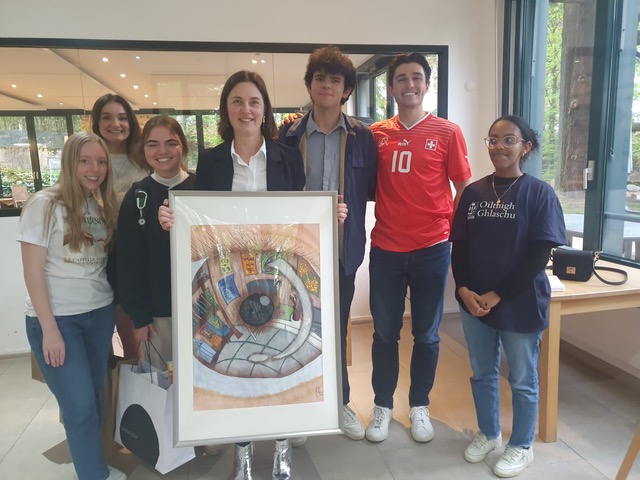 As part of Webster University Geneva's Creativity & Innovation Week, a group of students from an art appreciation course planned and hosted an art exhibition fundraiser called The Unseen. The exhibition was held to celebrate the fifth year of the Meet the Artist Lecture Series and as a fundraiser event.
The Unseen featured 44 artworks, donated by Webster students and alumni, faculty, staff, and well-known artists including Pierre Bessuges, Arantxa Cedillo, Sarah de Latte, James Lang, Angela McFall, Dot Rogers, Kristian Skeie, Ariane Tsai-Tse Sudan, Sarah Watson, and Tim Young.
During the exhibition's opening remarks, Professor of Art Julianna Sandholm-Bark commended the 12 students enrolled in the art appreciation course – Anthony Badalamenti, Tomiris Bakytkyzy, Kayla Hubbard, Mina Ilic, Isabel Mujica, Trinity Nail, Anthony Ogliore, Devasha Pant, Shane Spadola, Haylee Tischler, Hermela Woldesemayet, and Daria Zhuravleva, "Who really came together as a class and did a fantastic job today."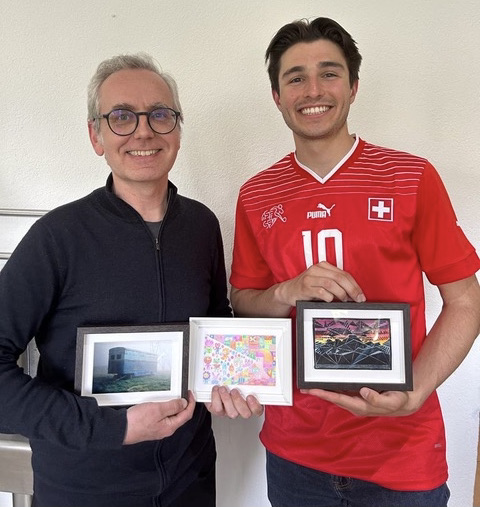 Tim Young and Anthony Badalamenti - Badalamenti bought a piece of Young's art.
The exhibition successfully raised 1,100 Swiss francs.
Geneva is renowned for its rich cultural heritage as well as the high value it places on art. Webster University Geneva was delighted to host a large number of visitors at the student-led exhibit, given that Geneva is well known for its many museums, galleries, and cultural institutions dedicated to the presentation of significant cultural artefacts.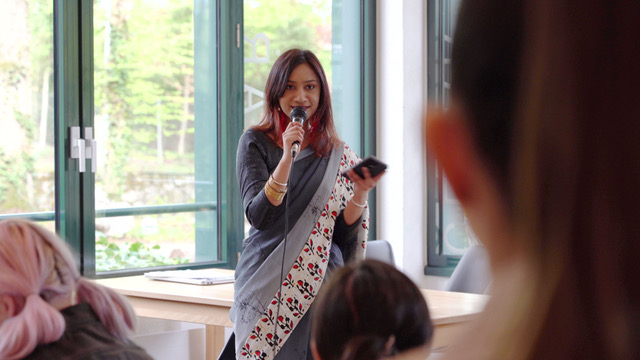 Art Appreciation student Devesha Pant speaks at the event.
Attendees praised the organization of the event, and the incorporation of a fundraiser incentive. Funds from the artwork went toward an organization called Ek Ek Paila in Kathmandu, Nepal. The money raised will cover the cost of cataract surgery for 10 people in the Nepalese village of Bajura.
Webster University Geneva plans to organize another art fundraiser during spring 2024.