Webster Geneva Student Speaks at United Nations Climate Change Conference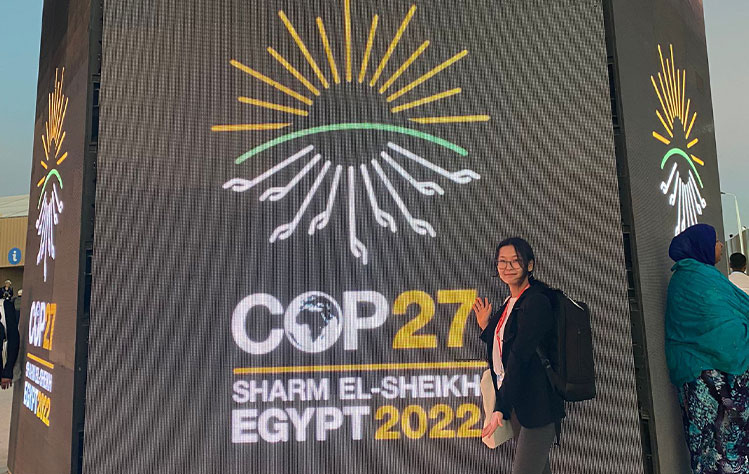 Naraana Enkhjin, a senior majoring in International Relations at Webster University Geneva, recently had the honor of speaking at the United Nations Climate Change Conference (COP27) in Sharm El-Sheikh, Egypt in November. As a youth representative for the NGO Swiss Youth for Climate, she was able to network with fellow students from all over the world as well as multiple influential officials from various countries — including royalty.
"I am honored to have met so many worldwide youths passionate about making change, many of whom I became friends with," Enkhjin said. "I was also very fortunate to have had a short conversation with his excellency, the Crown Prince of Pahang, Malaysia, who is also a youth climate change activist."
Further contact opportunities for Enkhjin included meetings with the Swiss delegation, bilateral talks with negotiators from Madagascar, Mongolia and Chad, close connections with Czechia's Ministry of Foreign Affairs, and a brief meeting with the Minister of Environment from Czechia.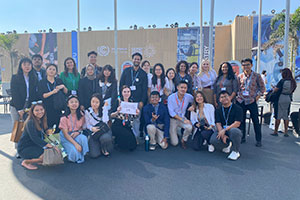 "I will cherish these contacts and hope to keep in touch with them," Enkhjin said. "I do wish to see them again if I receive the opportunity to go to COP28."
Ultimately, it was Dina Ionesco, professor and co-director of the Masters in Migration, Climate Change & the Environment at Webster Geneva, who was able to give Enkhjin the opportunity to meet so many influential connections at the conference.
As part of Ionesco's class on Migration Policy & Practice, Enkhjin had written a paper on how climate change impacts population mobility in Mongolia. The opportunity to attend the conference started there.
"In the class, we connected human mobility to climate issues, identifying the environmental drivers and what was at stake at COP27 on migration," Ionesco explained. "We also organized a panel on climate change and migration for Webster's 26th Humanitarian Conference. This all offered the opportunity to connect Naraana to my own professional network, and to the environmental migration specialists available in Geneva who were going to COP27."
Ionesco was quick to point out that sharing her contacts, a hallmark practice of many Webster Geneva faculty, offers a mutually benefitial advantage for both faculty and students.
"The access we give our students to expert networks is key to be able to identify future professional opportunities," she said. "This is also a two-way bridge, and I consider that professionals can gain so much from being exposed to students' drive and initiatives."
Ionesco went on to say that she believes one of the biggest changes of the past 10 years is the drive and recognition that youth organizations have gained in climate action.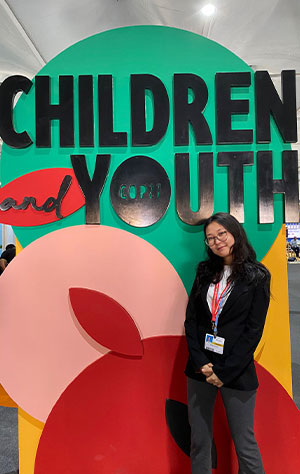 "Naraana's participation in COP27 is emblematic of a generation that is passionate and knows that knowledge is key," she said.
Reflecting on her own experience, Enkhjin felt both immense graitude and a desire for more.
"This experience was very enriching and has taught me to be more resilient and fearless in pursuing opportunities," she said. "I would like to thank Swiss Youth for Climate and Professor Ionesco for connecting me with many great people and giving me the opportunity to give a keynote speech. I would also like to thank Professors Jubin Goodarzi and Dounia for always being understanding and supportive."