Ghana Campus Welcomes Webster's Director General of Global Affairs and Chief Information Officer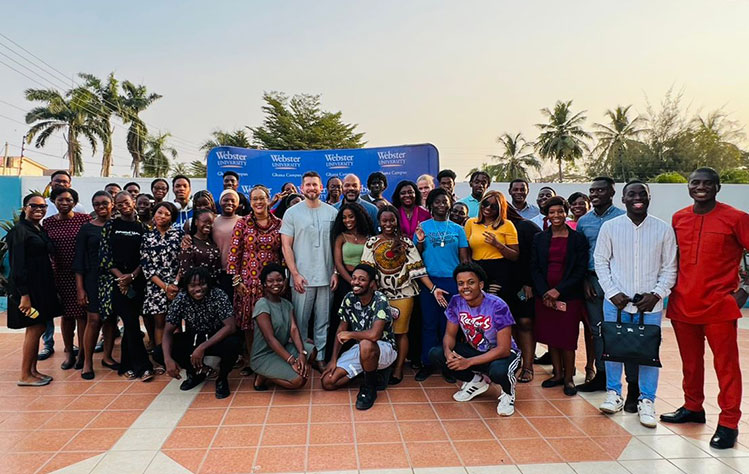 The Webster Ghana Campus recently welcomed Ryan Guffey, director general of Global Affairs, and Greg Malone, Webster's chief information officer. It was their first time visiting the Ghana campus.
Guffey and Malone had the opportunity to interact with Webster faculty, management and other staff members. They assessed the various departments, campus successes, challenges and opportunities over the years. Malone organized a variety of training sessions for faculty, students, and staff on IT systems including the rollout of Webster's new IT platform, Jenzabar.
Guffey and Malone also met with Webster Ghana students who represented 31 nationalities. Students from the Central African Republic and Ghana welcomed guests with special cultural dance performances.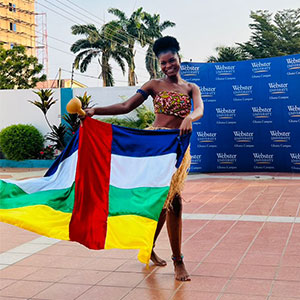 A Webster Ghana student performs a cultural dance during Guffey & Malone's visit.
Christa Sanders, Webster Ghana Campus Director, began the event with welcome remarks. Head of Student Affairs Abigail Benyah shared how student life had grown significantly since 2014 with a wide range of club activities and events led by a strong Student Government Association (SGA).
The SGA President presented a brief address expressing various student government achievements, along with SGA collaborations from other local universities such as Ashesi University, Lancaster University, University of Ghana, and Academic City.
Both Guffey and Malone shared remarks and commended students for their hard work. Specifically, they encouraged students to take advantage of study abroad opportunities throughout the global Webster network.
The session concluded with pictures, discussions with university leadership, and engagement with students, faculty and staff.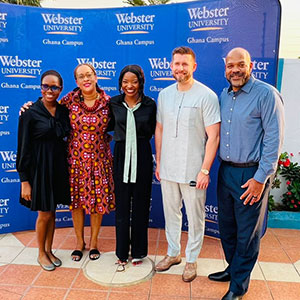 Pictured left to right are Abigail Benyah, Christa Sanders, Cassandra Ngoumape, Director General of Global Affairs Ryan Guffey, and Chief Information Officer Greg Malone.
The Webster Ghana Campus opened in 2013 when it received accreditation from the US-based Higher Learning Commission (HLC) and Ghana Tertiary Education Commission (GTEC). The Webster Ghana Campus will soon be celebrating its 10th year in September 2023.