Global Student Leadership Summit 2023 – Recap 1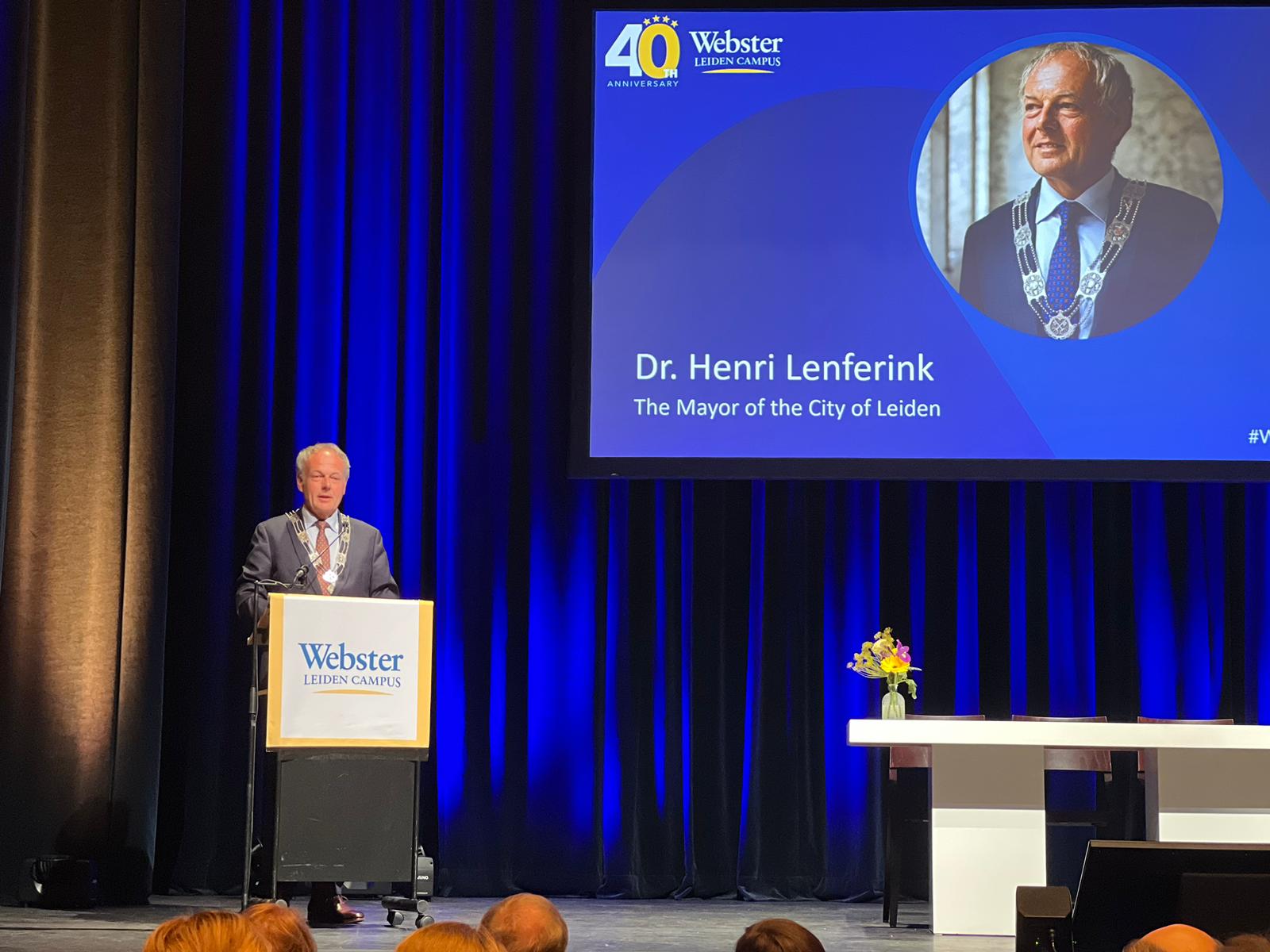 The Global Student Leadership Summit (GSLS) is a high impact learning practice for a group of 28 undergraduate student leaders from throughout Webster's worldwide network. These students were selected because of their strong leadership potential and the ability to work collaboratively across differences. 
May 21 was the kickoff of the 2023 Global Student Leadership Summit in Leiden, Netherlands. The 28 undergraduate student leaders from Webster's various international campuses arrived in Leiden, where they were given a tour of the campus and a review of the Summit schedule. After a food truck dinner, students had free time before meeting with their faculty mentors.
 
May 22 officially began Summit activities. Jean-Paul Van Marissing, Leiden campus director, and Sheetal Shah, Leiden academic director, gave welcoming remarks, as well as Vice President of Academic Affairs, Nancy Hellerud.
 
Sponsor Alan Elliott Merschen also spoke to the student leaders. He gave encouraging comments to the group, talking about his passions, the educational value of international travel and his time studying for his master's degree at Webster.
 
The student leaders met in mixed campus groups for teambuilding activities and listened to a presentation on public speaking by Jonathan Talbott. After lunch, The Webster Leiden 40th Anniversary Academic Conference: The World Now (2023) and the World Then (1983) took place to commemorate the 40th anniversary of Webster's Leiden Campus. The welcome address was given by the mayor of the city of Leiden, Henri Lenferink.
Chancellor Beth Stroble, Webster Leiden Alumna Julie Sharon-Wagschal, Ambassador of Georgia to the Netherlands H.E. David Solomania, Ambassador of the United States of America to the Netherlands H.E. Shefali Razdan Duggal, and Israel Louis Ismail also gave speeches.

The celebration included a retrospective presentation, remarks from these speakers, and a reception and dinner. The student leaders ended their day again with free time and a meeting with their mentors.
 
With four days of official activities ahead, the 2023 Global Leadership Summit is just getting started.
 
Additional information about the Global Student Leadership Summit can be found here. 

The public is invited to view the project presentations given at the end of the week by GSLS participants. The presentations will be streamed live on Friday, May 26 (2:15 a.m. CST, 9:15 a.m. Leiden) on Zoom. A recording of the presentations will be available following the livestream.