New Appointments Bolster Growth and Alignment of Webster's European Campuses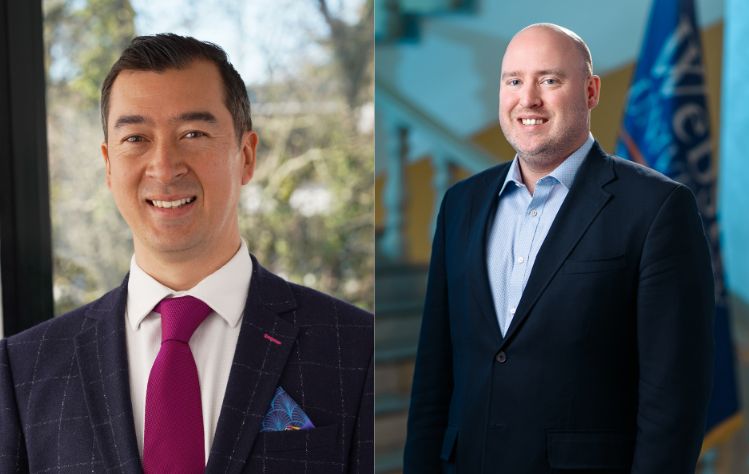 Mark Hatton and Eric Click.
Ryan Guffey, Webster director general for global campuses, has announced two leadership appointments that will support strategic initiatives to grow enrollment and align operations at Webster's campuses in Geneva, Switzerland; Vienna, Austria; Leiden, the Netherlands; and Athens, Greece.

Mark Hatton has been named director of European recruitment and marketing. In this role, Hatton will facilitate comprehensive European recruitment, including recruitment of U.S. students, coordination with recruitment partners, and alignment of marketing among the four campuses. He will work with admissions and marketing staff across Europe while continuing to serve as director of admission and marketing at Webster University Geneva.

Eric Click has been appointed head of European academic operations. Click, who will also continue in his role as academic director of Webster University Geneva, will lead projects to organize the delivery of programs and courses across campuses, support enrollment management, and enhance consistency of student academic support services.

"These appointments will support the implementation of strategic initiatives that were developed by the directors of Webster's European campuses in the past several months," said Nancy Hellerud, vice president for academic affairs. "By working together, we can better leverage the combined strengths of our campuses while highlighting what is unique about each of them – from the specific cultural experiences to local accreditations. Geneva, Vienna, Leiden and Athens are strong magnets for study abroad students, attract American degree-seeking students looking for a global experience as well as international students from around the world, and are close enough geographically to offer significant opportunities for student and faculty exchanges."

"As Webster's international footprint grows, creating strong regional connections among our locations is key," said Julian Z. Schuster, president of Webster University. "Within each region, new Webster locations can rely on the strength and support of existing campuses - as well as our main campus in St. Louis – to offer a global, U.S.-accredited Webster degree in a unique local setting. Having a connected network in a region provides options for students, supports mobility of students, faculty, and alumni, and brings us together."

"During their tenures at Webster Geneva, Mark Hatton and Eric Click have proven to be leaders in their respective areas of global higher education," said Guffey. "I'm pleased to have them join the growing team in the Office of Global Campuses and focus on our European operations. At Webster, we are fortunate to attract talented, internationally experienced faculty, staff and administrators to help carry out our global mission."

Hatton and Click will begin their appointments on Sept. 15, 2023. In the Office of Global Campuses, they will join Jimmy Crucerey, director of global IT services (and IT manager at Webster University Geneva), and Michael Postmann, global financial specialist supporting business analytics and the development of new international locations (and director of finance at Webster University Vienna).