Anthony Jarvis Named Interim Director of Webster University Tashkent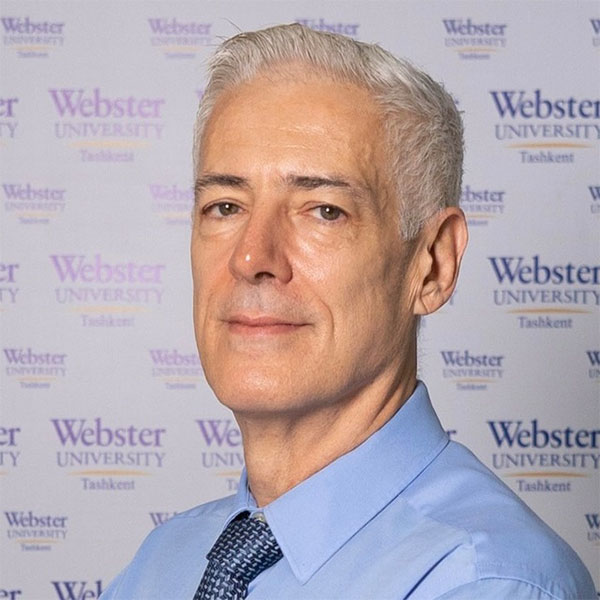 Webster University Vice President for Academic Affairs Nancy Hellerud and Director General for Global Campuses Ryan Guffey are pleased to announce that Anthony Jarvis has been named interim director for Webster University Tashkent. On Nov. 1, Jarvis will succeed Vassilis Polimenis, who accepted an opportunity with a new organization.

"Dr. Jarvis has shown a passion for higher education in Uzbekistan over his two years as a professor and then senior academic administrator at Webster in Tashkent," said Hellerud. "Today, we are continuing to add academic programs, and Jarvis has demonstrated that he has the know-how and determination to develop, organize, and implement essential instructional and quality assurance mechanisms."

Ryan Guffey shared, "Webster University in Tashkent has been Webster's fastest growing international location, and we are confident 'Tony' will provide the necessary leadership to continue the campus' tremendous development."

Prior to Webster, Jarvis served as the chief academic officer for Lancaster University in Accra, Ghana, and associate dean for International Development, and academic associate dean for the Faculty of Humanities and Social Sciences at La Trobe University.

Jarvis holds a PhD in International History from Oxford University. He has been a faculty member at several institutions, including Oxford University, Monash University and La Trobe University, and a visiting professor at a number of places, including the University of Missouri-Columbia. His research interests include governance beyond the state, the history of statecraft, and globalization.

Webster University has been offering graduate programs in Uzbekistan since 2018. In early 2019, Webster announced an agreement with the Ministry of Higher and Secondary Specialized Education for programmatic and physical expansion of Webster Tashkent. In Fall 2019, operating under a presidential decree, Webster University Tashkent opened with 375 students, offering undergraduate and graduate degrees. The campus is now home to more than 4,200 students.