Webster Leiden Students Visit the International Criminal Court and International Court of Justice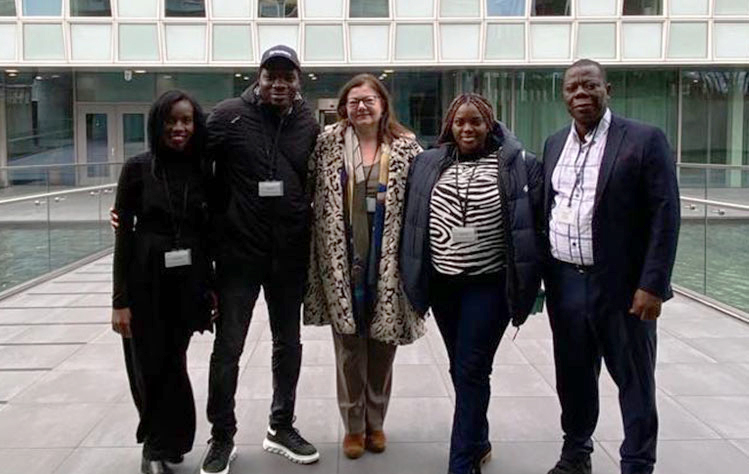 Webster Leiden international relations graduate students visited the International Criminal Court (ICC) and the International Court of Justice (ICJ) in The Hague. Naya Pessoa, professor of International Law, organized the trip as part of an experiential learning opportunity. She was joined by Nives Rumenjak, head of the International Relations department.
Students of both Pessoa and Rumenjak found value in the real-world experience. Peace Orode, a student in Rumenjak's Research Methods and Perspectives course, shared her appreciation for the learning opportunity.
"The visit to the ICC was very insightful, and after the lecture, it was clear that the ICC plays a critical role in holding individuals and even states accountable for international crimes, such as genocide, war crimes and crimes against humanity," said Orode.
"The ICC's work in prosecuting criminals and promoting justice serves as a beacon of hope for victims of atrocities. We also had the chance to enter a courtroom and it was a sight to behold. It was a pleasure to visit the ICC and I look forward to future trips."
Michael Herz, a legal officer working at the office of public counsel for the defense, guided the group of diverse learners on their visit. In addition to leading the students through the courts, Herz shared details about the architecture, history, courtroom, legal framework and legal research of the court. Students and professors had the opportunity to ask questions about the court and its systems.
Pessoa and Rumenjak will offer international relations students another field study opportunity. Students will visit the Peace Palace in The Hague, which houses the Permanent Court of Arbitration, the United Nations International Court of Justice, and The Hague Academy of International Law - on March 3.
Webster Leiden recognizes the importance of experiential learning and development for students. The field visits to the courts in The Hague are anticipated to be a signature feature of the master's degree program in International Human Rights.