Northcott Recognized by the Saint Louis Public School District as Higher Education Partner of the Year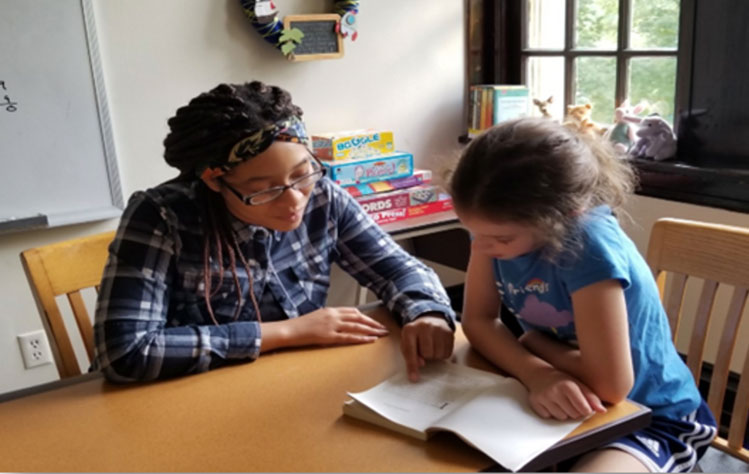 The Saint Louis Public School District (SLPS) recently recognized Kate Northcott, director of Webster's Student Literacy Corps (SLC) as "Higher Education Partner of the Year."

Northcott has served as director of the SLC since 2001. In this role, Northcott trains and supervises Webster students who serve as literacy tutors for new and struggling readers in local schools. Much of SLC's work takes place in SLPS schools.

Northcott was nominated for this award by Deborah Rogers, principal of Patrick Henry Downtown Academy. Rogers expressed her appreciation to Northcott and the SLC tutors for their continued support of SLPS students.

"Northcott (with Webster's SLC) has continually come up with resources, book drives, and volunteers throughout the school year to make sure we are supported," said Rogers. "Her dedication to SLPS expands beyond our school and extends throughout the district as she is now in the process of placing tutors at multiple summer school sites. Through her efforts, Webster has supported our students and schools for many years prior to the pandemic, during the pandemic, and as we pivot towards our new normal."

Stephanie Mahfood, interim dean of Webster's School of Education, reaffirmed Northcott's critical role as director of Webster's SLC. She explained that Northcott's leadership and initiative has strengthened the School of Education's relationship with partners in different schools and districts.
"Through the SLC, the School of Education provides a unique opportunity for our pre-service teachers to not only try out concepts and methods they learn in the classroom, but also apply them in a one-on-one teaching and learning environment with each student they tutor," Mahfood expounded.
Mahfood also noted the contribution of the SLC to Webster University as a whole.
"While tutoring is a particularly valuable experience for pre-service teachers, the SLC has welcomed tutors from every school on campus, offering students across disciplines the chance to make an impact on younger generations. Through her work as director of the SLC, Northcott has truly made an impact on students both at Webster and throughout the St. Louis Public School District."

To learn more about Webster's Student Literacy Corps and the School of Education, visit www.webster.edu/education.