Coach Emeritus Susan Polgar Among Chess Legends to be Inducted into the 2023 World Chess Hall of Fame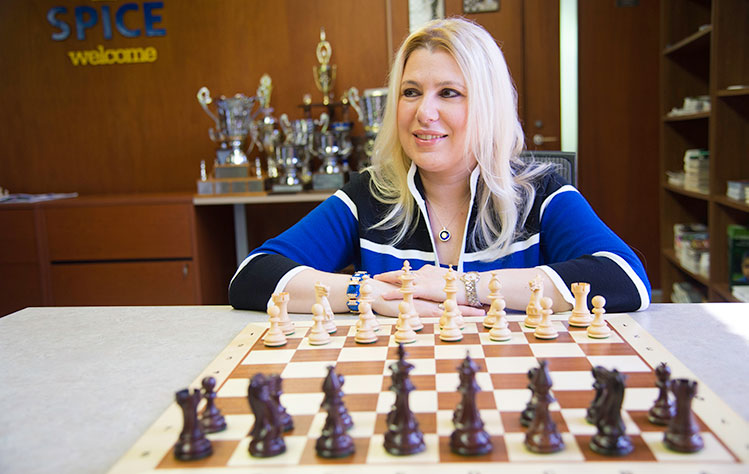 ST. LOUIS – Susan Polgar, who served as Webster University's first chess coach and has led college teams to more national championships than any other college coach in history, will be inducted into the World Chess Hall of Fame on Nov. 13. The ceremony will be held on Webster's main campus.
"This is a well-deserved honor for Susan who broke numerous barriers for women in chess during her illustrious career and helped Webster University become a powerhouse on the college chess circuit," said Webster University President Julian Schuster. "Susan continues to help women excel in chess through the annual Susan Polgar Foundation Girls' Invitational, held every summer at Webster, and through her constant championing for women's equality in the chess community. Congratulations Susan!"
Polgar was born in Hungary and, along with her sisters, was introduced to chess by her father at around 4 years old. Shortly after that, she won the Budapest Championship for Girls under 11 with the perfect score of 10-0. By the age of 15, she was ranked as the top woman player in the world. Polgar would remain in the top three for female players for the next 25 years. In 1986, while still a teenager, Polgar made history by qualifying for the "Men's" World Chess Championship but was not allowed to play due to her gender. By 1991, she broke the gender barrier by becoming the first woman in history to earn the title of "Grandmaster" by norms and rating. The next year, she won both the Women's World Blitz and the Women's World Rapid Championship.
In 1996, Polgar won the Women's Classical World Championship, and became the first player, male or female, to win the Chess Triple-Crown. In 2002, she organized and trained the official U.S. Women's Chess Team for the 2004 Olympiad. She won 12 Olympiad medals in her career, including 5 gold medals and the first Olympiad team medal for the United States. She currently holds the longest consecutive scoring streak at the Olympiad - 56 games without a loss.
In 2005, Polgar played at a large simultaneous chess exhibition and broke four world records during that event:
Playing the most simultaneous games – 326, winning 309, drawing 14, and only losing 3
Playing the most consecutive games– 1,131
Winning the most games at an exhibition – 1,112
Earning the highest winning percentage – 96.9%.In 2007,
Polgar founded SPICE, and was named the head coach of the Texas Tech University chess team, and in 2011 and 2012, she led the team to consecutive national championships, making her the first female coach to lead a men's division I team to a national title.
In 2012, she and her husband Paul Truong were hired by Webster University as coach and assistant coach. Polgar and Truong would lead Webster's team to a record five consecutive Final Four national chess championships, from 2013 to 2017. They also coached the team to place first in eight out of nine Pan-American Intercollegiate Chess Championships, including seven in a row from 2012-2018. Since her retirement, Webster University has won its ninth Pan-American championship and its sixth Final Four championship. Webster University currently is the reigning college chess champion in the United States and is the #1 ranked team on the college chess circuit.
Because of her records as a chess competitor and her work with Webster's chess team, Polgar was inducted into the U.S. Chess Hall of Fame in 2019. At this year's induction ceremony, she will be inducted into the World Chess Hall of Fame along with Bent Larsen and Lajos Portisch.
Larsen, who passed away in 2010, was a Danish chess grandmaster and author. Known for his imaginative and unorthodox style of play, he was the second strongest non-Soviet player, behind Bobby Fischer, for much of the 1960s and 1970s. A four-time Candidate for the World Championship, he won three Interzonals, a feat matched only by World Chess Champion Mikhail Tal. One of the best writers in the history of chess, Larsen's 1969 book of his selected games broke new ground with its insights into chess psychology.
Portisch is a Hungarian chess grandmaster, whose positional style earned him the nickname, the "Hungarian Botvinnik." Known as one of the strongest players in the world for over two decades, he competed in 12 Interzonals between 1962 and 1993. An eight-time candidate, he twice reached the semi-finals of the World Championship and won numerous important competitions during his career including San Antonio 1972, where he tied for first with Tigran Petrosian and Anatoly Karpov. He represented his country in 20 Chess Olympiads, winning six team medals, including gold in 1978 and five individual medals. Portisch played a record 260 Olympiad games with a lifetime winning percentage of 68 percent.
The World Chess Hall of Fame celebrates the accomplishments of the game's greatest players from the United States and across the globe. The institution houses recognition of both the U.S. and World Chess Halls of Fame, which include 73 and 43 members, respectively. New inductees are honored in an annual ceremony, which has been held in Saint Louis since 2011. Representatives of the World Chess Federation (Fédération Internationale des Échecs, or FIDE) nominate and select new candidates for induction into the World Chess Hall of Fame. Members of the World Chess Hall of Fame are chosen for their total contribution to the sport. Players as well as others who have made an impact as authors, journalists, organizers and in other ways are eligible for induction.
"On behalf of the World Chess Hall of Fame in Saint Louis, we are incredibly honored to congratulate and recognize the 2023 inductees on this incredible accomplishment. We look forward to celebrating their unique achievements at this year's induction ceremonies," said Emily Allred, Curator of the World Chess Hall of Fame.
For more information, please visit worldchesshof.org.
###
About the World Chess Hall of Fame
The World Chess Hall of Fame (WCHOF) is a 501(c)(3) nonprofit organization committed to building awareness of the cultural and artistic significance of chess. It opened on September 9, 2011, in the Central West End after moving from previous locations in New York, Washington, D.C., and Miami. Housed in a historic 15,900 square-foot residence-turned-business in Saint Louis' Central West End neighborhood, the WCHOF features World Chess Hall of Fame inductees, United States Chess Hall of Fame inductees selected by the U.S. Chess Trust, artifacts from the permanent collection and exhibitions highlighting the great players, historic games and rich cultural history of chess. The WCHOF partners with the Saint Louis Chess Club to provide innovative programming and outreach to local, national and international audiences. For more information, visit worldchesshof.org and on social: Facebook, Instagram, Twitter and YouTube channels.