Sheetal Shah: A Journey of Internationalization and Impact through the Sverdrup Global Teaching Fellowship
Sheetal Shah (on left) at the seventh Slavery Past, Present and Future conference, Ghana.
Sheetal Shah, academic director at Webster's Leiden Campus participated in Webster University's Leif J. Sverdrup Global Teaching Fellowship program this past summer by traveling to Webster Ghana. The program, which supports faculty mobility and reflects Webster's commitment to global citizenship, allowed Shah to immerse herself in a different cultural context. During the fellowship, Shah not only taught – but learned alongside students and faculty from diverse backgrounds while experiencing the culture, traditions, and academic perspectives of the region.

During her time in Ghana, Shah taught a course on global social problems. Shah's class was comprised of a mix of domestic students, international students, and participants from WINS partner universities. Each student had the opportunity to select an issue reflective of their origins and academic interests to explore in depth. The diversity of students enhanced the environment, creating a collaborative space to discuss complex global issues from different cultural perspectives. These conversations illuminated the importance of bringing diverse individuals together when examining challenges and brainstorming solutions so that every stakeholder is represented.
One of the standout features of the Leif J. Sverdrup program is the collaboration between campuses. Shah highlighted the synergy between the Leiden and Accra campus environments, emphasizing how a partnership between the locations could enhance Webster Ghana's Seventh Global Conference on Slavery Past, Present, and Future. She invited faculty, students, and deans from various disciplines at Webster Leiden to attend the conference in Ghana. This contributed to deeper learning experiences for all involved through a more diverse representation of perspectives.

The conference included more than academic discourse; participants had the opportunity to visit historical sites, including the Elmina and Cape Coast slave dungeons, providing a tangible connection to the topics discussed. Visiting these sites in Ghana was a profound experience for Shah and the conference participants. It was a stark reminder of the lessons from history and the importance of addressing modern-day slavery.
"Just because topics are difficult does not mean we don't talk about them," Shah remarked, speaking to the importance of the conference.
Through this shared experience, the teams from Webster Leiden and Webster Ghana felt a closer connection with one another. They anticipate future collaborations – and encourage other Webster campuses to connect in similar ways.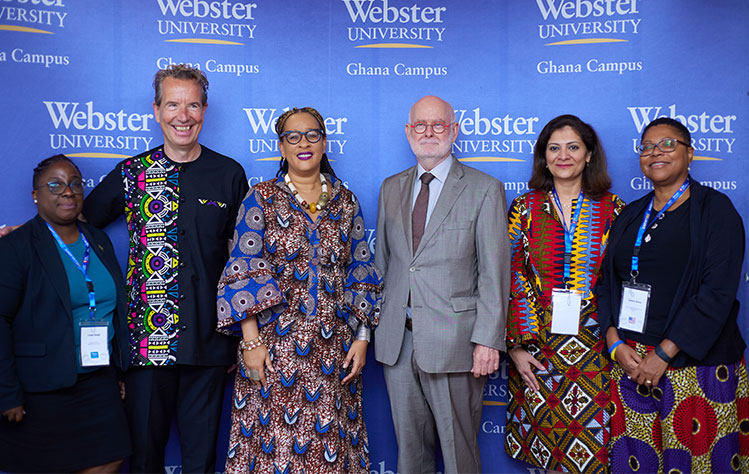 Slavery Past, Present and Future conference leaders. From left to right: Linda Deigh (Academic Director, Webster Ghana), Prof. Dr. Jean Paul van Marissing (Director, Webster Leiden Campus), Christa Sanders (Campus Director, Webster Ghana), Jeroen Verheul (Netherland's Ambassador to Ghana), Sheetal Shah (Academic Director, Webster Leiden Campus) and Karen E. Bravo (Dean, Indiana University Robert H. McKinney School of Law).
One of Shah's biggest beliefs is that continuous learning is crucial, both for educators and students. Her philosophy revolves around the idea that education should not just be about acquiring knowledge but also about understanding and addressing real-world challenges. The Sverdrup Global Teaching Fellowship gave Shah the chance to capitalize upon her personal acquisition of knowledge, academically, and culturally. Through the connections Shah built in Ghana, she was able to extend a taste of that experience to countless others along the way. For Shah, the Sverdrup Global Teaching Fellowship was not just a chance to teach in a different country, but an opportunity to engage with pressing global issues, collaborate with colleagues from around the world, and inspire the next generation of learners.

Applications for the Fall 2024 Leif J. Sverdrup Global Teaching Fellowship are currently open, with a deadline of Sunday, Oct. 15, 2023. Webster faculty who are interested in teaching abroad are encouraged to apply!