Southeastern Oklahoma State University Joins Webster International Network of Schools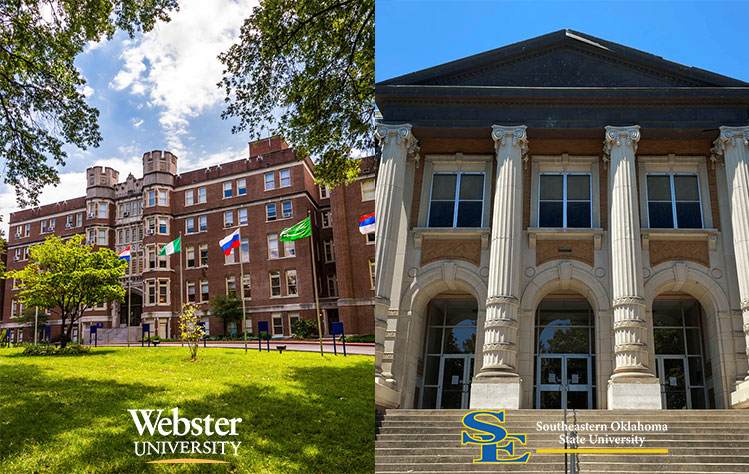 Webster University recently welcomed its newest Webster International Network of Schools (WINS) member, Southeastern Oklahoma State University, a public four-year university located in Durant, Oklahoma. The new partnership opens Webster's network of international campuses as study abroad destinations for more than 5,000 students enrolled at Southeastern Oklahoma State.
Since its founding in 1909 as a teacher's college, Southeastern Oklahoma State has evolved with the needs of the state of Oklahoma, from its start as a community college and then becoming a university in 1974. Presently, there are four academic schools within the university: Arts and Sciences, Education and Behavioral Sciences, the John Massy School of Business, and Graduate and University Studies. Southeastern's study body is diverse, being comprised of 50% first generation students, 28% students of Native American descent, and the average age of students being 28 years old.
Kyle Lincoln, assistant professor of pre-modern European history at Southeastern Oklahoma State, is a study abroad advocate at the institution and has been involved in the development of the WINS partnership.
Lincoln spoke to the value of the new partnership.
"Since 2016, Southeastern Oklahoma State has been trying to cultivate a number of new study abroad options for our students. While we had success building short-term programs and majors-only study abroad programs for soon-to-graduate students, the obvious gap in our efforts was in the transformative, 'residential study abroad' semester-long experience that allowed our students to immerse themselves in a locale and its culture. As a former Webster faculty member, the chance to provide a Viennese, Leidenaar, Athenian, or Genevan experience—replete with all of Webster's excursions, cultural immersion, and charm— for the students of Southeastern Oklahoma State University was as obvious as it was essential. We're glad that Webster is ready to welcome our students to have a life-changing opportunity during their own semester abroad."
The Webster International Network of Schools program creates partnerships between Webster University and U.S. universities to provide access to Webster's international campuses on four continents, as well as programs offered by international partners in China, Japan, Mexico, Spain, Italy, Belgium, and England.

The program allows full-time, degree-seeking students of affiliated U.S. universities to study abroad at one of Webster's designated WINS locations and allows for collaborative program development amongst partner institutions.