Co-Champions Declared for the 20th Annual Susan Polgar Foundation Girl's Invitational Chess Tournament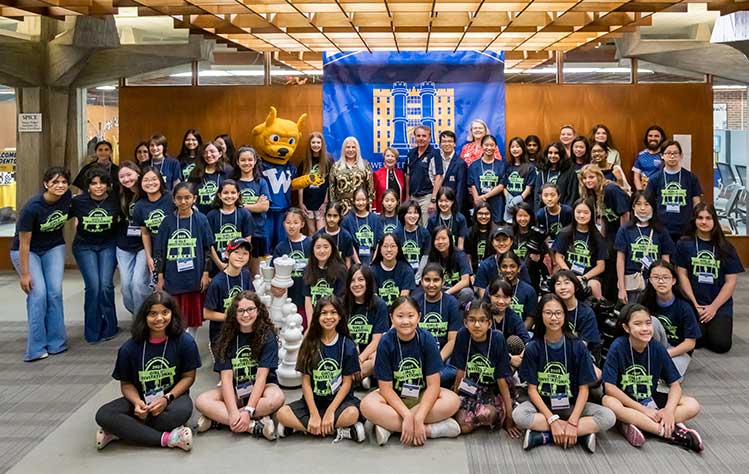 Photo: Susan Polgar, Chancellor Elizabeth (Beth) J. Stroble, President Julian Z. Schuster, Coach Liem Le and Webster Groves Mayor Laura Arnold pose with staff members and the competitors of the 20th annual Susan Polgar Foundation Girl's Invitational Chess Tournament.
Two girls were declared the winners of the 20th annual Susan Polgar Foundation Girl's Invitational Chess Tournament Sunday. International Master Alice Lee,13, from Minneapolis, Minnesota, and FIDE Master Ruiyang Yan, 16, from Mountain View, California, tied for the top spot. Elena Zhang, 14, from Highland, California, took third place.
They were among the 55 girls ages 8 to 18 from 29 states that competed in the five-day tournament at Webster University. All three girls earned scholarships to attend Webster University and additional cash prizes.
The tournament, which is open to girls 18 or younger, was held June 20 through June 25 in the Luhr Building on Webster University's main campus in Webster Groves. Each state affiliate was allowed to nominate up to two representatives. On the first day, there was a seminar and training session, followed by the puzzle-solving championship, blitz championship, and bughouse championship. The main competition took place on the remaining days.
"Webster University is the place where people can grow, learn, compete and have fun, and this tournament represents that," said Webster University Chancellor Elizabeth (Beth) J. Stroble during the opening ceremony. "Webster was founded as a place where women could pursue a higher education, and today, we see that Webster continues to be a place where girls and women can thrive."
Polgar, who founded the tournament, was on hand to officiate the competition and offer strategy lessons to the participants throughout the six-day event. During her opening remarks, she said the tournament was the first all-girls competition recognized by the United States Chess Federation, which means that it follows official tournament rules and will add to the overall chess rankings of each player.
"This event is near and dear to my heart," Polgar, who retired as Webster University's chess coach in 2021 after leading the team to five national championships, said during the opening ceremony. "I have seen former participants grow up to become doctors, lawyers, mothers, professors and so much more. But more importantly, I have seen the participants become life-long friends after meeting here for the first time."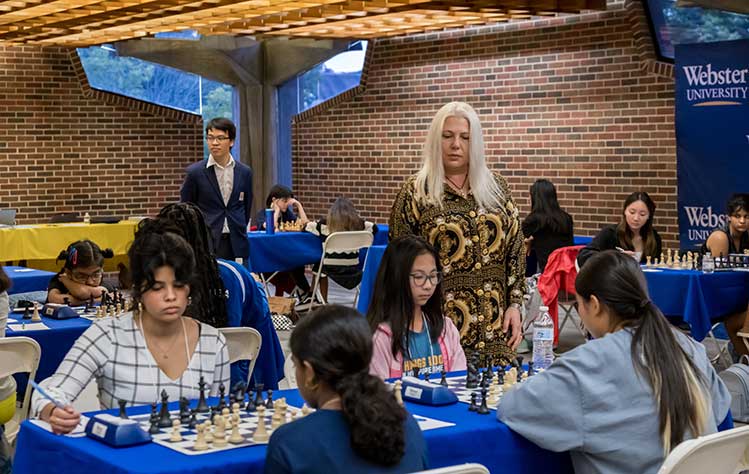 Photo: Webster University Coach Liem Le and retired Webster University Coach Susan Polgar carefully watch the competitors during the 20th annual Susan Polgar Foundations Girl's Invitational Chess Tournament.
Webster University Chess Coach Liem Le also spoke with the competitors about chess strategies and officiated the games.
"This is a great tournament that presents a unique opportunity for young female chess players to compete in an environment where every player is treated equally and they are not judged based on their gender," Le said. "These young girls are incredibly talented and focused, and I easily foresee encountering many of these players on the professional chess circuit in the future."
Because Lee and Yan tied at the end of the tournament, a tie-breaker game was held to see who would take the top prize. Yan won, earning a four-year scholarship at Webster that covers tuition and fees, valued at $112,000. Lee also won a four-year scholarship that covers tuition, worth $72,000. Zhang won a partial scholarship to Webster, worth $56,000.
Lee and Yan also won $3,000 each for taking the top spot in the tournament, and Yan earned an additional $1,000 for also winning the blitz and puzzle-solving competitions. Zhang earned an addition $1,000 for third place. Other players won additional prizes, ranging from $50 to $500 for other achievements, such as winning with a brilliant tactic or for beating a player with a significantly higher chess rating.
To learn more about the Susan Polgar Foundation Girls' Invitational, or about Webster University's chess program, visit webster.edu/spice.