Celebrating 10 Years of Webster Suggs Scholars: Matthew Nguyen
Webster University's Dr. Donald M. Suggs Scholarship program is 10 years old this year. Webster is reaching out to some of the 37 students or alumni who benefited from the program to feature their personal and professional successes.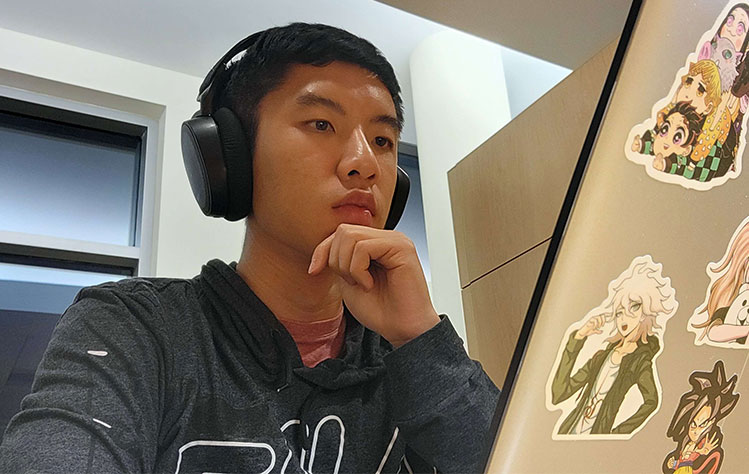 Matthew Nguyen
BS, Finance
Class of 2023
Family means something special to Webster University Sophomore and Suggs Scholar Matthew Nguyen. While he was born and raised in St. Louis, Nguyen's parents are from Vietnam, and they've taken great care to model for their children that an ongoing familial connection is paramount.
In fact, each day, Nguyen, his parents, and his two younger siblings try to share a meal together — or even two — to save the time and space to stay connected.
"This gives us time to have daily family conversations and increase our bonds," Nguyen said.
Nguyen and his father have something else in common that helps increase their bond and provides for conversation at the dinner table — Webster. Nguyen's father is an alum, who graduated in 2001 with a degree in Management Information Systems.
Nguyen is following in his father's footsteps while currently majoring in Finance. The Suggs Scholar Program, he said, has certainly had a positive impact.
"Not only did it help me financially, but it has also given me the opportunity to put myself out there, get involved with clubs and organizations, and make an impact on the community," Nguyen said.
On campus, Nguyen credits William Ratz, director of the First-Year Experience, and Jennifer Stewart, director of Student Engagement, for helping him infuse his school connections and activities with purpose, connection and fun.
"They both have created a positive experience throughout my journey in the WebsterLeads program, which has given me the courage to take on leadership roles on campus," he said.
Nguyen also wanted to shout out Webster's Self-Defense and Martial Arts club for "being so welcoming and allowing people with no experience to participate" and grow their skill set.
Outside of Webster, Nguyen currently tutors younger students at Mathnasium.
"I help students from K-12 understand core math concepts and communicate with parents about their child's progress," he explained. "It is a fulfilling job since you can see the moment people's eyes brighten up when they understand a difficult topic and share their high-test scores."
While his future goals are not set in stone just yet, Nguyen is confident his choice of school and major will present many options, including continuing to be of service in some way.
"I know that majoring in finance will open many doors for me," he said. "My goal is to work in the accounting or finance field. A certain area that appeals to me is the financial services field, as you get to help businesses and people improve their finances, thus creating a fulfilling career."
When asked to reflect on how his studies are going thus far, Nguyen said Economics Professor Allan MacNeill deserves a lot of praise.
"It is clear throughout his lectures that he is passionate about the subject and wants to ensure that everyone understands the topic," Nguyen said. "He makes economics engaging and often connects it to what is happening in our world today."
Nguyen also circled back to the Suggs Scholarship as a real gamechanger.
"Being a Suggs scholar has helped me grow and develop as a person," he said. "I doubt I would have gotten out of my comfort zone without the program's encouragement." 
About the Suggs Scholarship
The Dr. Donald M. Suggs Scholarship was established to honor Dr. Donald M. Suggs, an oral surgeon, newspaper publisher, patron of the arts, and distinguished community leader, and is administered by The St. Louis American Foundation. The scholarship is designed to enhance recruitment and retention of academically talented undergraduate students from communities that are typically under-represented in higher education. The funding for the Webster University Dr. Suggs Scholarship Program is provided by Webster University. A committee of staff volunteers helps select students for the program. Webster University has 32 students currently enrolled in the program, more than double of any other participating institution of higher education.