Support Services at Webster - Making College Accessible for You!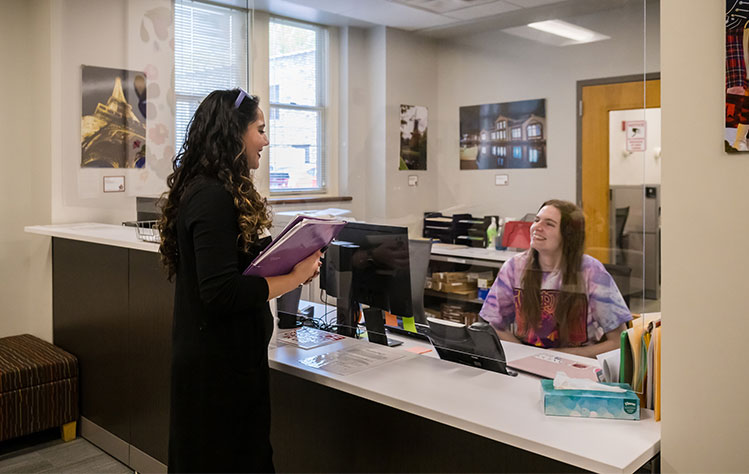 Making the decision to attend college can be scary. Making the choice to attend college when you need extra support can be even more daunting.
The Reeg Academic Resource Center (or Reeg ARC, as it's commonly called) is Webster's department for students to connect with academic resources, advocacy, and accessibility support. Although located as a physical office on the Webster Groves campus, the Reeg ARC provides support for students across the worldwide Webster University network at both the undergraduate and graduate levels. Read on to see how Reeg ARC can support you in your academic journey!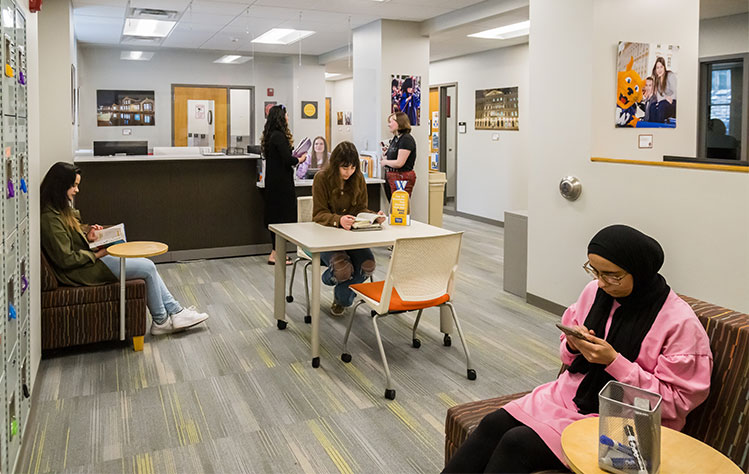 Academic Counseling
One of the most popular services at the Reeg ARC is academic counseling: one-on-one support specialized toward the assistance students need most. Academic counseling conversations often focus on accessing University resources, goal setting, learning styles, motivation, note taking, self-advocacy, stress relief and management, study skills, test taking, time management - and more.
"Academic counseling is an excellent tool for achieving success at Webster. This individual support provides students with a framework for learning to self-advocate," explains Carolyn I. Brown, assistant director of the Reeg ARC.
Any student can benefit from academic counseling, as a counselor meets a student where they are and helps them to enhance their existing skills!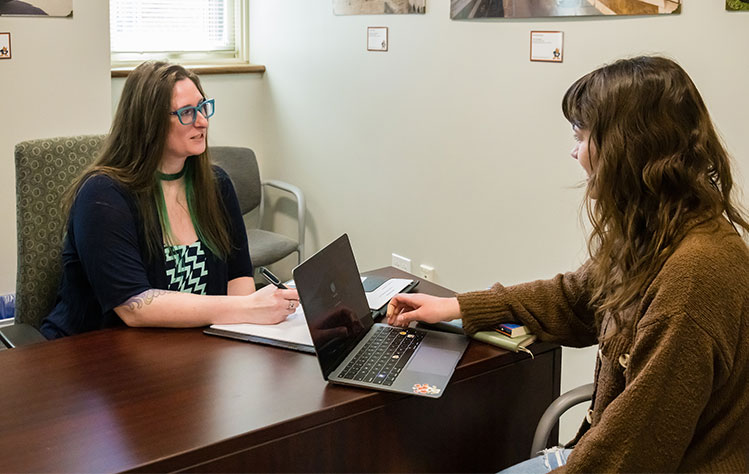 Academic Integrity
Academic integrity means being intellectually honest in all of your work created in the pursuit of knowledge and submitted in your courses. All academic communities expect their work to be original, and Webster subscribes to this tradition of intellectual honesty. The Reeg ARC provides resources for students on maintaining academic integrity in your college years and beyond. When you do your own work, you write your own future.

Assistive Technology
Assistive Technology, a service offered by Disability Student Services, provides a variety of assistive technology tools that are available for students with documented disabilities at Webster University. Access to Kurzweil 3000, a reading and literacy web-based program, is available at no cost as well as other technologies, including Dragon Naturally Speaking, ZoomText, screen readers, Smartpen, Braille, alternative keyboards, note taking applications, and other hardware and software. Additionally, students who have documented print disabilities may receive alternative formats of their textbooks and other course materials. To learn more about assistive technology at Webster and how it can bolster your learning experience, reach out to atarc@webster.edu.

Disability Student Services
Webster is committed to providing equal access to education for our community by ensuring that students with documented disabilities receive the support and accommodations they need for academic access. Disability accommodations are available through the Reeg ARC, as Webster University considers admission, financial aid, program, and activity applications without regard to disability. Our Academic ADA Coordinator works with students to create reasonable accommodations that meet their individual needs. At extended sites, the site director (or designee) works with students regarding their disability-related needs and accommodations. Webster University also provides students access to Ally, a set of tools used to make online course content easier to access and use. Webster's disability accommodation team can be reached at disability@webster.edu.

Testing Center
Missing a day of class is sometimes inevitable – whether it's due to a sports conflict, personal matter, or simply not feeling well. The Reeg ARC runs a private and quiet Testing Center. With an instructor's approval, students are able to reschedule and take a missed test outside of class time in this space. Students can also take MBA prerequisite waiver exams, language placement exams, accommodated tests, and various others in this space. To make an appointment, students can call 314-246-8225 or email the Reeg ARC. Appointments should be made at least 24 hours in advance of the scheduled testing time!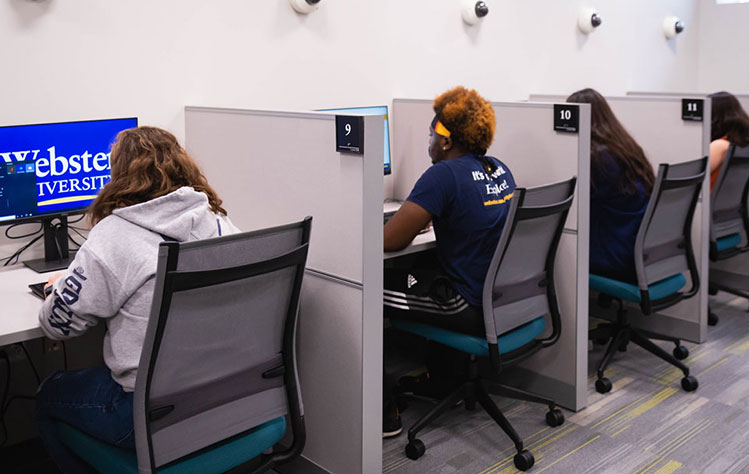 Transitions Program
The Reeg ARC also conducts a program called Transitions, which supports conditionally admitted undergraduate students by preparing them for Webster's academic rigor. Transitions seeks to help incoming students feel confident about their academic journey – automatically giving them access to an academic counselor who can help them identify strengths, areas of possible improvement, and how to best achieve goals. The Transitions program includes a summer residential Transition and Academic Prep (TAP) program. This program familiarizes participants with overall knowledge of University services. Students can earn three free college credits by participating in the program. An additional follow-up program is offered during the fall semester.
Melisa Ekic ('21), a former TAP participant, shared how the TAP program impacted her college experience.
"The TAP program helped me gain the confidence and the familiarity that I was lacking my first year of college. It helped me understand how the University is structured and how to navigate the campus. I learned where to find the resources I needed and what was expected of myself as an upcoming freshman."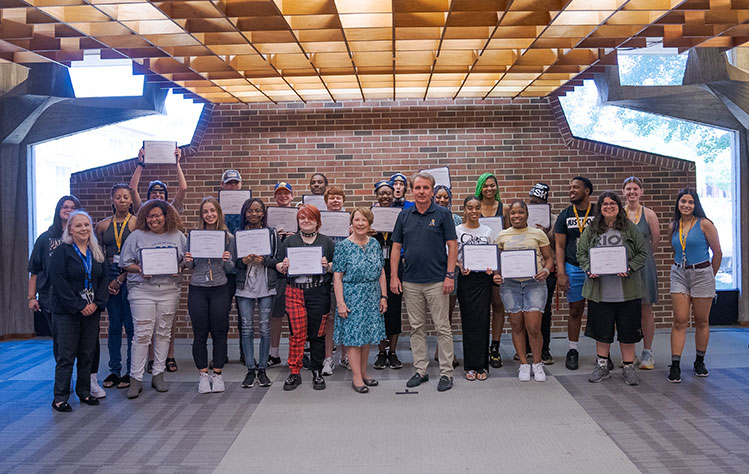 Tutoring Program
The Reeg ARC is home to many peer tutors who can provide content-related discussions for certain subjects. Tutors are available for one-time appointments, or for ongoing support, and they are trained to help students investigate strategies that may support their courses. Students can work with a tutor one-on-one, or in a small group setting – whichever they feel more comfortable with. Tutors are available for in-person appointments at the Webster Groves campus or through Zoom.
"Working with a peer tutor to discuss content questions, or work sample problems, can help students build confidence and independence in their learning," says Cherie Wyatt, tutoring program coordinator of the Reeg ARC. "Our peer tutors are students at Webster University who enjoy offering support to other students during their academic journey."
The Reeg ARC maintains the College Reading & Learning Association's international certification for its writing coaches and peer tutors so students can have confidence in their peers' services offered.

Writing Support
The Reeg ARC is known by Webster students for its writing support. Reeg ARC's Writing Center provides a friendly, welcoming place for students to connect with one-on-one support and advice to demystify the writing process and become more confident writers. Trained coaches help students through paper-writing processes for projects in any discipline.
"Our writing center coaches are Webster students, so they have invaluable first-hand experience to share with others who are navigating similar assignments and courses," says Laura Hardin Marshall, writing center coordinator at the Reeg ARC. "The Writing Center offers a built-in peer support system to help writers communicate their ideas to the best effect."
Students can book an appointment in-person or via Zoom with a coach or use the NetTutor platform (which all students gain access to) for writing support. Students can also submit papers for coaches to review and provide feedback on. Learn about the Reeg ARC's writing center and find what works best for you.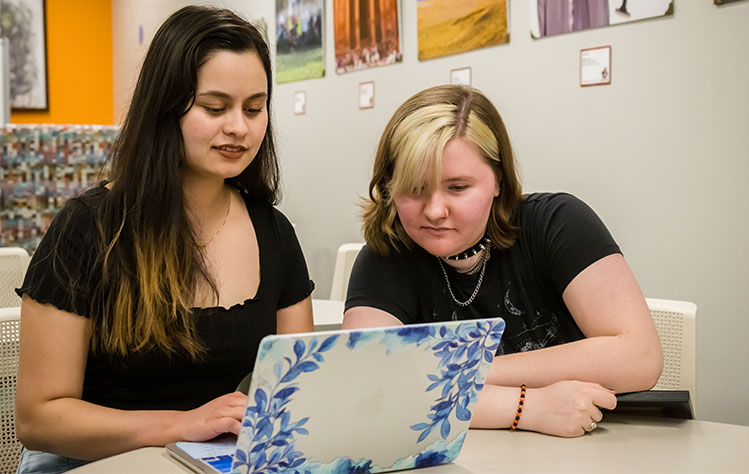 At Webster, our mission is to meet unmet needs: meaning that we make academic and disability support accessible to all of our students. After all, students should be able to spend their time focusing on their studies – not worrying about how they are going to access the support they need to succeed. Give the Reeg ARC a call at 314-246-8644 or send us a message at arc@webster.edu – let's talk about how we can help you achieve academic success at Webster!