An Overview of Reeg Academic Resource Center's TAP 2023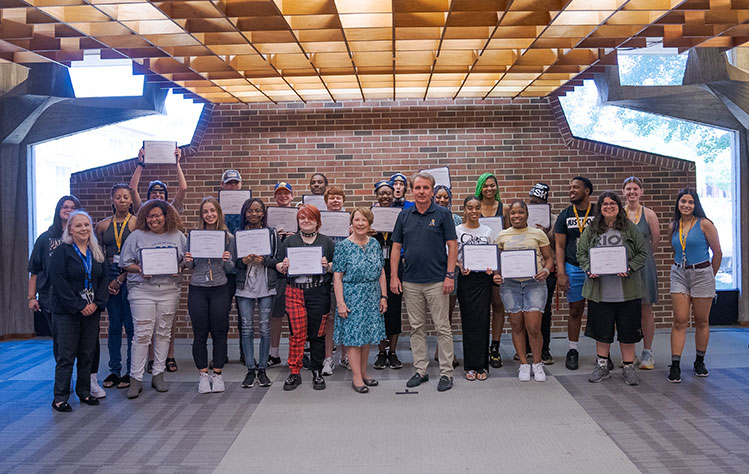 Webster University's Transition and Academic Prep (TAP) Program, organized by the Reeg Academic Resource Center, was first instituted as part of Webster's Transitions program in 2011 for conditionally admitted first-year students and transfer students with fewer than 30 credit hours. TAP, now in its 12th year, continues to connect students with the necessary knowledge and tools to navigate courses and achieve a college degree.
This year, 18 students enrolled in the TAP program, held from July 16-28. Participants completed the program with a deeper understanding of study skills, time management, research and writing, and group presentations. Students also had the opportunity to develop their knowledge of on-campus support networks via panels and workshops from departments such as the Academic Advising Center, Career Planning and Development Center, Financial Aid Office, Counseling and Life Development, Diversity & Inclusion, Study Abroad, Housing and Residential Life, library resources, the freshman experience, research methods, student employment, and Title IX.
As part of the TAP program, students are automatically enrolled in the PSYC 1000: Learning Strategies course. Upon successful completion of the course, students earn three required credits.
This year, the PSYC 1000 course was taught by the Reeg Academic Resource Center's director, Josette Bradford, Ph.D., and tutoring coordinator, Cherie Wyatt.
TAP participants also met with writing coaches to support their PSYC 1000 assignments. Laura Hardin Marshall, Ph.D., presented workshops on the writing process to assist students with brainstorming ideas for their final papers, and practicing the fundamentals of composing a research-based college-level paper. Reeg Academic Resource Center writing coaches Brady Stiff, Ipshita Sharda, and head writing coach Kwan Willhoft, all current Webster students, were available for regular writing appointments with TAP participants.
Participants also received academic coaching from the Reeg Academic Resource Center's staff members. Carolyn Brown, Ph.D.; Lisa Haag; and Laura Harding Marshall, Ph.D. discussed goal setting and academic planning. Students will continue to receive targeted support throughout their first semester provided by the Transitions Program.
TAP 2023 concluded with a luncheon. Chancellor Elizabeth (Beth) J. Stroble, President Julian Z. Schuster, and Vice President of Academic Affairs Nancy Hellerud attended to congratulate the students on completing the program and to offer words of encouragement as they begin their college journeys. Various officials and directors from around campus also attended the lunch event to celebrate the students and welcome them to the university.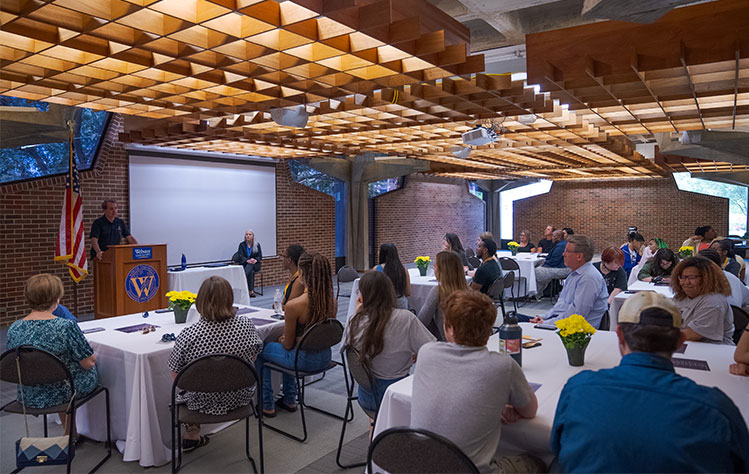 President Julian Z. Schuster speaks to TAP participants at the closing luncheon.
Ariel Nash, TAP participant, attested to her gratitude for the program, saying, "TAP is such a great opportunity, and I'm happy that I participated."
The Reeg Academic Resource Center thanks participants, administrators, staff, and academic partners for their support in making TAP 2023 a success.