Webster Named to Transfer Honor Roll for Seventh Consecutive Year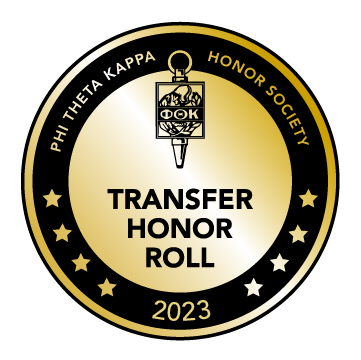 Webster University was named to the Phi Theta Kappa Transfer Honor Roll this month for the seventh year in a row, recognizing the support and services that Webster offers to students who transfer from a community college into a four-year program.
Webster University is one of only three institutions in the state of Missouri to be named to the list of 208 top institutions this year. Phi Theta Kappa (PTK) is one of the nation's preeminent organizations that focuses on recognizing the academic achievements and supporting the scholarship of community college students.
"Webster University is proud to have been recognized, for the seventh year in a row, as a trusted destination for transfer students to pursue their education," said Associate Vice President for Enrollment Alexis Boyer-Meyerman. "At Webster, students benefit from a supportive staff and student community dedicated to their success. The University's long history innovation means that transfer students receive generous credit for their college work, are actively engaged in learning experiences that are relevant to their goals, and graduate from an institution with strong ties to employers throughout the region."
According to Phi Theta Kappa, institutions are selected to the Transfer Honor Roll according to their Transfer Friendliness Ratings, determined by their profile on PTK Connect, Phi Theta Kappa's online resource for students, as well as 40 key metrics related to the support and success of transfer students, including college cost and financial aid, campus life for transfer, admission practices, and bachelor's degree completion. Those colleges with a Transfer Friendliness Rating in the top 25 percent are named to the Transfer Honor Roll. PTK Connect is Phi Theta Kappa's online tool that helps students find their best-fit colleges, career pathways, and more. Students can search for colleges by name, scholarship offerings, or cost, and they can use the institutions' profiles to help evaluate where they'd like to enroll.
Among the programs and scholarships offered by Webster University to transfer students are:
A Phi Theta Kappa Distinguished Achievement full-tuition scholarship is awarded each year to two incoming transfer students attending the Webster Groves home campus who are Phi Theta Kappa members and show high academic achievement and leadership experience.
A Phi Theta Kappa scholarship of $1,000 is awarded to all full-time transfer students attending the Webster Groves home campus with proof of PTK membership.
The Presidential Transfer full-tuition scholarship is awarded to five incoming transfer students attending the Webster Groves home campus who maintain a cumulative 3.5 GPA, and have significant community involvement and/or leadership experience.
Dual admission agreements with St. Louis Community College (STLCC) and Lewis & Clark Community College that make it possible for nursing students to be jointly admitted to Lewis & Clark or STLCC and Webster University and provide the students the opportunity to seamlessly complete a Bachelor of Science in Nursing at Webster University.
Dual admission agreement with Southwestern Illinois College (SWIC) to streamline the application process and make more resources available for transfer students transitioning from SWIC's associate degree programs to a bachelor's degree programs at Webster.
An agreement with The South Carolina Technical College System (SCTC) that makes it easier for students earning associate degrees at SCTC to continue with their education and enroll in Webster University's degree completion programs in that region, without having to repeat general education courses.
An agreement with Jefferson Community College to create the "Heartland Promise" program, which encourages students at that community college to pursue four-year college degrees with scholarships that offset the costs of tuition, books, and room and board.
A variety of department- and program-level transfer guides developed with area community colleges that outline degree pathways from the associate to bachelor's degree.
A variety of informational meetings as well as phone and video chat opportunities with transfer admission counselors and/or faculty.
Numerous orientation activities for transfer students to help with the transition, including the Connection Leaders program, where new students are partnered with peer mentors to assist in acclimating to campus life at Webster.
A Facebook group to help connect transfer students and allow for networking opportunities.
More information about the honor roll and a complete list of all institutions named can be found here. To learn more about Webster's Transfer Students Program, visit webster.edu/admissions/transfer.
The official announcement about the Transfer Honor Roll can be found online.